Manus Island detainee Behrouz Boochani gives Bruce Munro a rare, emotional telephone interview ahead of the award-winning writer's public, video-link talk in Dunedin on Sunday.
Two, no, three things anger Behrouz Boochani.
The phone interview, via the encrypted WhatsApp messaging service, takes a few days to set up. But then, on a midweek afternoon, the accented "Hello?" of celebrated and maligned Kurdish-Iranian writer, film-maker and refugee, Behrouz Boochani, is echoing its way 5381km down the line from jungled Manus Island, 300km off the northeast coast of the Papua New Guinea mainland.
Small talk is minimal. Time is of the essence. Boochani is quietly outraged.
The situation for the about-600 refugees who have been kept on the island for six years is desperate, he says.
"In less than 25 days, at least 50 people have attempted suicide or self-harm.
"Right now, when I am speaking with you, people have completely lost hope. They are so broken and they are" - he struggles to find the words - "living with high depression".
"Many people are locked up in their rooms and they don't come out. The whole situation is bleak. We are struggling with this.
"The local authorities ... are very angry with Australia because they don't care about the situation here.
"Every day, we wake up with some self-harm that has happened. Just yesterday, one of the refugees cut his wrist. And two days ago, a refugee burnt himself. He set himself on fire."
Boochani was born in 1983, in Ilam, a Kurdish town in western Iran. After gaining a master's degree in political science, he began working as a freelance journalist.
He co-founded and produced a Kurdish magazine, which brought him to the attention of Iran's self-proclaimed moral and religious guardians, the Islamic Revolutionary Guard.
In February, 2013, the magazine offices were raided and 11 of Boochani's colleagues were arrested. Boochani went into hiding and then fled Iran, making his way through Asia to Indonesia.
In July, of that year, he and 60 fellow asylum seekers trying to reach Australia by boat were intercepted by the Australian Navy.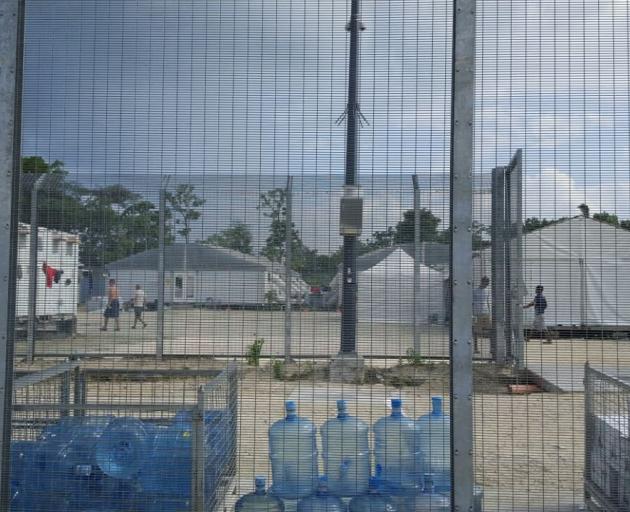 He was detained on Christmas Island and then Manus Island, where he has been kept since August, 2013.
Boochani began advocating for the refugees and gathering information on human rights abuses at the detention centre. He sent secret reports to news agencies and human rights organisations.
In 2017, a documentary titled Chauka, Please Tell Us the Time, covertly filmed by Boochani on his phone in the detention centre, was released at the Sydney Film Festival.
This year, in January, his memoir, No Friend But the Mountains: Writing from Manus Prison won the Victorian Prize for Literature and the Victorian Premier's Prize for Non-fiction. The whole book was written on his phone and sent one message at a time to his translator, Assistant Prof Omid Tofighian.
In recent weeks, Boochani was made an Assoc Prof by the University of New South Wales.
But there is no time for self-congratulation, he says.
"When I received the award, I just wanted to use that huge global attention for that achievement to do some interviews and to explain about our situation.
"So, of course I did not have a celebration for myself while so many people are suffering and struggling around me. I did not have a right to celebrate at this time."
Most of the hundreds of men on Manus Island have family they have not seen since leaving their homelands.
"They don't have a clear future," Boochani says of the refugees.
"If they keep us here, they will never have a new life and won't see their families.
"And they will never give us citizenship. That is a big problem. They keep us here and we are stuck here."
The spike in self-harm incidents during recent weeks shows the extent of the harm being inflicted.
"Many of these 50 have damaged their bodies seriously. Many of them are in hospital right now. They have lost hope and need urgent help."
He has a question, Boochani says, the anger rising in his voice once again.
"What is our crime?
"What is our crime, that this fascist government keeps us here in indefinite detention for six years, and has tortured us and has deprived us of our human rights? What is our crime?"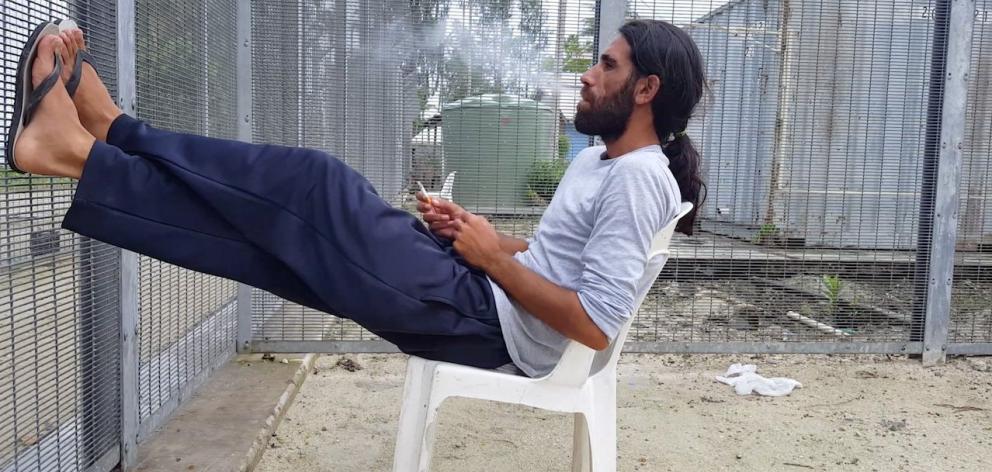 Their crime, it appears, was trying to seek refuge in Australia.
In 2012, in an effort to keep growing numbers of waterborne asylum-seekers from entering Australia and to deter others, the Australian government announced it would reopen detention centres on Manus Island, Nauru and Christmas Island.
Australia's two biggest political parties, Labor and the Liberals, have said those trying to get to Australia by boat will never be resettled in that country.
In 2015, the Government made the reporting of abuse at Manus illegal.
The next year, the Supreme Court of Papua New Guinea ruled the detention of the asylum seekers on Manus Island was illegal. In 2017, the Australian Government responded by closing the centre and forcibly moving the 600 men to three purpose-built accommodation units in the town of Lorengau, still on Manus Island.
The Australian Government had struck a deal with the United States to take up to 1250 asylum seekers from its various offshore detention centres. The US has resettled 530 people and is in the process of taking a few hundred more. It is unlikely the US will take the full 1250.
It is believed that there are now about 800 refugees and asylum seekers on Manus Island and Nauru.
New Zealand Prime Minister Jacinda Ardern has offered for this country to resettle up to 150 people per year.
The Labor party said it would take up that offer, if elected in last month's Australian elections.
The Liberals, however, were returned to power.
Australian Prime Minister Scott Morrison has consistently rejected the New Zealand option, saying refugees would use citizenship here as a back door to gaining entry to Australia.
This is the point at which Boochani boils over.
"That is stupid," he says angrily, voice raised, spitting out each expletive-laden sentence.
"Do they think their country is much better than New Zealand? Do they think Australia is a piece of cake? Everyone here hates Australia."
He says the refugees have already written a letter stating they do not want to go to Australia.
"It is propaganda to say we will use New Zealand as a back door to get to Australia.
"We are happy to guarantee to never put a foot on Australian soil. We just want to get off this island."
He takes a breath.
"I'm sorry for using bad words. It is a stupid thing they are saying.
"I have written many articles about this place and have given about 5000 interviews in the past six years. This is only the second time I have gotten angry."
The depth of feeling comes from rising hope, boosted by Labor's pre-election pledge, being smashed by the unexpected election result.
"New Zealand always was a big chance - the last chance for us - to get off of this island," Boochani explains.
"But unfortunately, the Liberals returned to power. That has affected our people. So, right now we have lost hope. Because we think we have lost that New Zealand opportunity."
The self-harm and suicide attempts are the tragic consequence.
"People have completely lost hope because this government has kept us here on this island for six years.
"And they don't care ... because they have kept innocent people captive for six years. They torture us. Many people suffer. Many people are physically and mentally damaged."
The experience of Boochani and the others on Manus Island is a window on the global crisis of refugees and displaced people, says Neil Vallelly, of the Centre for Global Migrations, at the University of Otago.
The United Nations refugee agency (UNHCR) estimates that there are 68.5million forcibly displaced people worldwide. Of these, 24.5million are recognised as refugees and 3.1million as asylum seekers. More than half of today's refugees come from just three countries - South Sudan, Afghanistan, and Syria.
"Every day 44,400 people are forcibly displaced," Vallelly says.
"With only roughly 102,000 refugees resettled each year, there is no foreseeable end to the crisis as it stands."
Historical, political and economic factors drive the displacement of people, he says.
"In Behrouz's case, for example, he is a Kurd, and there has been a long-running Kurdish separatist movement in Iran and beyond. Displacement has been a prominent feature of Kurdish culture over the past century as movements for Kurdish independence have been repressed by the various states which Kurdistan inhabits - Iran, Iraq, Turkey, and Syria."
In other cases, the legacy of colonisation, the destablising effects of Western interventions, civil wars and global economic inequalities have all played a role.
"The fact that the global economy broadly operates to benefit the already wealthy nations means that the number of economic migrants will only continue to rise as the inequalities between the rich and poor nations expand."
Vallelly says a disturbing contemporary factor adding to the mix is the re-emergence of isolationist nationalism.
"We are seeing the disastrous consequences of this ... play out across the world at the moment; from the segregation of families on the Mexican-US border to the prisons on Manus Island and Nauru.
"This politics defends the rights of the citizen only by denying the rights of the refugee or migrant."
He says the rise of isolationist nationalism is broadly a response to globalisation and its economic and social consequences.
"Citizens have been disenfranchised by the new global economy, where once-booming towns, cities, and states have been decimated by the outsourcing of labour and the centralisation of wealth in the financial districts of global cities.
"A certain brand of politician has emerged that has exploited this anger and channelled it towards migrants and refugees, rather than towards its real source, global capitalism."
A significant future driver of migration is climate change.
"Climate change is already having a major impact on migration and displacement, and it will only continue to grow without any urgent international action. This is particularly important in our region of the world, as the Pacific Islands."
Vallelly believes the UN definition of who is a refugee needs to be extended to include people displaced by climate change.
But more important, he says, is tackling "the issues that cause displacement in the first place".
New Zealand does not have a proud record when it comes to responding to refugees and asylum-seekers.
On October 29, 1938, as Hitler was dispossessing Jews throughout Germany and Austria of their homes and businesses and making preparations for his planned holocaust, the Otago Daily Times ran a piece under the headline "The Plight of the Jews". It detailed attempts by Rabbi Katz, of Wellington, to get New Zealand to urgently respond to the refugee crisis.
"The tragedy of the refugee, of peoples without a country, receives almost daily accentuation in our news columns," the ODT stated.
"But it scarcely requires the statement of Mr Katz to convince the New Zealander that sympathy is a poor balm to offer to people who are distressed unto death. His suggestion is that the Government of New Zealand should make clear its attitude towards the admission of Jews to this country in appreciable numbers."
Rabbi Katz was the great-grandfather of the New Zealand Jewish Council spokeswoman Juliet Moses.
Moses, an Auckland-based lawyer, says about 1100 Jewish refugees were allowed into New Zealand before World War 2, but that thousands of others were turned away.
"After the war, despite a New Zealand consensus that the country needed to increase its population, priority was given to people of British stock," she says.
"Jewish refugees were considered undesirable, as they had been before the war, so few were admitted."
Vallelly says that in global terms New Zealand has taken few refugees and asylum seekers.
The quota had been about 750 refugees per year for three decades when it was raised to 1000 in 2018. It will increase to 1500 next year.
The country hides behind its quota system to limit its response, he says.
"To be honest, New Zealand needs to do more. I think it gets off lightly because of the barbarity of the policies in Australia.
"Successive New Zealand governments have been painfully silent on the violence of the Australian border regime."
Minister of Immigration Iain Lees-Galloway says all refugees are covered by United Nations rules regarding their treatment, including those on Manus Island and Nauru.
Asked how he felt about the increasing reports of self-harm and about the indefinite detention of those on the islands, he said the Government was following the situation "closely".
Asked whether there was more New Zealand could do, he said "the resettlement of refugees is being managed by the Governments of Australia, Nauru and Papua New Guinea at this point in time".
"We have offered to resettle 150 refugees per year off Manus and Nauru. That is a long-standing offer and it remains on the table."
Boochani says there is only one thing he and fellow detainees want. Freedom.
"Only freedom. Nothing else.
"If you keep people, deprived of their family for six years, even if you keep them in a five-star hotel, it doesn't mean they should be happy. Of course, our situation is much worse than you can imagine ... but the important thing is that they have control of our lives.
"So, that is why nothing else, only freedom. Only, accept our human rights. Only, evacuation of people.
"Only freedom will help us."
The talk 
A Voice from Manus Island: An evening with Behrouz Boochani and Omid Tofighian, Sunday, June 23, 6pm, Dunedin City Libraries.
Boochani will speak via video link. Tofighian will be present, as will the evening's host, Neil Vallelly.
The event is fully booked, but will be live-streamed on the Dunedin Public Libraries' Facebook page, @dunedin.public.libraries