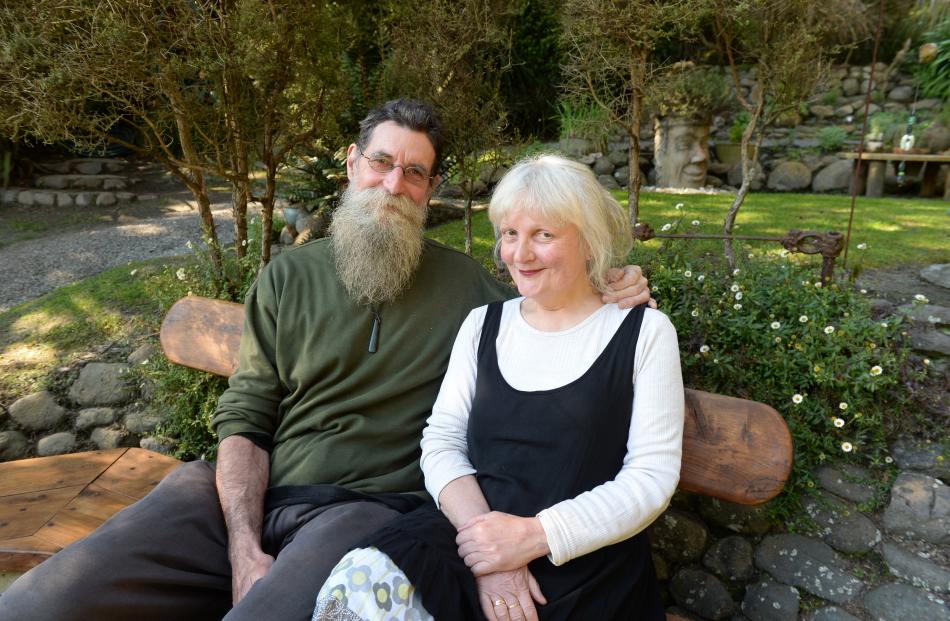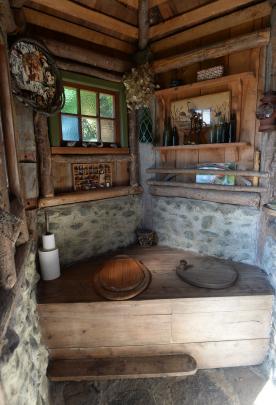 An augmented cottage above Blueskin Bay stands as testament to a determined DIY ethic, writes Kim Dungey.
Living in an eco-friendly house doesn't necessarily mean spending thousands of dollars on solar panels, double glazing and mechanical ventilation systems. Just ask Ian Melvin and Helga Diettrich.
The couple have extended their cottage as time and money allowed, using mainly recycled materials.
Though they have a composting toilet and are mindful of how they use power and water, they have deliberately avoided what they call the "bells and whistles" associated with modern eco housing.
And beauty has not been sacrificed for function. Surrounded by regenerating native bush in picturesque Blueskin Bay, the Michies Crossing home is full of character.
Mr Melvin bought the property in 1984, the same year he met his future wife, a German kindergarten teacher who happened to be visiting a friend in nearby Waitati.
Damp at the back and extremely "poky", the house had rotting railway sleepers for piles. But his dream had always been to live in the bush near the sea and the 1950s home with its functioning coal range and bathroom had everything he needed.
The retired gardener recalls borrowing from friends and family to scrape together a deposit and then struggling to pay the mortgage when interest rates suddenly rose to more than 20%.
Employing builders was out of the question so soon after moving in, the couple began knocking out walls and clearing out underneath the house so they could start re-piling. They added a verandah and a conservatory-style room to the front, followed by their bedroom and a loom room for Ms Diettrich. They spent months digging into the hill with picks and shovels, also putting underfloor heating in the coldest part of the house, re-cladding, re-roofing, re-wiring and insulating.
Windows were found at second-hand yards. A friend built the wooden kitchen units for under $5000. Almost all the macrocarpa for the internal walls and ceilings came from another friend who had a small portable mill in the Catlins: "A lot of it's knotty and that made it more affordable".
After they had taken their truck down to the Waitati River and picked up stones by hand, Ms Diettrich built a large fire surround in the lounge and stone walls around the garden. With no previous building experience, she had to acquire new skills  such as laying tiles, stripping windows and restoring furniture, she says.
"I feel really privileged to live here. It's my little oasis. But it's [been] a lot of work, too."
When he first moved in, Mr Melvin washed his clothes in the bath and had a ramshackle toilet right at the top of the section "so you could sit on the loo and have a view of the bay".
After Ms Diettrich's arrival, they built a laundry, workshop and guest bedroom, with a separate composting toilet that was closer to the house and more easily reached in the depths of winter. That toilet is surprisingly pretty, with clematis on the exterior and wedding photos inside. But some people turn up their noses.
"At least we know where our toilet waste goes," Mr Melvin tells them.
"We're not going to meet yesterday's lunch at the local beach when we go for a swim."
The couple say they were fortunate because people on their incomes would struggle to buy even a section near the coast now and lucky, too, to have had the help of family, friends and neighbours. Almost all the working bees turned into parties.
The Waitati area 20 minutes north of Dunedin has always been a centre for alternative lifestylers, Mr Melvin says.
Back in the 1970s, as the Waitati Militia staged elaborate mock battles and Mushroom magazine published articles on communes, many people bought cheap cribs and renovated them with recycled materials. Two of their newest neighbours live in a 14sq m tiny house that they built for less than $20,000.
It's good to see another generation rolling their sleeves up, using what they have and not mortgaging their futures, he says.
"We always kept our plans achieveable [and] we did it in stages.
"People who deliberately build eco houses now are following their beliefs. It's almost like a religion. We were a lot more casual about it."
One of the couple's last projects was the building that serves as Mr Melvin's art studio. Like many of the others, it is dotted with shells and stones and curiosities. A big wooden table lowers from one wall on a pulley system. A desk sits under a whimsical turret that his late father built on site using windows he had stored in his garage.
Charlie Melvin was a builder by trade. His son describes his own approach as "hippy" or "chainsaw" building and jokes his wife "didn't read the fine print on the contract" when they married.
"She liked the house and liked my dog and decided she could possibly put up with me ... 
"If she'd known what she was signing up for, it might have been a different story. She's been known to remind me of that."