It's dry, warm and efficient, and Cushla McCarthy couldn't be happier with her new climate-safe home, writes Kim Dungey.
After more than two years living in a bus, Cushla McCarthy is looking forward to life's simple pleasures.
''A tap that has water coming out of it,'' she says. ''A toilet and a shower and not being cold.''
When Ms McCarthy bought her Waitati property in 2002, she could not have been happier.
Surrounded by ''beautiful'' scenery, the pre-1914 cottage was exactly what she had been looking for: ''It had my name on it.''
Then, in April 2006, swollen rivers combined with tides to cause heavy flooding. Because of the way the land drains and its proximity to the Waitati River, Ms McCarthy's section was particularly vulnerable.
''I had people staying ... and they came knocking on my door at three in the morning because the woman had got up to go to the toilet and stepped into water getting out of bed,'' she says, adding that the 30cm of water that went through the house made a mess of ''absolutely everything''.
Ms McCarthy received a small insurance payout but a few months later got a letter saying her policy had been cancelled.
Although ''gutted'', she thought the flood was a ''one-off''.
''I didn't expect it was ever going to happen again ... But when it rained, I was always worrying ... I'd be walking up and down the street to see how high it was going to get, always monitoring the river. It was quite stressful.''
When the property flooded a second time, Ms McCarthy lost more possessions but this time there was no insurance. She still had to make her mortgage payments but the house was no longer habitable.
Soon, however, Ms McCarthy will move into New Zealand's first ''climate-safe'' house.
The transportable eco home is raised 1.1m above the ground and able to be moved when flooding becomes too extreme, a scenario that could be fewer than 20 years away.
At 58sq m, the simple rectangular home includes one bedroom, a bathroom, a laundry and an open-plan kitchen-living area opening on to a wooden deck.
Its construction has been a collaboration between the Blueskin Resilient Communities Trust and Otago Polytechnic.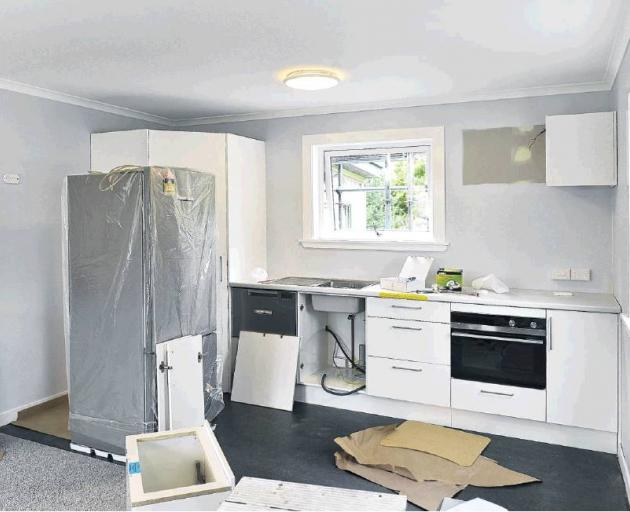 Assembled at Forsyth Barr Stadium during this year's Home & Living Show, the house was moved to Ms McCarthy's leafy section for completion.
Waitati, 20 minutes north of Dunedin, is on an alluvial floodplain and designated a flood hazard zone under the second-generation district plan. New buildings must be 2.5m above mean high tide and on piles so they are relocatable.
Trust manager Scott Willis says using standard-sized structural insulated panels (SIPs) made the build quick and affordable. The panels had a six-week delivery time but once they were on site, the basic structure was completed in four days.
The SIPs have a large span without the need for bracing, so internal walls can be moved around, and the modular design means houses like these will be easy to extend in the future.
Project manager Renee Gordon says while transportable homes are not new, this one is robust enough to last more than a century and to fit into almost any environment, including extreme wind zones.
The Building Research Association of New Zealand (Branz), estimates the home to have one-third of the carbon impact of a reference house, even without the solar power it will generate. Much of this is due to the level of thermal insulation, the fact that fewer construction materials are used in a compact building and the way in which the products were created.
After Branz recommended changing the proposed cladding from corrugated iron to weatherboards, timber was used for all the exterior walls except the south-facing one. This saved four tonnes of carbon.
Ms McCarthy expects the house will be ''toasty''in winter. Last year, she slept in her ''freezing'' garage.
''You can imagine with a humongous skylight in the ceiling and no heating, it wasn't much better than the bus but at least it didn't 'rain' on me in the morning. [In the bus], all the condensation froze, then defrosted.''
She is not the only person who will benefit from the climate-safe project. Other costed plans and a list of suppliers will be made available, for a fee, to others.
The trust, which expects the final cost to be under $300,000 and subsequent builds to cost less than $250,000, wants to tender to build more climate-safe houses when the Dunedin City Council next plans social housing.
Mr Willis says the most critical part of the venture is a new ownership model that allowed the trust to lease the land to build the house, then sub-let the home to Ms McCarthy - the landowner - at a peppercorn rental.
It's a blueprint that could be used for social housing on private land in other communities affected by climate change.
Property owners would be able to retain their land, rent a warm, energy-efficient home and not have to leave their communities immediately. It was an attempt to create a model for a ''managed retreat'' and to ensure that people were not ''abandoned in a climate ghetto''.
For now, Ms McCarthy is happy to be staying in the close-knit community that is Waitati and to be moving into a home where water lapping at her feet is not a worry.
''It's a lot more than a house to me,'' she says. ''It's saved my bacon ...''
At a glance
• The floor, walls and ceiling of the climate-safe house were built from structural insulated panels, which consist of two layers of optimised strandboard with polystyrene in between.
• Combined with uPVC window and door frames and low-E glass, these create an airtight, well-insulated building. The roof space can be accessed from a gable on the outside of the house, avoiding the usual break in the thermal envelope.
• The timber piles were diverted from the waste stream as they were left over when Otago Polytechnic built its student village.
• All appliances are electric, the Blueskin Resilient Communities Trust putting its faith in the Government reaching its target of 100% renewable electricity by 2035.
• The home has two radiant wall heaters, low-energy LED lighting and, to ensure good air quality, a ventilation system with heat recovery. Although the house is connected to the electricity grid, having its own energy and waste systems make it ''autonomous''.
• Seven 275-watt solar panels on the roof and a 5kWh hour battery pack will allow the house to function independently of the grid if needed. Most of the time, it will probably share excess electricity locally via the Blueskin Energy Network. The scheme, which allows residents to buy surplus power from each other, includes 63 properties, orone solar household to every 3.6 non-solar households.
• The septic tank relies on worms, rather than an electric pump, for aeration.
• The steel roof with a rust- resistant magnesium coating is one of several products with Global Green Tag certification.
• Many groups have supported the project, including Placemakers, Naylor Love and Gerry Thompson, of Eclectic Home Designs.