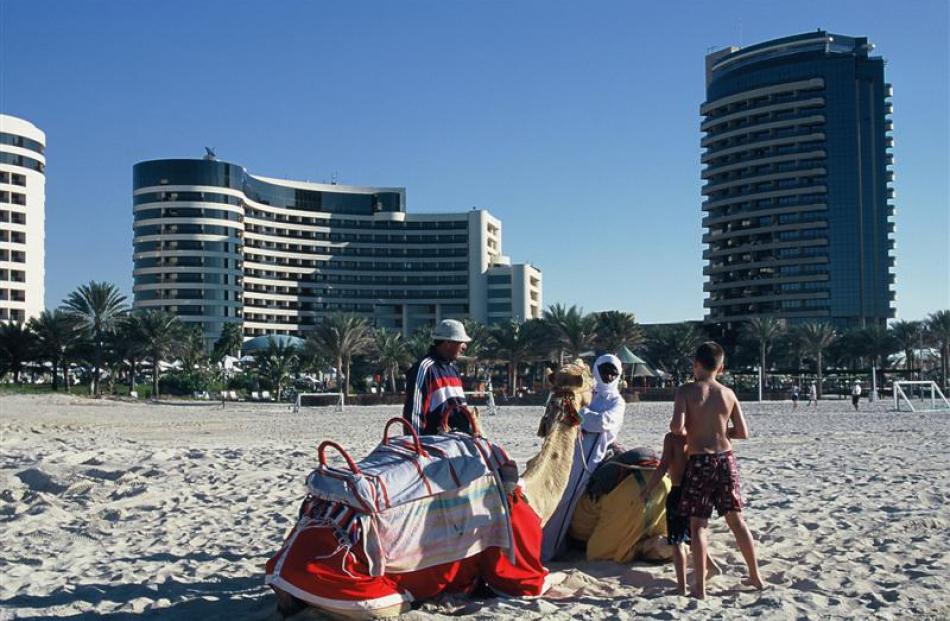 Dubai is an extraordinary feat of engineering. But then so is a camel, writes Neville Peat.
The camel that sauntered past us at Jemeirah Beach in the hazy late afternoon sunshine summed up Dubai's otherworldly and paradoxical nature.
A cameo appearance by a ship of the desert in a space-age metropolis setting is an arresting sight.
Camels always look ancient and old-fashioned but this one, led by its weary handler after a day providing joyrides on the beach, seemed completely out of context lined up against an ultra-modern backdrop of 21st-century hotel, office and apartment buildings, with the contrails of numerous jet aircraft criss-crossing overhead.
Dubai is a culture shock of an architectural kind. Its zany built landscape, rising out of the hot desert sands of the Arabian Peninsula, looks like something out of a Star Wars movie. Could young Luke Skywalker be whizzing around these skyscrapers in his personal air vehicle?
The world's tallest building, opened in 2010, is in downtown Dubai - the tapering Burj Khalifa, 828m high, 160 floors, US$1.5 billion ($NZ1.78 billion) to build. You can barely make out its sharp summit, which is twice the height of New York's Empire State Building. Its lifts reach speeds of more than 60kmh. Europe's tallest building, nicknamed the Shard, was officially opened on London's South Bank last year but at 301m is merely knee-high to the Dubai tower.
World records for construction tend to tumble here. Dubai has the largest man-made port and the world's first seven-star hotel, the sail-shaped Burj al Arab. Fanning out from the coast are several artificial archipelagoes supporting hotel, lifestyle and recreational developments. They include The World (300 islands forming a map of the continents) and The Palms - ambitious real-estate jewels tempting the world's wealthiest people.
Dubai's many shopping malls - swank colosseums of consumerism - impress for their inventive themes and sideshows. One even has a skifield sealed off inside it, complete with chairlifts; another is divided into Asian and Middle Eastern multi level shopping precincts, each featuring an iconic centrepiece. For example, there is a life-size Asian elephant bearing a bejewelled, canopied carriage representing the Indian precinct. The Chinese quarter has a huge Chinese junk with sails up.
Shoppers fly in for the mall experience, knowing Dubai is duty free and a competitive retail hub. The airport, ever expanding, is said to be the fourth busiest in the world, handling more than 40 million passengers a year, many of them in transit. The Emirates airline is based here.
During the northern winter, eastern Europeans, Russians in particular, target Dubai to warm up on the sun-drenched beaches, when temperatures are generally in the mid-20degC. The height of summer sends temperatures into the high 40s and visitors are more likely to crowd the air-conditioned shopping malls than the beaches.
Dubai is also a tax haven, consequently a financial hub. Many of the tower blocks are occupied by the finance sector, and before the global financial crisis in 2008, Dubai had commandeered more than half the world's tower cranes to keep up with the demand for new buildings. The building boom is over now, and some developments are languishing.
In contrast, down by the wharves on Dubai's main harbour, known as The Creek, the souks or markets of old-town Dubai keep on keeping on. It is a whole new visitor experience, so different from the concrete and glass towers, and centuries old. Here the senses are fully awakened by the spice souk, cloth souk and the glittering gold souk, not to mention the fresh-food stalls.
You get a strong feeling that Dubai is where East and West meet. Some guided walking tours start and finish at the fascinating Dubai Museum, a 200-year-old fort. They give visitors a close encounter with traditional commercial life.
Banked up against the wharves, two and three deep, are high-sided wooden dhows that transport goods around the Arabian Gulf and as far east as India and Sri Lanka, a maritime trade spanning the ages. On the wharves, whiteware and other manufactured products are strewn about in the open in cardboard boxes, awaiting shipment or trucking away. The weather is not a factor. Here it hardly ever rains, and looters are seemingly not an issue either. Crime is much less than in Western countries, and streets are safer. Alcohol is banned except in authorised (typically expatriate) settings, and drug trafficking attracts the death penalty.
Nipping about the choppy tidal waters of The Creek are open-sided abra motorboats, which taxi people continuously from one side to the other and at all hours for a small charge. More expensive, although highly efficient, is the Metro monorail, commissioned in 2008, which runs the length of the built-up area of Dubai, linking with the malls and other attractions. Trains roll up every 15 to 20 minutes at spotless, air-conditioned and well-signed stations, where double doors keep people away from the railway lines. Between stations the driverless, remote-controlled Metro can hit 100kmh.
Taxis, also air-conditioned and new or near-new, roam the fast, multilaned highways, their drivers invariably immigrant workers. There are three parallel societies in Dubai - Arab, expat and immigrant. Low-waged immigrant workers, mainly from India, Pakistan, Bangladesh and the Philippines, are employed on the construction projects, in homes and in the taxi business.
One driver we met was from Kerala state in India. Like the brand-new Audi he was driving, he was smartly presented. He shared a villa in an outer suburb with other immigrant workers, four to a room. He said he did his own cooking and washing and worked 12 hours a day. At home in India were his wife and five-year-old daughter, whom he saw during one month's annual leave.
Dubai is a melting pot of wealth and status, poor and marginalised. And the camels, while no match for the Metro, maintain a sense of age and tradition.
---
At a glance
• Dubai is one of seven states in the United Arab Emirates (UAE) and also the name of the UAE's largest city. The UAE capital is Abu Dhabi.
• Population: 2.2 million.
• Land area: 4000sq km, expanded in recent years by reclamations seawards.
• Former British protectorates, Dubai and the other emirates celebrated independence in 1971.
---