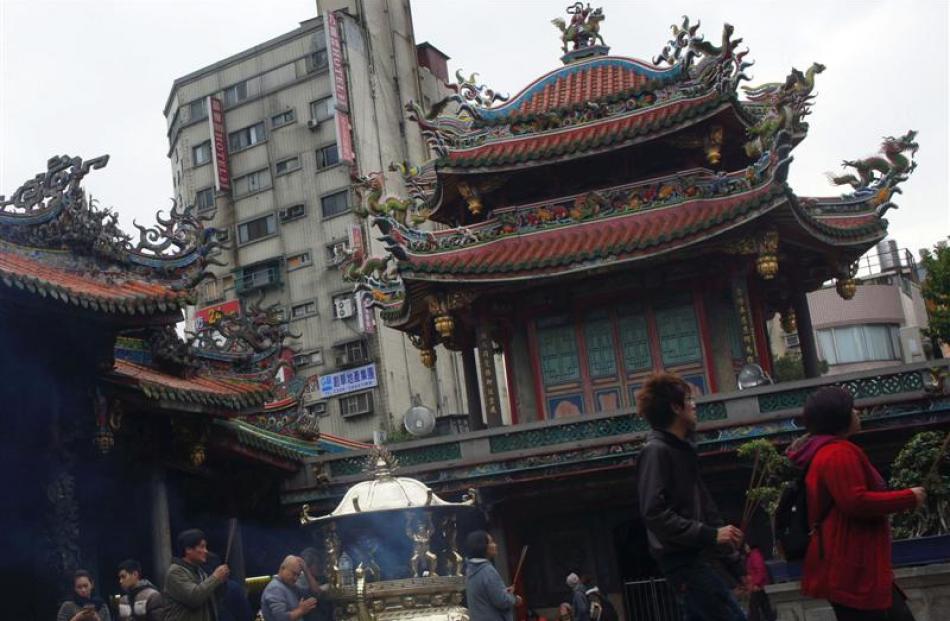 ''Made in Taiwan'' summarises what many Kiwis know about the subtropical island state which calls itself the Republic of China. Former Otago Daily Times reporter Joe Dodgshun got a flying taste of its rich and evolving culture in the capital, Taipei, on a stopover enroute from New Zealand.
As Nele and I entered the underground convenience store, we gagged on a mysterious scent, both savoury and sickly-sweet.
We quickly traced this odour to an open cabinet where small vats bubbled merrily away, filled with black eggs, yam, sausages and a cornucopia of unnaturally shaped objects of indeterminable origin.
After a long train journey, a nap on the benches of Frankfurt International Airport and the 13-hour flight to Taipei, this 6am assault on the nostrils was too much. Fleeing the 7/11, the only food store open so early, we jumped on to the first bus headed downtown.
From behind the frilly lace curtains of the airport express, we watched Taiwan awaken, while drinking odd but refreshing apple milk.
The bus threaded its way along the top of a tightly woven array of highways, three levels high, providing an outlook over the rapidly brightening landscape of apartment buildings and futuristic industrial complexes which fill the hollows between forested mountains of the country formerly known as Formosa.
Instead of being stranded in airport purgatory during our 18-hour stopover on the way to New Zealand, we were one hour later surrounded by rush hour traffic in the national capital, Taipei City.
Here, scooters reign supreme, swarming around fleets of buses in the dense flow of humanity that is the 6.9 million people of the Greater Taipei Metropolitan Area.
We alighted in the centre of the city to discover the questionable smell had followed us; every block featured multiple 7/11 stores and street stalls, casting a lingering aroma throughout the city.
Despite this, we were starving and struck out through broad, palm-lined boulevards and into the narrow lanes between gangly apartment blocks, prison-like due to their caged balconies.
A long line of people stretching around the corner piqued our curiosity and we joined the fast-moving queue for what turned out to be one of Taiwan's most beloved breakfast restaurants.
It eventually led us into the Huashan Market and up a flight of stairs to Fu Hang Dou Jiang, a food-court-style restaurant, where a perspex wall gave a peek into a kitchen full of masked cooks industriously frying, baking and rolling dough.
An English-speaking student in line kindly ordered a ''best of'' selection for us in Mandarin and our trays arrived laden with satisfactorily greasy baked goods and bowls of pale, steaming liquid.
These turned out to hold a rich and salty soy curd soup called xian dou jiang, which went down surprisingly well when eaten with fried Chinese pastries, egg pancakes and sweet chilli sauce.
Once we had completed this most urgent task, we emerged into the building heat in search of something which had earlier caught our eye.
Kilometres away but still impressive, as it reaches 508m into the sky, was the Taipei 101 tower.
As we entered an immaculate metro station, something strange struck us.
The day was nearing 23degC, yet some train passengers were wearing puffer jackets, scarves and beanies.
It took us a minute to realise we in T-shirts were the odd ones; it was still winter in low latitude Taiwan, which means spring-like days and an enviable low of 12degC.
Taipei 101 was built to be the best.
When it opened at the end of 2004 with extravagant fireworks displays, which now take place every New Year's Eve, it was the highest in the world.
Three years later, it was overtaken by the Burj Khalifa and now it is only the fourth tallest, but its lifts are still the fastest and our ears popped as it delivered us to the top in just 30 seconds.
Like all skyscrapers, it is a symbol meant to convey prosperity and it was designed to represent a bamboo shoot, flexible but tough.
I couldn't help but find it somewhat resembling a stack of Chinese takeaway cartons.
However, the view from the observation level, the lip of the highest carton, so to speak, teaches a lesson on Taiwan's rapid growth.
The basin between the Yanming and Central mountain ranges, an intricate patchwork of geometric forms far below, once hosted just a sleepy trading town. The Portuguese named Taiwan ''Ilha Formosa'' (beautiful island) and in the 1600s the Dutch colonised and squabbled with the Spanish, before Ming Dynasty loyalists took over.
It was ceded to Japan in 1895 after the defeat of China's Qing Dynasty, grew rapidly, came back under control of Chinese Nationalists after World War 2 and became the home of two million escaping Nationalists after their 1949 mainland defeat by the Communist Party.
Today, the government established by those who fled has developed into a flourishing democratic state with an entrepreneurial, export-driven economy based on machinery, petrochemical and electronics.
Back on the ground and starting to reel from lack of sleep, we skipped the 76m-high edifice of the National Chiang Kai-shek Memorial Hall in favour of the one-time red light district of Wanhua.
A counterintuitive move for the jet-lagged perhaps, but the only smoky establishment we were interested in was the incense-filled Longshan Temple, founded by mainland Chinese in 1738.
Although Longshan is officially a Buddhist temple dedicated to Guanyin, the Bodhisattva (goddess) of compassion, reconstructions and expansions led to the inclusion of shrines for Chinese folk gods and Taoist deities, making this a microcosm of Taiwan's religious tolerance.
The undulating roof of Longshan's entrance hall curved up into dragon-tipped peaks, its walls crimson and covered in golden Chinese script, while in a pool to one side whiskered carp as big as kahawai rose expectantly to our approach.
Inside, arrays of flowers, fruit and packaged food were stacked as offerings and gleaming braziers were surrounded by people lighting incense and bowing rapidly.
Profusions of ornate carvings covered every surface and worshippers asked yes/no questions of the gods by tossing pairs of wooden Jiaobei crescents and pondering their arrangement on the ground.
In Guanyin's central shrine, no surface was left ungilded.
The neighbourhood is one of the busiest during the Taiwan Lantern Festival on the first full-moon of the new year and is also famous for a night food market known as ''snake alley'', in reference to the late-night serpentine snacks historically devoured by brothel-goers as an aphrodisiac. Many stalls in the Huaxi thoroughfare still sport tanks holding fat, lemon-hued snakes several metres long.
The market offers countless other fried and souped creatures, noodle, vegetable and rice concoctions, the sickly-smelling hotpots I had by then identified as being filled with stock-simmered fish cakes (oden) and a dish notorious to Westerners as ''stinky tofu''.
After identifying and devouring the tastiest offerings least likely to cause in-flight complications, it was time to farewell Wanhua, get lost trying to find the bus station and collapse at the airport.
Almost three weeks later I was back in Taiwan on the homebound stopover, the bus into town shuddering as strong wind buffeted it about on the high-rise highway.
This time alone, I took the metro north towards the hot springs and thermal valley of Beitou, one of many tempting day-trip destinations close to Taipei.
However, I got out at the expat-beloved neighbourhood of Shilin, home of another of the city's most popular night markets.
I clambered aboard a cosy minibus headed in the direction of Yangmingshan National Park, where I had the fortune to sit next to an insistently friendly fellow who introduced himself and his wife by their English names; John and Pony.
They were looking forward to a day of tramping in the park's rainforested low mountains - a popular hobby in Taiwan - and as we entered the foothills, he invited me to look up at a building barely visible, high in the trees.
''They say there is a tunnel up there going all the way into the mountain, where the Government keeps the treasure it took from China when they had to leave the mainland.''
Perhaps a grain of truth can be found in this belief, as I soon found myself at the nearby home of a veritable, verifiable treasure trove, the National Palace Museum.
It holds the world's largest collection of imperial Chinese artefacts and artwork, almost 700,000 pieces.
It is impressively modelled on its sister in Beijing's Forbidden City, from which many valuables were evacuated to Taiwan before the Chinese Communist Party took control.
As the only visitor signed up for the English guided tour, I got the ''Mr VIP service'' from the lovely visitor guide, Summer, who set about the formidable task of giving a Gisborne boy a crash course in Chinese relics through the dynasties.
The priceless Ming Dynasty vases were there, but most impressive in my view were the exquisitely detailed tomes of calligraphy and wildlife etchings, and the delicate jadeite cabbage of Concubine Jin, carved from a single piece of flawed green and white jade.
Its imperfections were used by an anonymous artisan to create stone of an almost living appearance.
With the excitement of crockery and copper behind me, I made my way downtown to relax in the 228 Memorial Peace Park.
Students fed brown squirrels in the sun while 30 seniors practised synchronised tai chi in the sound-shell.
It seemed a far cry from the park's involvement in the ''228 Incident' of 1947, one of a series of violently suppressed protests, which saw the Government murder thousands of Taiwanese, ushering in the ''White Terror'' period.
The geometric memorial to the incident this day went unnoticed by a nearby teenager, who turned up his smartphone and began to practise a dance routine.
As the sun cast a final glow over the hanging tresses of the banyan trees, I once again made my way back to the airport, still trying to put a finger on the identity of this city.
Inside, I found the answer in a rather unexpected place when I came across a Hello Kitty-themed waiting lounge.
The elderly couple seated inside nattered away in Chinese, under the candy-coloured face of the Japanese cartoon character, which, in English, invited Eva Air passengers to check in.
China, Japan and the West; Taipei is of all these worlds.
---
At a glance
• Population: 23.38 million people, 95% Han Chinese.
• Currency: New Taiwan dollar ($NZ1 = $TW26.50)
• Language: Mandarin, although most people speak at least a little English.
• Highlights: February's Chinese New Year celebrations and the Taiwan Lantern Festival.
• Try to avoid: Typhoon season from late summer to mid-autumn (June-August). 
---
Getting there
Indirect flights including stopovers in Australia or Asia can be booked from Auckland, Wellington, Christchurch and Queenstown, and Taipei is the main stopover hub for China Airlines. Bus transfers take you from Taoyuan International Airport into Taipei in around an hour depending on traffic, or travel by shuttle to Taoyuan Station for the high-speed rail service into the city.
---