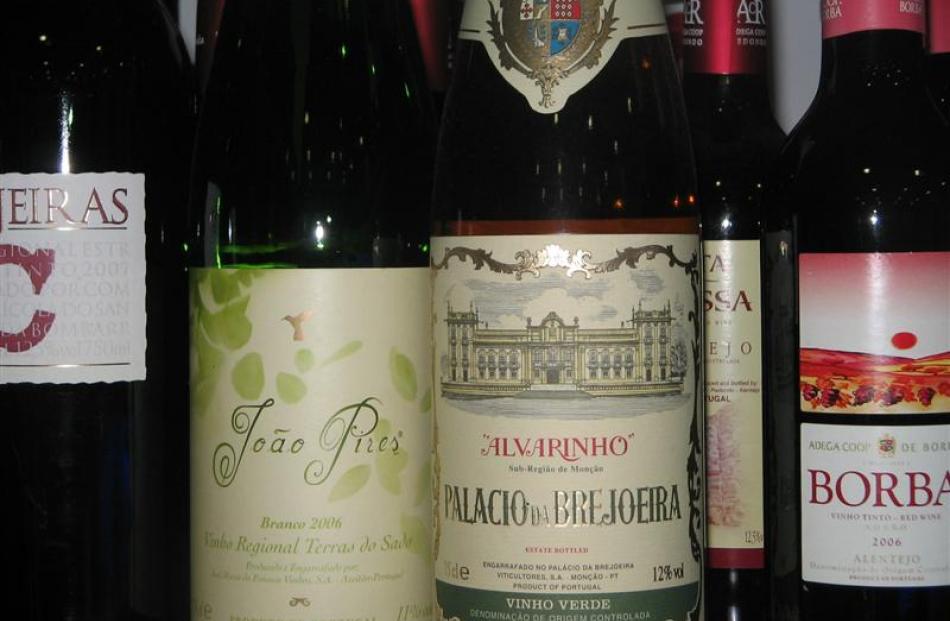 Pam Jones soaks up the flavours of a little-known cuisine as she picks her top 10 of honest, home-style Portuguese food and wine. 
1. Pasteis de nata
My all-time favourite. Jamie Oliver has come up with his own version of these sweet, creamy mini-custard tarts and sometimes you'll see a well-meaning version of the delicacies in a forward-thinking cafe.
But nothing compares with the velvet-smooth filling and crunchy, buttery pastry of the original pasteis de Belem, created in Belem, near Lisbon, and now made by the tens of thousands in bakeries there each day; tens of thousands more are baked and known in other centres as the more generic pasteis de nata (pastries with cream).
A nod to the days when Catholic monks used egg whites to clarify wine and the nuns used the egg yolks for desserts, they are the absolute pinnacle of Portugal's legacy of eggy desserts.
Dive into one and weep.
• Tradition, tourism mix happily
2. Fresh bread
Ahhh ... the bread.
No respectable Portuguese meal would be consumed without it and, like other European countries, Portugal claims its own unique versions of the staple, freshly baked each day and, in religious terms, representing the body of Christ.
Rip it in chunks to mop up the juices of your meal, fill it with the sweet or savoury flavours of your choice or go one step further and indulge in the genius pao com chorizo (bread with chorizo).
Hot from the oven they are a foodie and hedonist's delight.
3. Presunto
Similar to the Italian prosciutto but better (I think), this salty, heavenly air-dried ham is sometimes sold sliced straight from the leg atop rustic or shiny new bars.
The Portuguese like it wafer thin, but I enjoy a more substantial cut.
4. Cheese
Where to start?
European Union rules are (sadly) clamping down on cheeses made with non-pasteurised milk, but any Portuguese cheese is still a thrill for the senses.
Pungent home-made rounds are made with cows', goats' or sheeps' milk or sometimes a blend of them.
If you like your cheese hard and tangy or soft and provocative there is always plenty to choose from.
For the best (and smelliest) cheeses, check the local markets.
5. Caldeirada
As with most Portugal cooking, this goes heavy on the onions and garlic, a nautical homage similar to the French bouillabaisse.
Anything goes in the tomato-based seafood stew, and fish on the bone seems to impart a special flavour.
Prawns and shellfish are occasionally added.
6. Pork with clams
Combining meat with seafood is not uncommon on the Iberian Peninsula, and this unusual dish - in local lingo Carne de Porco à Alentejana (pork meat Alentejo style) - is a triumph of the Alentejo region.
Marinated pork is braised with wine, paprika, bay leaves, fresh coriander (and of course onion and garlic), and then a handful of clams are added to the spicy broth.
An inspired combination.
7. Sardines
Not the tinned ones (although the Portuguese are proud of this successful export) but the fresh ones, which are unlike any fish you will ever have eaten before.
Doused with rock salt they are grilled whole over charcoal and then purists place a single sardine on top of fresh bread, plucking the flesh from the side of each sardine and then placing the next sardine on the same piece of bread.
By the time you have eaten five or 10 of these (or more), preferably beachside, with a Portuguese beer or wine in hand, your piece of bread will be heavy with the juices and salt of one of the world's healthiest fish.
People have been known to pay money to buy someone else's sardine-soaked bread at the end of a sitting.
8. Bolinhos de Bacalhau
It's said there are 1000 ways to cook the dried cod (bacalhau) that the Portuguese love, and I'm not a fan of all of them, but I do love these little pasties (called bolinhos, or little balls), a delicate, salty bundle of shredded cod, potatoes and parsley, cooked until crispy on the outside but soft and smooth in the middle.
Bacalhau com natas (with cream) is also a fantastic dish, a kind of Portuguese-style fish pie. But the Portuguese themselves seem to love their bacalhau most with olive oil, onions, garlic and tomatoes (now there's a surprise).
9. Chicken piri piri
Piri piri is an African seasoning and the Portuguese do a great slow-cooked rotisserie chicken coated in the hot pepper spice.
As with much Portuguese food, they'll often serve it simply with plain potatoes, a tomato, lettuce and onion salad and the obligatory bread.
10. Wine.
OK it's not a food, but Portuguese wine is so good it's no surprise to me they end up drinking most of it themselves, almost reluctantly (I'm sure) exporting some of their best for others to enjoy.
You can get a good bottle of red for 2 (NZ$2.80) in the supermarket, and the slightly sparkling, fruity vinho verde (green wine) is also worth a try.
Did I mention the port?
Or the impossibly good sour cherry liqueur they call ginja?
The Portuguese are masters of beverages and also civilised drinkers, for whom a glass of a little something is an automatic accompaniment to most family and restaurant meals.
It's a great way to celebrate the day.