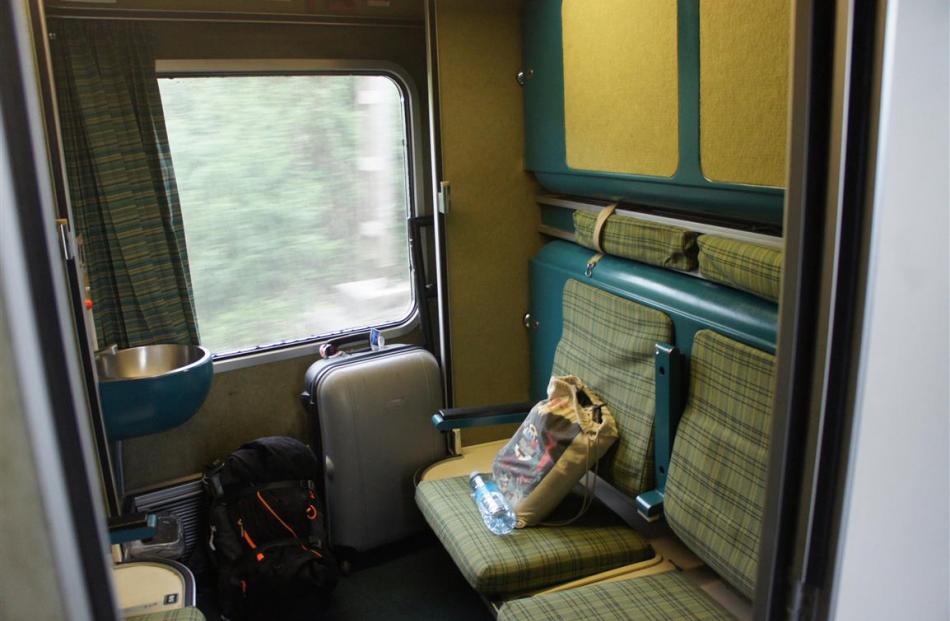 With cheap and easy flights often taken for granted as the travel mode de jour, where does the average traveller stand when faced with the reality of their CO2 contribution to a rapidly tipping climate?
Joe Dodgshun travelled the overland route from Berlin to Portugal, to find out if there might be an alternative.
"What time is your flight, then?''
My apologies for leaving the party to pack for my trip to Lisbon reveal a telling fact. No-one imagines for a second that I won't be flying. A few people even look at me as if I'm a bit off my rocker when I tell them that I'm going to travel from Berlin by bus and train.
The initial emergence of low-cost airline carriers in the early '90s led to a proliferation of budget services across the world. Affordable flights to Majorca, Berlin, or even New Zealand became a possibility and now, something taken for granted. Flying has never been cheaper and a record 3.5 billion passengers flew in 2015.
So far, so convenient. But what happens when you find out tourism accounts for 5% of global CO2 emissions and aviation is the main factor predicted to drive the sector's emissions up by 170% by 2025?
That international aviation is not covered by the COP21 agreement and UN aviation body ICAO's progress on an industry-wide carbon offsetting deal seems to be faltering?
In a world scratching its head about how to reshuffle economies to limit global warming to a maximum increase of 2degC, where climate-related natural disasters are causing damage more frequently and ferociously and five charted islands have already drowned in the past two years, what can the average traveller do to make a low-carbon transport transition?
Halfway through a 14-hour bus journey, with the promised Wi-Fi connection missing in action, a 1am Belgian military police checkpoint under way and a dozen attempted sleeping positions behind me, the question lingers.
The thing is, for longer trips such as my temporary relocation to Portugal, flying is much faster and even cheaper, even if in this case it releases close to double the CO2 of bus transport, or up to four times more than travelling by train.
Travelling there by car makes little sense next to flying, releasing similar or even greater emissions, depending on passenger numbers.
However, bus transport isn't all that painful.
The less rotund of the drivers had already passed by selling drinks, there's way more legroom than in New Zealand's terrifying little aeroplanes, and everyone eventually stretches out over two seats in the half-empty service.
The Lux Express bus I stumbled upon in Latvia last year even had "in-flight entertainment'' panels on the seat backs, a hot drink machine and fully reclinable first class seats.
And then there's the views.
While petrol stations, light industry and highways do get old after a while, we also pass forests of sun-dappled birch, fields filled with somehow simultaneously graceful and lumbering wind turbines, cheerful blocks of rapeseed, and tiny French villages given away by the tips of their ancient church towers.
When we finally reach our first destination, Paris, I'm met by friends and the first leg of the journey is soon forgotten in a delicious tour de la France's cuisine.
Without knowing it, one of these friends is what is now known as a digital nomad: someone who can and will work location-independent, via the internet. As a freelance translator, she can work and enjoy life in Paris, Amsterdam or wherever her will takes her.
This is an interesting point to note, since, for example, one in three Americans are freelancers. Many tech and HR pundits predict a huge increase in location-independent workers over the coming decades, even among full-time employees. Alongside this, one of the main reasons people decide against overland travel is the time it requires.
With limited time off, people understandably decide to use precious leave entitlement being on holiday, not getting there. But what if, while travelling by bus or train, they could work along the way? Theoretically, it's possible.
In the second bus, however, I find the internet is again dead and instead of working, swiftly fall asleep after a day of lugging my backpack all over Paris.
As I wake up in Bordeaux, the internet is still out.
Luckily, I wasn't relying on it and although some buses and trains provide strong enough internet to work with, you can easily find a reasonable mobile plan for your own connection.
We soon enter the wild peaks and rain-fed valleys of the Basque Country, passing the Spanish border and the stranding point of an earlier hitchhiking adventure.
While hitchhiking is definitely not for everyone, organised ride sharing has proved a hit in Europe for those wanting to cut their petrol costs, get a cheap ride, or to share the experience of movement.
The latter reason is driving a trend of tourists wanting to step back from hectic itineraries; allowing space to connect with people, landscapes and themselves as they travel, a movement fittingly named slow travel.
Wellness tourism - a similar form of travel fostering physical or spiritual wellbeing, even if not always using slow transport - is expected to grow 50% faster than regular tourism until 2017.
Although some might equate a leisurely cruise holiday with the term "slow travel'', the slow movement is not just about the speed of travelling, but the sustainability of the transport and the experience; activities and accommodation included.
And neither the air pollution from cruise liner engines, nor the impact of thousands of day-tripper tourists simultaneously surging into a city can be described as sustainable.
Personally, I'm glad to shake my night bus anonymity as I arrive in the northern Spanish city of San Sebastian.
Over the next two days, I get to know this Basque port city through a Couchsurfing host, the people I meet in Pintxos bars over tiny tapas taste explosions, and on foot; treading its beaches, promenades, hills and blossom-lined streets.
But I feel the strongest connection when I set out on a small section of the Camino de Santiago pilgrimage's Northern Way; an 825km journey greeting hikers with mountains, the Atlantic Ocean and encouraging Spaniards.
Such forms of regional slow travel are much less carbon intensive and beyond this, give a chance to understand a destination on a deeper level, step by step, instead of simply taking a photograph and taking off for the next stop.
This ethos of quality over quantity is something I have in mind as I board my first ever overnight train, the very serious conductor snatching my ticket and shooing me towards my cabin; which I find is shared with an extremely well-travelled Frenchman.
Together, we explore our poky but ingeniously designed couchette cabin - currently configured for seating - and get to know our carriage's collection of Dutch and German travellers; who are drinking wine, snacking and chatting excitedly as vistas of dilapidated buildings, forested hillsides and gravity-defying crags flash by.
Despite this cosy experience, it seems sleeper trains are slowly dying out across Europe, as high-speed train networks and aviation edge out the need to nap en route.
Soon, the conductor folds our bunk beds down and we settle in, as a shadowy landscape refreshes outside under a sickle moon.
Even though having trains efficient enough to rival aviation is a good step, the prospect of losing these night services seems a shame.
Entering the realm of dreams, my foggy mind notes even high-speed trains may one day be made obsolete.
In May the first test of Hyperloop technology was run, a pioneering transportation technique which one day could use renewable energy to blast passenger and cargo capsules through reduced-pressure tubes at up to 1200kmh. One day.
I'm torn from a shaky sleep as Lisbon's approach is announced with a rap on the door, and contemplate the unseasonably sodden Portugal outside, over dining carriage coffee.
Disembarking under the skeletal structure of Lisbon's Oriente Station, a relatively-low-carbon journey successfully completed, the point still stands that I contributed much more CO2 to a rapidly tipping global system than someone who stayed at home.
Should we travel so extensively and carbon intensely as we do, given this age of climate insecurity?
Environmentalists say no, and while it's hard to deny their logic, many people wouldn't dream of giving up travel.
But what we can think about is changing the types of transport systems we choose - when we have a viable alternative - making sure we actually have efficient systems in places such as New Zealand, and reconsidering how we frame the journeys we are making. 
Otherwise, it might not just be Portugal lying under more water than normal.
---
The comparison
Cost and CO2 comparison: Berlin, Germany to Lisbon, Portugal
Ticket prices
• Flying: Starting from NZ$57 (Ryanair, when booked far in advance)
• Combination of buses and trains, stopping in Paris and San Sebastian: Starting from about NZ$127 (Prices increase far less rapidly than flights)
Approximate CO2 emissions
• Flying Berlin to Lisbon: 170kg CO2(320 kg CO2 taking into account radiative forcing, the total impact of greenhouse emissions from aviation at altitude)
• Bus & train to Lisbon: 70kg CO2 figures calculated with calculator.carbonfootprint.com
---