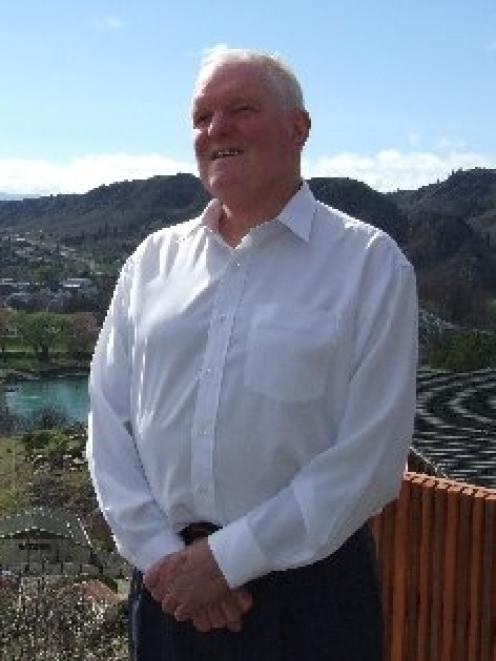 With several major projects on the horizon for the Central Otago district, now is not the time for a change of leadership, incumbent Mayor Malcolm Macpherson says.
The "steady hand of experience" is needed to guide the district through challenges which could include more hydro development on the Clutha, more wind-farm projects and gold-mining operations planned for environmentally sensitive sites, he says.
Dr Macpherson is hoping to be re-elected for his fourth term as mayor and says there is no "mood for change" in the community, as evidenced by Central Otago district councillors being re-elected unopposed.
Why are you standing?
There's still a job to be done. In fact, there's at least as big a job to be done as there ever has been. The district's facing some really interesting times and in those times I think the steady hand of experience will be really useful.
What's your assessment of how the council has operated for the past three years?
Well, we don't get into trouble . . . that's not because we're not doing anything, that's because, I'd argue, we do a good job. It's a solid council, with lots of experience and very competent staff.
If you could go back three years and start again, is there anything you'd change about the last term or do differently?
I would personally take a different approach to Project Hayes. I argued strongly that our panel should hear the Project Hayes application. There were good reasons for that but in retrospect, that was a mistake. It should have gone straight to the Environment Court as the minister [David Benson-Pope] wanted.
A number of us, me included, argued strongly that it should stay, that the decision should be made here, because we thought the conditions of consent would be very important. That turned out to be true, but it took much longer than it should have, cost all of us much more than it should have. The other big projects coming up on the horizon, I don't think we'll hear them locally.
Is that a bad thing, that loss of local control?
It's good and bad. You do lose the ability to add local flavour and local knowledge to the decisions and especially to the conditions that go around decisions. Any major energy project these days is going to go to the Environment Court, regardless. There's a national agency, the Environmental Protection Authority, that's going to deal with these projects in the future.
Because these things inevitably go to a higher court, it's much more efficient and in a sense, fairer to all submitters, if those projects go there straight away in the future.
What have been your strengths?
I make a lot of the multiple jobs I do, [and recognise] how being involved in those as the mayor adds value to those other organisations and how working with those other jobs brings value back to Central Otago. So I guess if there's one thing I think that I'm able to do that other mayors in the South haven't done as effectively, it's to tie those various jobs together to the benefit of the district.
How does your leadership style differ to that of the other two mayoral candidates?
I've always been a strong advocate for consultation. In the time that I've been mayor, we've done a lot of listening in this district, with what I think has been pretty effective consultation. I also think I'm a pretty good negotiator, and when you've done the sort of things I've been involved in, you know how to get things done.
One criticism levelled at your leadership is that you don't direct enough, or take a stance. How do you answer that?
That's a deliberate choice and it reflects the environment that mayors operate in. You're only one vote around a table; there's always another point of view. By taking dogmatic, hard-lined opinions, you often do more harm than good. I would argue that where leadership has been necessary or productive, there's been no lack of it.
Any of those personal projects that have come out of my office over the last few years, all of those happened because I got involved. That might not be making a lot of noise, that might not be taking black and white positions, but it's been very effective.
Isn't it time for a change of leadership?
I asked myself that question six months ago and I think everyone in this sort of position should do that - the last thing you want to do is to outlive your welcome. I know this is not a good time to be upsetting the applecart in Central Otago.
There's some really big projects coming up, and as I say, the steady hand of experience will be useful in the next few years. The fact that the whole council was elected unopposed tells us there's not a mood in the community for change.
Goals for the next term?
It's about doing the business we do better. The topics we'll talk about a lot over the next few years will be asset management and getting off the depreciation treadmill, and we're already working on those. If we're going to hold rate rises to within reasonable limits, those two things are going to be key.
It won't be easy and it won't be interesting but it's essential for the future of this council. That's the hard back-office, difficult, time-consuming stuff, but if we don't get that right, then we'll be dog tucker.
What are the major issues ahead for the council?
We're going to be talking a lot about big energy projects and I think this council is going to have to take a long, hard think about how we approach more hydro on the Clutha, coal in the Hawkdun, another one at least, maybe two or three wind-farm proposals and gold-mining in more demanding environments that are more environmentally sensitive.
All of those things are going to come up in the next few years and I don't think it can be business as usual; we're going to have to take a different approach and deal with them in different ways and it will involve the whole of Central Otago much more in decisions about how we as a council approach those.
I don't think we can stand on the sidelines any more when those big issues come up.
Hasn't the council done that in the past?
Yes but that's because we've been the consenting authority. We've chosen that approach. People have told me that's hypocritical and I have to agree to some extent. I don't think we can live by our "World of Difference" brand values and stand on the sidelines, and it's a real dilemma for any local authority.
What sort of campaign will you run and how will you fund it?
It's a two-part campaign. I started off by talking about my track record, and the second phase is focusing on the future and what I think is coming up. I've funded it myself and it's a modest campaign.
Are you a stirrer?
You can't be effective as a community leader without a bit of stirring, so it's not necessarily a negative thing. An example of that is the fact that all eight mayors in Otago and Southland signed the letter to the Director-general of Health [in support of retaining neurological services in the South] and that was because I did some stirring.
If you don't get elected, what's next for you?
Well I've still got a lot of jobs that I'm doing. I'm still on the Otago Community Hospice, the polytech, I've got a reasonable chance of being elected on to the district health board again. Plus there's a whole lot of other stuff that I've put on the back-burner or not even attempted that I could bring forward and take up.
Malcolm Macpherson

Age: 63

Occupation: Central Otago Mayor

Marital status: Married to Susan, with three adult children.

Council experience: Became a Central Otago district councillor in 1990, has served the past three terms as mayor.

Describe yourself in three words: "Busy, innovative, effective."

 
• The postal voting period is this Friday (September 17) to October 9 (closing, noon).