Hi there! This week I decided to make Mexican meatball soup. If you don't like coriander, stop reading now.
Still there? Awesome, I love coriander too. Lots of it. I tried growing it in our garden here, but it just went straight to seed and made lots of little baby coriander plants that grew all through my parsley and rosemary plants so we got rid of it. Now when we need fresh coriander we buy a potted plant of it from the produce section of the supermarket and keep it in a dish of water until we need it. That way it stays nice and fresh and flavourful.
This recipe is only really Mexican because it has cumin seeds and lime in it, I highly doubt it is authentic so don't hold me to it. Mum got this recipe from her good friend so, as always, the exact origins are unknown.
From a girl's point of view, the best thing about this dinner is that it is low in carbohydrates. It uses long-grain rice in the meatballs rather than breadcrumbs. That means it's gluten free as well, as long as you use gluten-free chicken or vegetable stock. If you are looking for something carby to pair with it (to fill those hungry boy bellies), look no further than a nice crusty ciabatta roll (slathered with butter of course). That is what we have at home.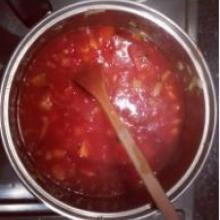 Cumin seeds are great. Sprinkle a few in your next chilli dish or vegetable soup and they can turn it into something a little more special. Cumin seeds are a wee bit pricey (for students anyway) and will set you back about $4 when they are not on special, but they will last you quite a few meals.
The pork mince we used cost $5.69 for just shy of 500g. We split this into two and froze the portions separately. The recipe needs only 300g but if you are feeding say five people, you might want to up that to 400-500g of mince and add proportionally more rice and egg. Also double the soup recipe.
Hmm, what else do I have to say about this? Ah, that's right, the meatballs are cooked in the soup while it is simmering away. That means you don't have to turn the oven on and worry about the extra mess. Clever, eh? It also means the meatballs are super juicy by the end of it.

Let's do this shall we?

Mexican meatball soup
(Feeds four)

Meatballs
300g lean pork mince
3 Tbsp long grain rice
1 egg
¼ cup fresh coriander, chopped
½ tsp salt
½ tsp freshly ground pepper
Mix all the ingredients together, cover and leave to chill for half an hour. The meat mix is easier to form into balls when it's cold.
Soup
2 cloves garlic, minced
1 onion, diced
3 carrots, diced
2 Tbsp chopped coriander stalks (or leaves)
1 Tbsp vegetable oil
½ tsp salt
1 tsp cumin seeds
400g tin of tomatoes
2 Tbsp tomato paste
3½ cups chicken stock
Sauté the garlic, onion and carrot in the vegetable oil until the onion becomes soft and translucent. Add the cumin seeds, coriander and salt, sauté for a further two minutes. Add the tinned tomatoes, tomato paste and chicken stock. Bring to the boil then reduce the heat and leave to simmer for five minutes.
Roll the mince mixture into small balls and place gently into the simmering soup. Leave the soup to simmer for 20-25 minutes. Check to see if the meatballs are cooked by cutting one in half. The centre should not be pink. If brown, sample to see if rice is cooked. If the rice is still crunchy, leave to simmer for another 5-10 minutes to finish it off.
Serve with a wedge of lime (or a sprinkling of lime juice) to squeeze over the meatballs.
I hope you enjoy this!
I really need to come up with a catchy sign-off, don't I?
- Sophie
Check out Sophie's blog: sophielikescake.blogspot.co.nz