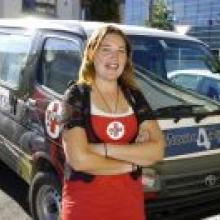 Raising awareness of two of New Zealand's endangered species is the aim of a Dunedin student who is putting together an album of music trumpeting the cause of Hector's and Maui's dolphins.
''It's an amazing project telling the story of the Hector's and Maui's dolphins through music,'' Gemma McGrath said.
A University of Otago science for communications masters student, Ms McGrath (28) is putting together the CD and website, featuring songs from New Zealand artists including Don McGlashan, the Black Seeds, Cornerstone and Shapeshifter, to highlight the danger of the dolphins disappearing from the coast because of practices such as set-net fishing.
The tracks all had strong messages, as titles like Wakeup and Bring Change indicated, she said.
''It'll be hard hitting. They're keen to . . . sing about it. It makes a huge difference to people.''
She hoped to get the album out in the next couple of months in an effort to influence the Government's work on the dolphins' threatened species management plan.
Ms McGrath was also seeking sponsorship to help with the project and the advertisement needed to promote it.
Her passion for the ''special and unique'' dolphins was ignited during her six years' work on whale-watching boats in Kaikoura and watching the number of Hector's dolphins decline.
The best estimate of numbers of the dolphins, which were endemic to New Zealand, was that there were about 7000 of the endangered Hector's and 111 of the critically endangered Maui's dolphins.
''We've got to fight it. They are just too precious. They are unique to our heritage.''
A singer herself, she had also taken her message to music festivals around New Zealand during the summer, setting up stalls to give out information on the dolphins and getting signatures on petitions to help save them.