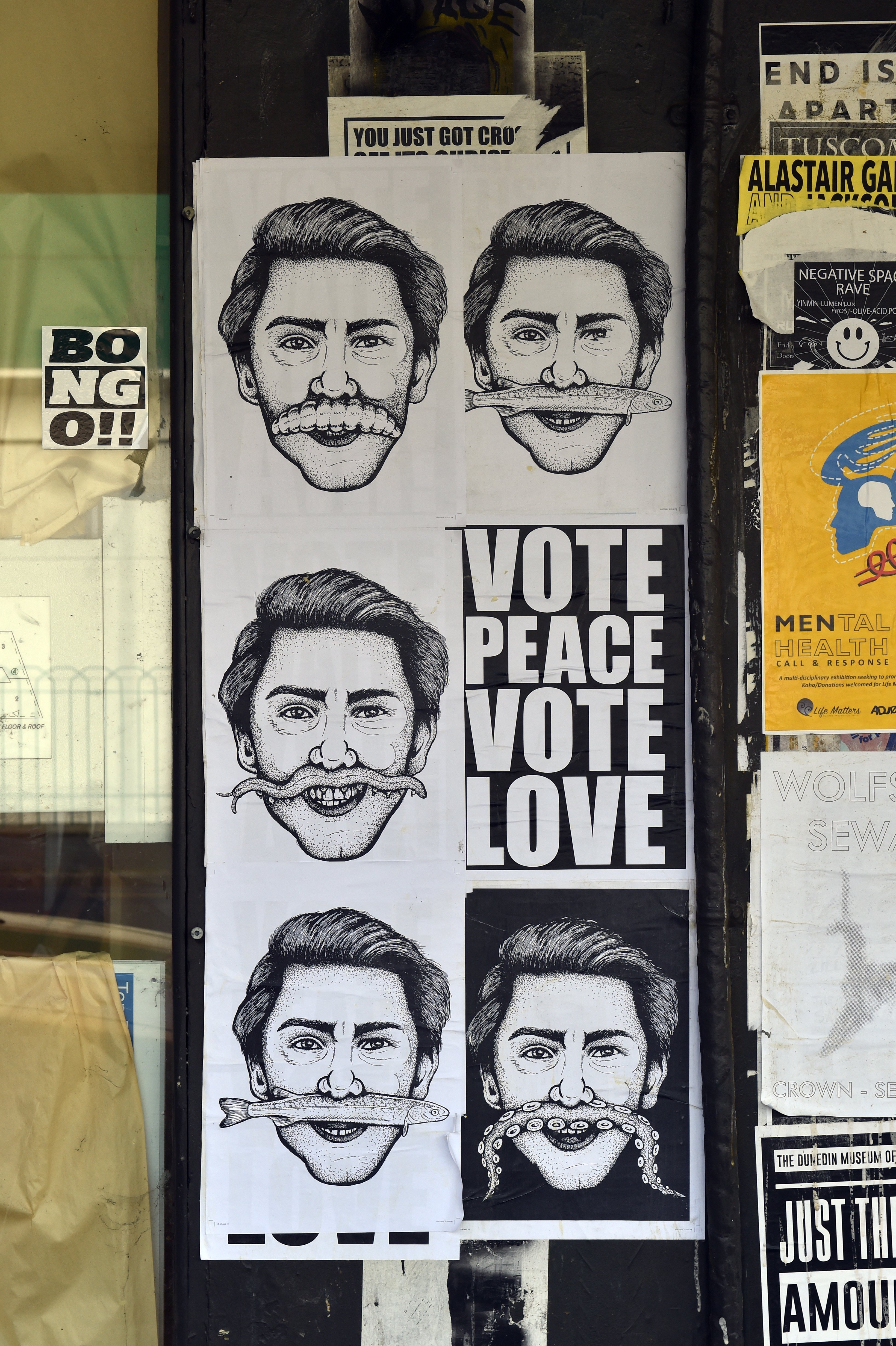 The law governing elections is absolutely riven with inconsistencies, implausibilities and impracticalities, as anyone who has had to grapple with the Electoral Act 1993 can tell you.
Dunedin artists collective Toothfish is the latest organisation to find its freedom of artistic expression - guaranteed under the New Zealand Bill of Rights Act section 14 - is not so free once confronted with section 3A of the Electoral Act.
That subclause defines what an election advertisement is - a task not as simple as you might imagine.
Back in the good old days, when political parties were the only people who paid for advertising and they sold their wares in newspapers, on radio and television and on posters and billboards, things were, relatively, simple to regulate and administer.
In these multimedia times, however, when anyone and everyone can post a political opinion for the world to see, it is much more difficult to ensure the playing field is level and everyone is adhering to the regulated spending limits.
Parliament has decreed an election advertisement means something in any medium that may reasonably be regarded as encouraging or persuading voters to either vote for or vote against a candidate or party.
The Electoral Commission calls the shots on what counts as an election advertisement and what does not, and it is a task worthy of Solomon.
In recent times it has wrestled with Wellington musician Darren Watson's song Planet Key and Weston Frizzell's print Aroha, and now it has Toothfish between its teeth.
Toothfish also wants to know what an election advertisement is, and its current exhibition has been created with teasing out that question in mind.
The observant might have seen a range of posters emerge around Dunedin in recent months, with a caricature of a young man with a range of endangered species on his top lip.
The person depicted is Green Party Dunedin candidate Jack Brazil and, although there are understood to be some personal connections between Mr Brazil and some members of Toothfish, neither he nor his party gave Toothfish permission to use his likeness.
In fact, the Greens have not only disowned the whole project, but emailed Toothfish to ask it not to put up any posters which might be seen to promote the party.
They are not the only ones displeased, other Dunedin candidates having expressed their irritation at seeing a rival's face plastered around the town.
The Electoral Commission has had similar concerns, and wrote to Toothfish in August with its preliminary findings that the first incarnation of the collective's posters were in breach of the Act.
Toothfish accordingly amended the posters, but the new versions also failed to pass muster as far as the commission was concerned.
The posters were changed again, a version which the collective told the commission should not be viewed as political advertisements as they were unpermitted, unpaid for, contained no voting message, and were clearly in the style of a recognised artistic collective - Toothfish's work has been on show in several New Zealand centres as well as overseas.
The posters are still on the walls while the commission ponders, and Toothfish has more posters to come as it continues what it calls ''a kind of agent provocateur or a teaser campaign on behalf of environmental issues and social justice''.
Toothfish's project is not going to decide the election, and its art raises valid questions, issues which the courts had to wrestle with when considering the Darren Watson case.
This kind of artistic impasse will occur again and again, and so it should - art is a mirror within which to reflect society.
Now all society needs is to find some kind of workable regime which allows artists to do their work and politicians to do theirs.
For whom the bell tolls
Whoever in Prime Minister Jacinda Ardern's media team decided that she should do live interviews from Dunedin on Tuesday morning while standing in the Octagon may have received a stern ticking off.
Quite apart from the usual perils of live crosses such as inclement weather, sweary passers-by and technical glitches, Ms Ardern also had to endure a cloud of seagulls auditioning for a role in a remake of Hitchcock's The Birds, and being drowned out by the town hall clock chimes.
Ms Ardern could do nothing but laugh, but also possibly reflect later that her mishaps probably got her more publicity than her stump lines would have if she had managed to speak without interruption.
Testing times
In this era of restricted movement and gathering limitations, politicians get out and about more than most, with both Ms Ardern and National leader Judith Collins having been asked since the election campaign began if they were practising appropriate physical distancing.
New Zealand First list MP and Taieri candidate Mark Patterson has made sure he is good to go out in public, here pictured looking a lot more enthusiastic about his Covid-19 test than most people do.
Small things matter
National Clutha-Southland MP Hamish Walker's time in Parliament is rapidly coming to a close, but his imminent absence does not mean his issues are forgotten.
Squirrelled away in the finer details of his party's health policy, announced this week, was a pledge to restore primary maternity services in Lumsden - a cause Mr Walker elevated to a national issue.