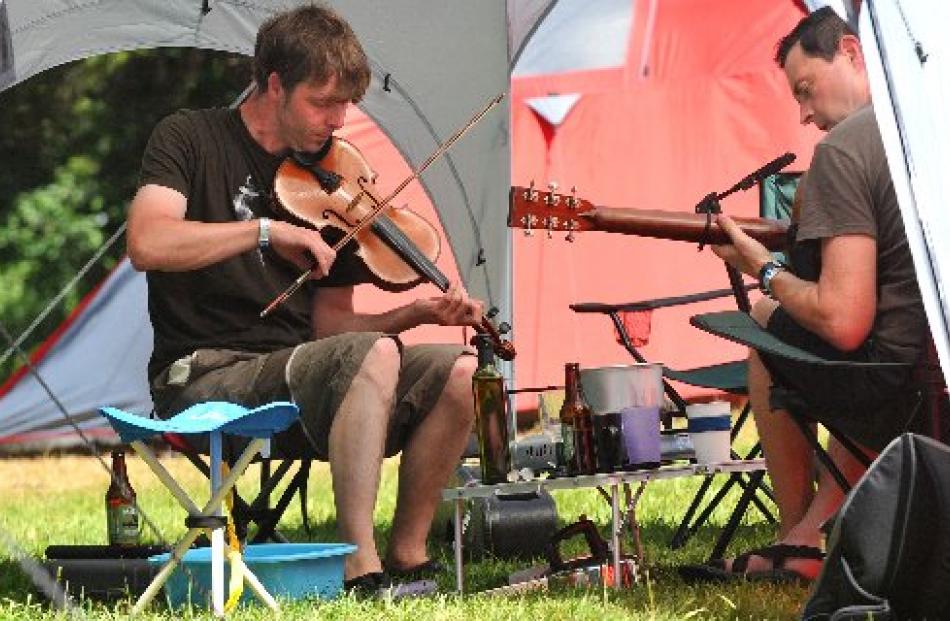 After an event packed with sun, streams, bush, a waterhole, waterslide, lots of tents and constant music, the 40th Whare Flat Folk Festival will wind up today.
When the festival finishes with a variety concert in the marquee at 8pm about 70 performers will have played to an estimated 400 people over the three-day event.
Acts had come from across New Zealand and Australia, festival director Bernadette Berry said. Festival-goers were also free to perform in an open-mic environment in the Whare Flat hall.
The 400 festival-goers ranged from those who had been to all of the 40 events, to newer arrivals, including young children, teenagers and young adults, Ms Berry said.
The festival's ongoing popularity was tied to the constantly changing music on offer, she said.
A huge number of musical genres fell under the wider folk umbrella and folk music itself was constantly evolving and drawing in new people.
''We move with the musicians. People see rock music changing. They see pop music changing. And they think folk music stays the same. And it doesn't.
''Folk music is getting a revival all over the world, so people aren't so scared of the name any more.''The festival's ''accepting'' atmosphere was also a popular draw, she said.
That was a sentiment shared by long-time festival attendee Silke Templeton. She had come for ''several years'' and would continue to do so, she said, ''because it's a very family friendly peaceful fun event, for everyone; for kids and for parents. It's a very relaxed, nice camping festival, the music is fantastic and it's just so close to town''.
Bob McNeil, of Wellington, said it was probably his 10th time at the festival.
''I would say it's a great setting. There's lots of great musicians. It's very chilled, it's very relaxed.''Logan Park High School pupil Fraser Braid (16) said the festival's ''chilled out'' atmosphere was a key attraction for him and his friends.
And although this would be the last festival Ms Berry organised - she has now organised 18 in a row - she had no doubt the same atmosphere would continue.
''And I really believe it's time for the next generation to be picking it up.
''Although we're trying to keep with the times, if the young group look at [the festival] and see their own people running it, they might be more likely to get involved and be part of it, as well.''
The festival, run by the New Edinburgh Folk Club and funded ''mostly'' by ticket sales, will be open to day-entry visitors today.