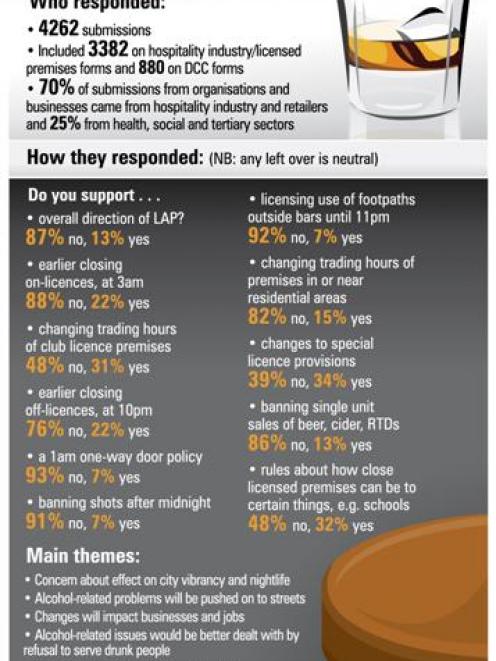 Seven Dunedin city councillors may be spending a good part of this weekend finishing reading thousands of submissions on the city's draft local alcohol policy.
With 4262 responses - the highest number any council has received on a draft Lap - they have a lot to take in.
And once the committee of Mayor Dave Cull and councillors Aaron Hawkins, Mike Lord, Jinty MacTavish, Neville Peat, Andrew Whiley and Lee Vandervis has spent seven days hearing from submitters and two days considering the framework of the final policy, it will put something forward to the full council for approval.
An appeal period will follow.
All Laps that have reached that stage in other cities have been appealed by the liquor and/or hospitality industries.
The aim of a Lap is to cut the amount of harm caused by alcohol.
They are optional, but give communities the ability to set rules, over and above existing legislation, on how alcohol is sold and supplied in their districts.
Once a Lap is adopted, local district licensing committees and the Alcohol Regulatory and Licensing Authority must ''give regard to'' it when deciding whether to issue a liquor licence.
In Dunedin, a draft Lap developed over several years, and in conjunction with police, health and social agencies and after some consultation with the industry, suggests among other things 3am closing, a one-way door policy after 1am, licensing footpaths outside licensed premises until 11pm, banning shots after midnight and stopping off-licence sales after 10pm.
Council services and development general manager Simon Pickford said the massive response the draft generated was exactly what the council was looking for.
The idea was to get a conversation going about what it would mean and that ''very certainly'' had happened.
Since the council had already resolved to adopt a Lap, it was unlikely one would not be adopted, he said.
It was just a matter of what was in it.
To those who worried the policy's detail was already set, he said there was nothing to fear from the process.
''It is open and transparent and councillors come to this with an open mind ... It could go anywhere from here.''