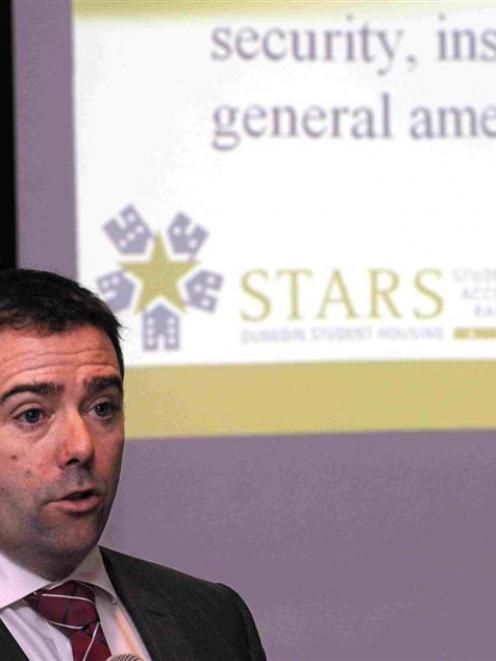 A long-standing Dunedin tradition of frozen, damp and squalid student flats could be coming to an end, the backers of a new scheme designed to increase the quality of student housing stock say.
The student tenancy accommodation rating scheme (Stars), launched yesterday, was developed by the Dunedin City Council, University of Otago and Otago Polytechnic, and is the first of its kind in New Zealand.
The scheme has a website, www.housingstars.co.nz, with accommodation listings, and a one-to-five star rating system for each listing.
While the scheme was voluntary, deputy mayor Syd Brown said yesterday it would be audited, flats would be subject to random checks, and it was hoped landlords would feel they could not afford not to be a part of the scheme.
"My take on it is this will be so popular with students it will be their first port of call," Cr Brown said.
Landlords would be "doing themselves a disservice" by not being a part of it, and the requirement to keep houses to a certain standard would increase the quality of housing stock.
Cr Brown said the Stars rating, which would be run by the council, was automatically generated by the landlord's responses to an online questionnaire about the property.
Its development had input from students associations, property investors, and the Real Estate Institute of New Zealand.
The questionnaire gathered details on fire safety, security, insulation, heating, ventilation and amenities. Each question was weighted differently, giving an overall impression of the quality of the property and a rating out of five stars.
When a prospective tenant searched on the site for a property, they could view responses to the questionnaire, enabling them to make an informed decision.
A "good faith' scheme, it did not provide a forum for complaints about landlords, though if the information given was inaccurate, there was a feedback section on the property's details page where concerns could be listed.
The university's accommodation office would use the system, and the Stars rating would show up on the listings of private letting agencies.
The council, which was running the scheme, would give a landlord the opportunity to respond or fix the issue within five working days before posting the feedback on the website.
University director of accommodation services James Lindsay said with a student population there were thousands of tenants, and "hundreds and hundreds" of landlords.
The scheme would provide an incentive for landlords to improve their properties, with students able to make more informed choices through the information provided on the website, and "market forces" doing the rest.
Cr Brown said there were checks and balances in the system, with the audits, and staff checking the identity of people using the site so landlords could not "play the system" by making complaints about others.