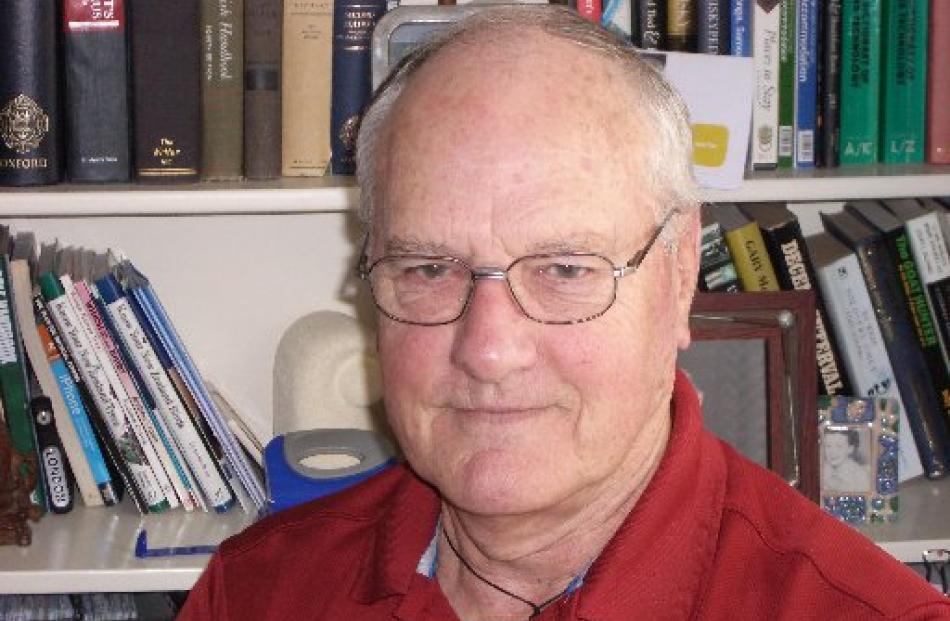 New Zealand's World War 1 soldiers were renowned for their ability to build or fix anything with a piece of No 8 wire.
And when Billy Barnes's book Holding The High Ground - A history of Montecillo (1918-2015) is published next year, readers will see that Kiwi ingenuity was also put to good use by wounded soldiers at Montecillo Veterans' Home and Hospital on their return from the war.
Mr Barnes (67), of Lincoln, said the wounded soldiers were required to stay on site and, very early on, the principals of Red Cross and the Minister of Defence were adamant the soldiers should not be allowed to drink alcohol.
They were also supposed to wear a blue uniform, which identified them as wounded soldiers, and pubs in the area were instructed not to serve alcohol to anyone wearing one.
''But the boys objected to wearing them.
''There have been characters all right, and some interesting carryings-on.
''They were all young but they had limbs missing and funny bits and pieces, and of course they all wanted to get out and party. They didn't want to be kept up on the hill in Montecillo.
''They would find all these clever ways of sneaking out and getting down to the Mornington pub.
''These poor guys would often come back to Montecillo, much the worse for wear, after crawling through the gully and scrub - they used their military training to get back into Montecillo undetected - and often they were covered in mud at the feet of matron, who was standing on the porch, waiting to pounce on them.''
Mr Barnes said what made Montecillo different was the men looked after each other.
It was as though they were still in the army.
''In the 1950s, Montecillo had to have fire alarms fitted to bring it up to spec.
''One of them said, 'We've got our own fire alarm - it's called Bang on the Wall'.
''If you had a fire in your room, you banged on the wall to make sure your mate knew to get out.''
Mr Barnes said he had spent several years researching the veterans' home, and had found the residents formed a
family.
But the character of the family had changed over time, from a group of energetic, keen men in their 20s to the rest-home generation of 80 to 90-year-olds.
''All of them were dependent on others for their daily needs; all of them intent on retaining their dignity and self-worth.
''This is a story of a special class of Kiwis: quiet, honest workers, hard cases and decent jokers who would do anything for a mate.''
Montecillo was opened in July 1918, when patriotic Dunedin residents saw the need for a dedicated convalescent home for the wounded men returning from World War 1.
Fundraising for the facility was led by the fledgling Red Cross Society, and the grand homestead on Montecillo Rise was bought.
Mr Barnes said a book had to be written about Montecillo's history to make sure it took its place as a worthy chapter in Dunedin's history.
''This is a story of the honour, commitment and sacrifice of a community, which against the hesitation of elected authorities and their agencies, persisted in fulfilling the promise made to those who would serve their country in war, that they would be looked after.
''The directors, staff, friends, supporters and clients of Montecillo have all fought on through the years to provide the best in convalescence, recuperation, rest and respite care for war veterans and their families, because it was the right thing to do.
''Someone had to hold the high ground in the face of broken promises and suspicious hidden agendas,'' he said.
Mr Barnes, an intelligence officer during the Vietnam War, said he had written four previous books on military subjects as a way of ''keeping my brain going''.
His books include Old Soldiers Never Die (about Rannerdale Veterans' Home in Christchurch), and a couple of books on the Vietnam War.
''There are a few more in the pipeline. It's a pastime I enjoy.''
Mr Barnes said he was almost finished writing Holding The High Ground, and hoped it would be published in mid-2015.