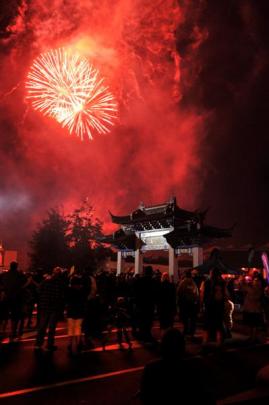 The Year of the Horse started with a bang as a crowd of several thousand gathered at the Dunedin Chinese Garden to celebrate Chinese New Year last night.
The crowd was treated to a 15-minute fireworks display that sent booms echoing off surrounding buildings and left small children covering their ears.
As part of the festivities, the Otago Equestrian Society earlier brought three horses to the event, allowing people the opportunity to get a close-up look at the animals.
After a parade from the Octagon, the celebrations were opened by Mayor Dave Cull and the vice-consulate general at the Chinese Consulate in Christchurch, Madam Chu Yanli.
Mr Cull said Dunedin was in for ''quite a ride'' in 2014, which was also the 20th anniversary of the city's sister city relationship with Shanghai.
Dunedin City Council community events co-ordinator Marilyn Anderson said this year's fireworks were designed to soar 50m higher than fireworks used in previous festivals.
Live entertainment, including dancing dragons and lions, celebrated Dunedin's cultural diversity with performances from the Korean, Indian and Irish communities - as well as the Chinese.