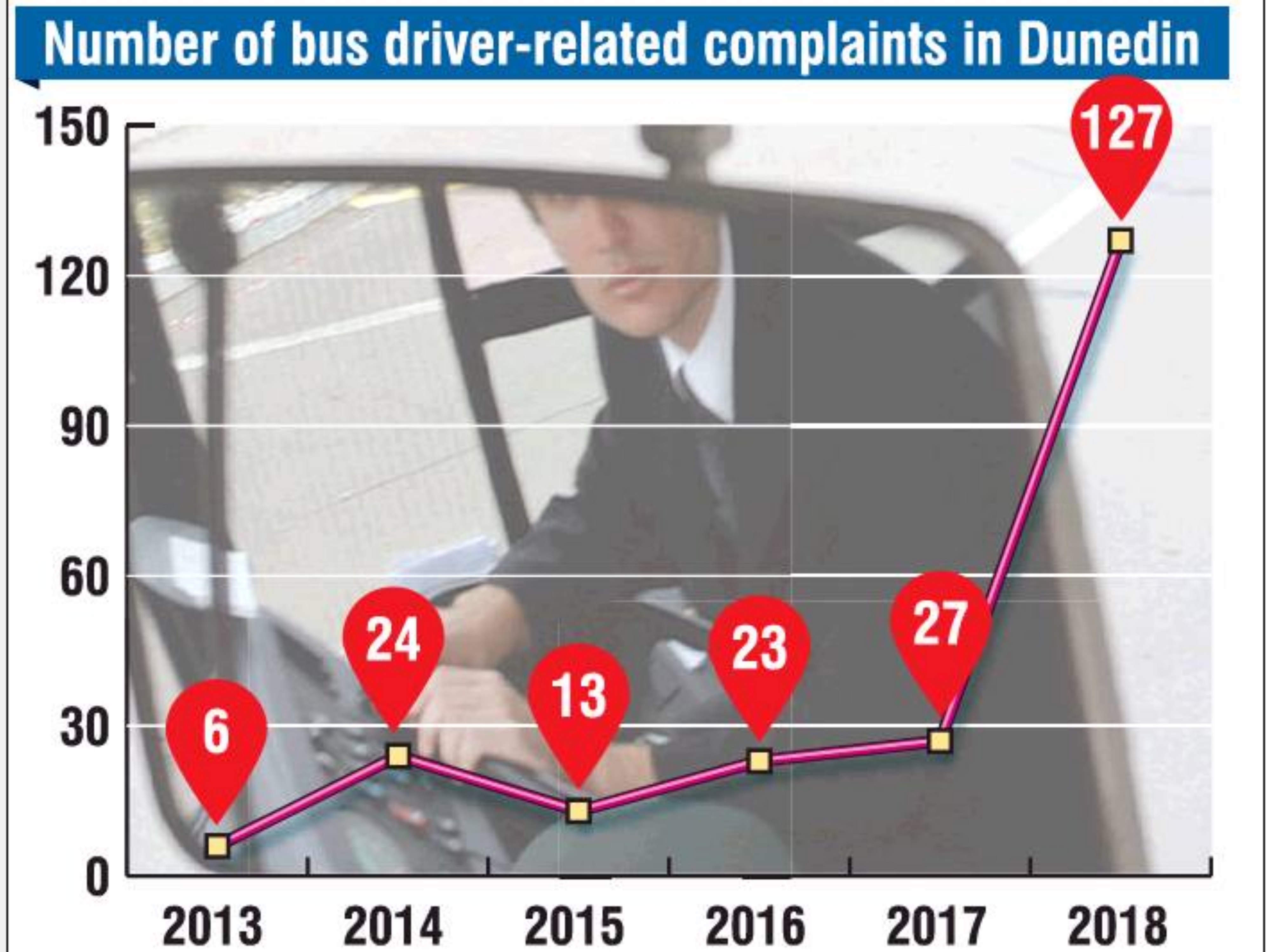 Complaints about Dunedin bus drivers shot up more than 300% last year.
However, service provider the Otago Regional Council (ORC) is refusing to specify the nature of the complaints nor whether they were substantiated.
The council received 127 driver-related complaints last year, compared to 27 in 2017 and an average of about 16 in each of the preceding four years, according to figures obtained by the Otago Daily Times under the Local Government Official Information and Meetings Act.
Council legal officer James Gribble acknowledged the increase in complaints in 2018 in a letter accompanying the data.
In explanation of the spike, he said the ORC last year made complaint channels more accessible, including via email and social media.
It had also increased the services and patronage of the Dunedin bus network, along with the profile and visibility of the Orbus service, he said.
The ODT requested the nature of each complaint, whether they were substantiated or not, and what action was taken if so.
Mr Gribble refused to release that information, citing the "substantial collation or research'' he claimed would be required.
Complaints received by the ORC were forwarded to the relevant operator to investigate and resolve, he said.
"Compiling specific details of each complaint and any outcome ... would involve substantial collation and research as each individual complaint (and outcome) would need to be manually investigated.''
Responding to further questions from the ODT, council support services manager Gerard Collings said in a statement, he believed a drop in the quality of service provided by bus drivers was not a factor in the sharp rise in complaints.
The increased ease of making complaints was behind the rise, along with an improvement in internal systems for logging and answering those complaints, he said.
In addition, Mr Collings said patronage and public visibility of the bus service had increased in recent years, and more feedback was an "inevitable consequence''.
An Otago transport industry source said another source of complaints was likely to have been changes to routes and fare structures.
A Dunedin man was dismissed from his bus driving job last April after complaints surfaced regarding his allegedly lewd behaviour towards women.
It is understood at least 20 women voiced concerns about his behaviour.
An NZ Transport Agency spokeswoman said this week the man still held his passenger endorsement.