What do you know about the 11 candidates who are contesting the 2016 mayoral election? David Loughrey puts the questions to Cr Andrew Whiley.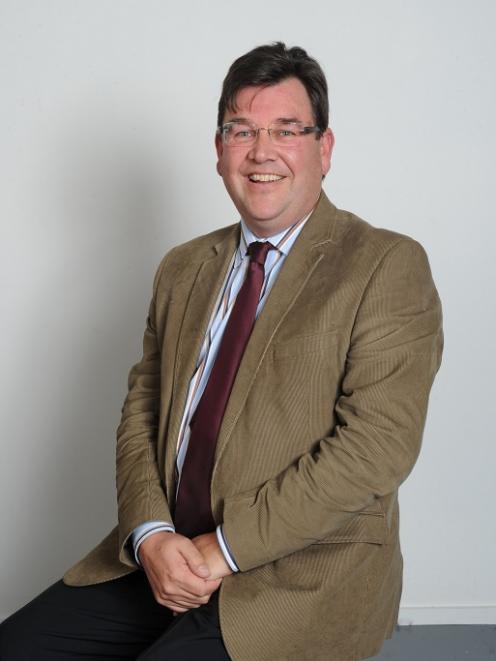 CR Andrew Whiley has spent one term on the council, and has raised concerns about what he says is a green agenda in Dunedin's local government.
The spokesman for Pro Gas, which lobbied for gas exploration and production off the Otago coast, says the city has failed to tell the rest of the country it is open for business.
Cr Whiley says under his leadership, that would change.
Why are you standing?
Having completed my first term, I have seen where, in my view, the city needs a clear direction, and that is we need stronger leadership that engages with the community, also with a focus on economic development strategy that presents ourselves as a great place to do business.
Do we not do that already?
No. We do not tell our story. Dunedin's got so many opportunities, we fail to tell our story.
We've had a marketing campaign in The New Zealand Herald and other media. What more would you do?
The number one thing is we have to back that up. We have to follow that through. Having [articles in entrepreneur magazine] Idealog and those sort of things have been great in the last few months. To give you an idea, The New Zealand Herald article, the presentation we made back in January, the council put $21,000 into that I think, and the rest was subsidised through local business. We didn't take the lead, we haven't taken control, we haven't backed that up. Dunedin is actually the best city in the country to establish and start a business, and we failed to tell that story.
Why should people vote for you?
Because I will be a mayor that actually engages with the community, can unify council, and promote Dunedin as a city to do business in.
What have you done as a councillor that should make people choose you for mayor?
I've stood up for the community. Whether it's South Dunedin in the flood, I was the one who stood there and actually said it was infrastructure, and we need to focus on infrastructure. I was the one that fought and really spoke out about freedom camping. I also believe I was the one trying to front-foot Gigatown.
Do you still think oil and gas production is important for Dunedin's future?
I was the spokesperson for Pro Gas, so I wouldn't say the oil industry. I think there were two parts to that. One, there was always an opportunity for gas exploration and a successful find off the Otago coast, and the jobs and the millions of dollars it would bring. The second part of that is that clearly the portrayal the rest of the country got from Dunedin was that we weren't interested in this opportunity. We failed to say Dunedin is open for business.That's what we have to continually speak out about.
You have attacked the council for having a green agenda, but isn't that the voters' choice? The voters have chosen the people on the council. I don't think they've been backward about coming forward about [having green views].
I think the problem is the green agenda. For example we've spent too much time attacking Wellington, and not actually doing enough in our own community.
You need to get seven other councillors on side to gain a majority. How would you do that as mayor if you haven't as councillor?
The first thing that I noticed in this term of council, we started off three weeks in, we had a lunch where the councillors sat around a table and Dave [Cull] engaged with us and said we're going to do this on a regular basis. We haven't done one since. I believe once he saw that he had his nine votes, the rest of us were left out. The agendas were set, the decisions were essentially made. One frustration I personally have as a councillor [is] I only feel I won one vote the whole time I was at council.
Having lunches and regular meetings with councillors doesn't necessarily change their political views or their views on issues, does it?
No, but when you've got the chairs, the chairs are able to set the agendas, and you're able to basically set the tone of where the city is going. Dave set his tone, and after that went off on the direction. It's up to the community now to decide whether that's the pathway they want to go down for another three years, or whether they would like a change.
What do you see as the major issues this election?
The three things that have really stood out have been they want a unified council that gets on and gets things done. They want economic development, they want runs on the board, and obviously South Dunedin's going to be an issue.
How would you deal with South Dunedin issues of flooding and climate change?
The residents of South Dunedin would accept a 30cm flood once every 20 to 30 years. The last flood they had was in '68. They would accept that. What they won't accept is when a 30cm becomes a 50cm flood because of infrastructure failure. We've got to have better maintenance, better infrastructure, we've got to invest in that. We've also got to invest in South Dunedin as a community. We haven't supported the community. We've also got to make it consent-friendly.
What about the long-term future?
South Dunedin could be below sea level. The Dutch live below sea level. Engineering will work with us to make it viable.
What is Dunedin doing badly?
We've led the country in putting in cycleways and ripping them up. That was councillor-led initiative, with staff. I fought two cycleways. We failed the community. We failed the community in Gigatown
What is Dunedin doing well?
Two aspects: a $250 million-plus building boom in the next year to 18 months. A huge amount of money is going to be spent in the city through the Government on the university, the polytech, the dental school. Nobody is really talking about that. The other factor is Dunedin is the best city in New Zealand, if not the best city in the world, to bring up a family and run a business. We don't tell that story.
What is your vision for the city?
To be the best city in New Zealand to raise a family, get an education, buy a home, have a career, build a business and retire.
Who did you vote for at last national election, and how would you describe your politics?
My politics would be quite centre, fractionally right. I'm a supporter of John Key.
How are you going about your campaigning and fundraising?
My campaign will be a combination of signage, social media and billboards and newsprint. I'm talking to a lot of people and putting fliers out to get who I am and what I'm about out. I'm trying to raise funds, because running a mayoral campaign is not cheap.