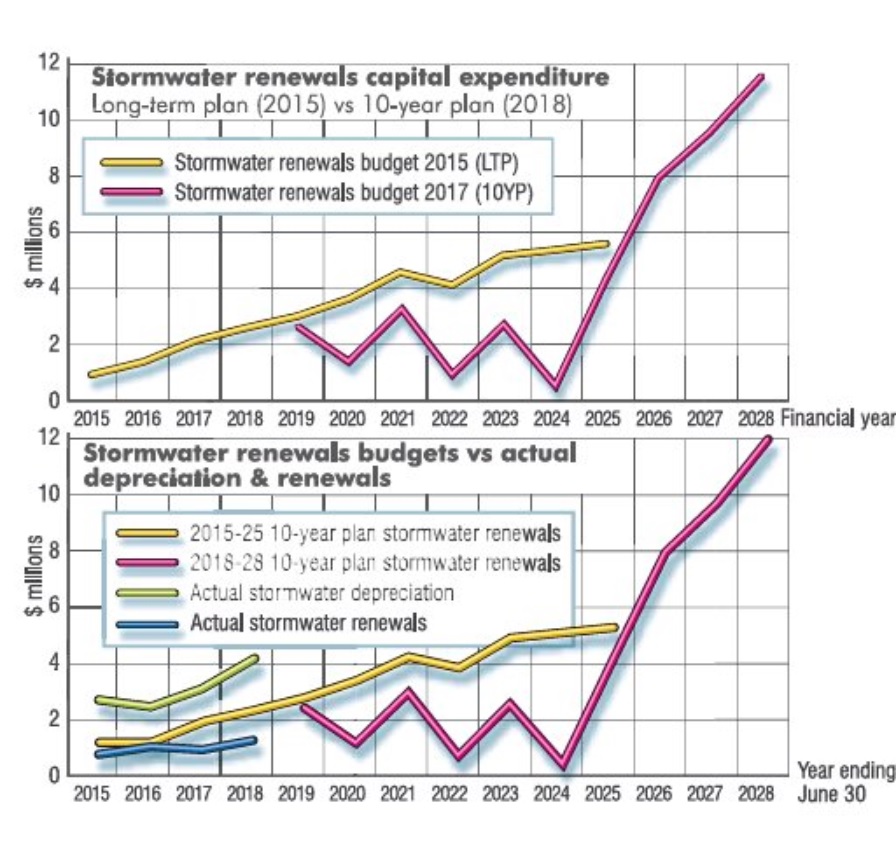 Graphs are flying, and both sides are claiming they are right, as a Dunedin city councillor takes on his own council over stormwater spending.
Cr Lee Vandervis, speaking at the recent DCC annual plan budget meeting, had raised concerns about a "massive" underspend in stormwater infrastructure.
He based his comments on graphs comparing the council's 10-year stormwater renewals forecasts made in 2015 and 2018.
The graphs showed the 2018 forecast trending well below the 2015 one until 2024, when it increased dramatically.
The following day, council chief executive Sue Bidrose took him to task over the graphs, amid suggestions they had been compiled by an outside source.
Dr Bidrose told Cr Vandervis his claims were wrong, as they overlooked $30million in planned stormwater spending in South Dunedin added to the council's books in recent years.
Cr Vandervis challenged that in a letter email to the Otago Daily Times, saying Dr Bidrose's comments were contradicted by earlier comments she made to him - also in an email - the previous year.
He forwarded an email exchange from February 2018 to the ODT, in which Cr Vandervis had asked Dr Bidrose about the accuracy of the graphs.
Dr Bidrose had replied saying staff considered the graphs lacked some information but looked "roughly right".
Cr Vandervis was not available for comment before deadline yesterday and Dr Bidrose is overseas.
Instead, council infrastructure services general manager Simon Drew released updated graphs which bore a striking similarity to Cr Vandervis' earlier graphs.
However, as Cr Vandervis challenged anyone to "spot the difference" online, Mr Drew said his boss was "not wrong".
The new graphs still showed the council's 10-year forecast for stormwater spending, set in 2018, trending well below the earlier 10-year forecast, set in 2015.
However, whereas the 2015 10-year forecast showed a steady increase in spending, the new 2018 10-year forecast had a lower trajectory increase until 2024, when it spiked dramatically.
The same spending spike was planned across the entire 3 Waters network.
Mr Drew said the council now planned to spend $305 million on water infrastructure over the next decade, which was "a substantial increase" on the $242 million, 10-year spend forecast in 2015.
The extra spending included $35million for flood alleviation work in South Dunedin, which had not been in the 2015 10-year plan, he said.
Much of the new spending was also in the council's capital expenditure budget, not its stormwater renewals budget, "which is where the confusion may have arisen", he said.
The extra spending would also cover a new wastewater pipe from Kaikorai Valley to Green Island, designed to take the pressure off South Dunedin infrastructure.
Spending spiked in 2024 because of the time needed to plan those two major projects, as well as other "significant" work, he said.
Already, $3 million in capital spending on the water network had been brought forward to the 2018-19 year, and a further $3.5 million worth of stormwater work was proposed to be brought forward to 2019-20.
"If approved, this would lift stormwater capital expenditure for the 2019-20 year above the level forecast in 2015," he said.