The former Dunedin man who invented the Martin Jetpack is preparing for take off again with a new ''flying machine''.
Glenn Martin said this week he plans to have a full-sized working model of his vertical take off and landing ''Kiwi Electric Aircraft Personal Aircraft'' (KeA-PAC) flying within a year.
So far, a one-eighth scale model has been tested and a quarter-scale model was under construction in his garage in Christchurch.
Mr Martin said the new aircraft was the one he dreamed of decades ago as a student at the University of Otago.
''You can roll it out, you strap into this thing and you hit the button and fly away.''
Although Mr Martin is not providing pictures - for patent reasons - he says the machine uses fans, takes off vertically, has wings, will glide and has computers to do the ''hard thinking''.
And like the Martin Jetpack, ''you're still out in the open, you're still standing up vertically, you've still got some giant fans.
''The big differences are that it will fly three times faster, it'll go three times higher, it's going to be about half the price and we're using an off-the-shelf electric motor.''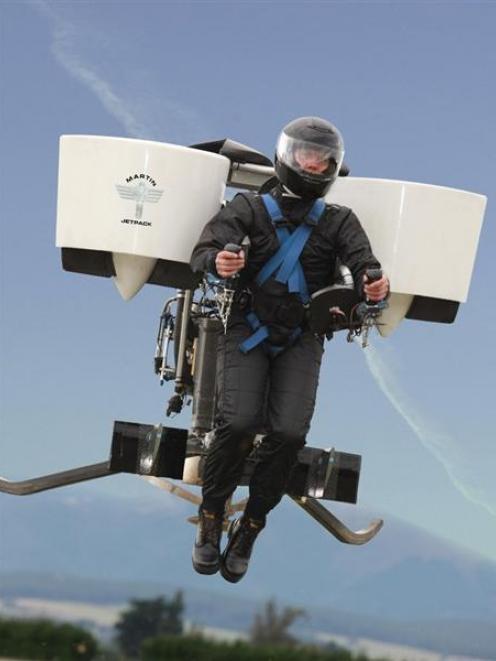 The KeA-PAC also has a parachute system that works above an altitude of about 5m and a ''giant pogo stick'' type undercarriage was being developed for lower altitudes.
''So the idea is if anything fails at any time you should be fine.''
One of the advantages of using an electric motor was that they did not tend to ''catastrophically fail'', he said.
''They tend to get hot and slowly lose power.''
Mr Martin said the machine was not a drone.
''I don't like drones very much.
''They make a lot of sound, and they're really inefficient.''
His plan this time is to maintain full control of the project.
Mr Martin left the jetpack company he founded in 2015 after disagreements with management over the company's direction.
''So no venture capitalists, no huge investors that can come in and put in so much money that they can change the direction of the company.''
The project was being funded by himself and his wife and a few friends.
''Now we are at the stage where we can open it up for a few investors.''
Mr Martin has given himself four years to get the project off the ground and has been working on it for three years.
''I'm 110% convinced the technology's going to work,'' he said.
Mr Martin hopes to launch the KeA-PAC at the Oshkosh Airshow, in the United States in 2020, where the Martin Jetpack had its first public outing in 2008.