Clean-up operations are under way across Otago as flood waters continue to recede in the region's rivers following a severe storm.
Dozens of residents would remain out of their homes overnight as evacuations on the Taieri Plains continue following the second largest rain event on record there.
The wild storm, bringing heavy rain and powerful gales, began on Friday afternoon and caused widespread flooding and disruption across Dunedin, Waitaki and Clutha, as well as flooding and snow in parts of Central Otago.
Otago's state of emergency was expected to end on Monday morning as authorities transitioned to the recovery phase of the emergency which bought downpours to the eastern coast of the lower South Island.
While Monday should be settled, more bad weather was expected from Tuesday. MetService meteorologist Angus Hines said other storms "were lining up to bring more rain". Significant snow was forecast for the Maniototo and Strath Taieri areas.
Dunedin City Council staff and contractors were busy again throughout Sunday with clean-ups and repairs following significant damage.
Group Controller Chris Hawker said the Waitaki and Clutha District Councils closed their emergency operations centres on Sunday afternoon, with council staff and contractors continuing to repair damage to roads, water and wastewater systems.
The Dunedin Civil Defence Emergency Operations Centre would remain open and the Otago Group Emergency Coordination Centre was still activated in support.
In Dunedin and its wider surrounds, 142 homes remained evacuated on Sunday night.
"The Taieri Plain, which has been the focus of our attention, has been really badly damaged,'' Dunedin Mayor Dave Cull told a briefing on Sunday afternoon.
"As we move into the recovery stage people need to be looking out for each other.
"There's still a lot of water lying around, including on roads, there's still lots of slips, most of them have been partly cleared but there's a lot of debris around and, to complicate things, it's freezing now.
"A lot has been achieved, but we need to be aware there's still a lot of surface water, there's still debris and there's some roads that are still partially affected by debris and slips as well,'' he said.
The transition from response phase to recovery phase did not mean less resources would be involved in the clean-up, Otago Civil Defence and Emergency Management Group regional manager Chris Hawker said.
"As we move forward in the recovery process I'm really confident the job that's been done and the job that lies ahead of us, I'm very clear about.'' 
Many still out of homes
More than 90 residents were allowed to return to their homes in Outram on Sunday, with only two properties in the township still evacuated due to flooding.
However, Henley remained without power and 35 properties are still evacuated in the settlement, 32 properties in the East Taieri upper pond and 30 in the lower pond, 22 in the Gordon Rd spillway and Silverstream area and 18 in the Mill Creek subdivision.
"It will be some days until some residents can return to their houses,'' Mr Cull said.
Anyone whose property had been affected by the storm should contact their insurers as soon as possible, he said.
Mr Hawker said assistance was available to people whose property had been flooded or were affected in other ways.
People who had been displaced from their homes could contact local community agencies such as Salvation Army, Presbyterian Support, Anglican Family, Catholic Social Services, Methodist Mission and Arai Te Uru Whare Hauora for assistance. 
All these agencies could be found online and in the white pages of the phone book.
River levels dropping
Most river levels were dropping across Otago, but widespread flooding remained, and authorities said to treat all flood water as potentially contaminated.
Otago Regional Council chairman Stephen Woodhead said on Sunday evening the Clutha was flowing at 669 cumecs after peaking at 1800, and the Taieri down to 325 cumecs after peaking above 2000 on Saturday.
ORC engineers were assessing damage to stopbanks and pump stations as water levels dropped, mindful that more rain was forecast for later in the week.
Many slips in region
District Civil Defence Controller Sue Bidrose said on Sunday more than 20 slips had been identified around Dunedin, while Otago Regional Council chairman Stephen Woodhead said there were "lots'' affecting rural roads in the wider region.
Authorities expected to lift the state of emergency on Monday, but it would be assessed on a district-by-district basis.
"This has been a significant event and the second biggest on record for the Taieri,'' Mr Woodhead said. "With the amount of water it's going to take days and days for the various systems that are draining and pumping to catch up.''
Dr Bidrose said a priority would be on clearing slips on main arterial roads.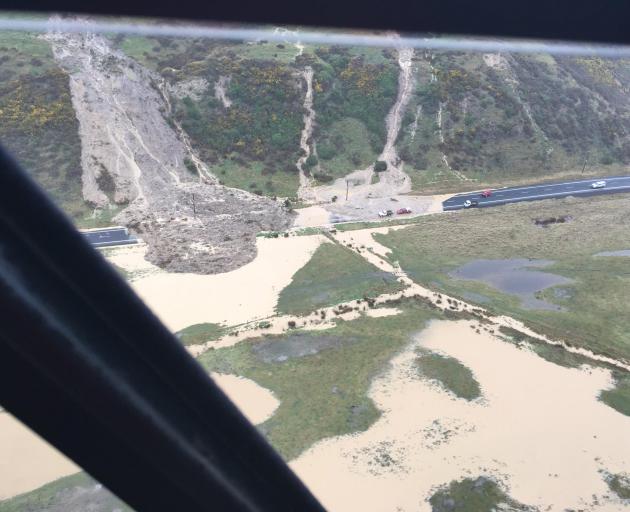 Portobello Rd from Dunedin to Portobello fully reopened to the public at 5pm on Sunday.
Work to clear a slip on Harington Point Road just past the turnoff to Harwood had been completed by the evening.
Harington Point Rd from Portobello to the tanks traps near Taiaroa Head was open to residents only access with extreme care from 5pm.
The road beyond the tank traps (1025 Harington Point Rd) would remain impassable and staff were assessing options to restore access. 
There had also been slips on private property and DCC building inspectors and emergency services have been providing advice and assistance.
All but one of the 12 properties evacuated due to a slip in Ravenswood St in St Clair have been able to return home.
There have been two slips onto the Frasers Gully walking track. The DCC asked that people please stay away from there until further notice. Second Beach walking track in St Clair was also closed due to a slip.
Anyone whose property had been damaged by floodwaters, slips or weather related issuers should contact their insurers as soon as possible, the DCC advised.
• Anyone wanting to report flood related issues with DCC services should call (03) 477-4000.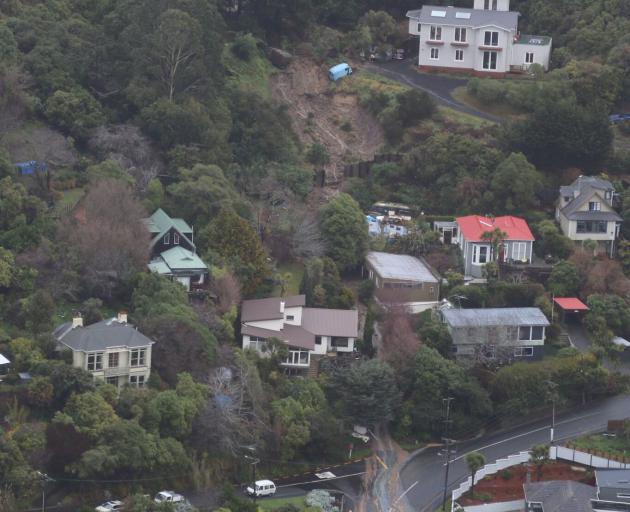 Roads affected throughout Otago
While many highways had reopened since Saturday's peak of the storm, in Otago and South and Mid-Canterbury ice and snow had replaced flood water on many routes.
Grit had been applied in many places which also required slower speeds, NZTA maintenance contract manager Nic Rodger said. Debris, potholes and broken road edges also required drivers to slow down and treat all areas with caution. 
State Highway 1 from Waikouaiti to Waitati, SH1 from Mosgiel to Milton, SH87 from Kokonga to Outram, SH85 from Pukeuri to Omarama, SH8 from Omarama to Tarras and reopened on Sunday morning, police said.
There were snow and ice warnings for roads throughout the region also.
Port Chalmers highway
NZTA  reopened State Highway 88 (Dunedin to Port Chalmers) on Sunday afternoon following the clearance of two slips which had closed the road between Maia and Roseneath.
Aramoana Rd was now open to residents only access at Deborah Bay through to Aramoana. Drivers should take extreme care, as there was debris and surface flooding. In some places the road was one lane only.
Keep dogs on leash
Dog owners taking their dogs along the Silverstream Flood Bank track in Mosgiel were advised to take extreme care.
The high rainfall in the Silverstream catchment may have swept possum carcasses poisoned with 1080 downstream, the DCC said.
Dog should be kept on a lead at all times; carcasses would be extremely toxic to dogs if eaten. OSPRI had been asked to patrol the area and remove any carcasses. 
- Reporting by Timothy Brown, additional information from the DCC, NZTA and Dunedin Civil Defence