Drug-driving offences have shot up in the South.
New figures show the number of drug-drivers prosecuted in the Southern police district in 2018 was about 50% higher than in the previous two years.
They also reveal the array of illicit drugs motorists in Otago and Southland are increasingly smoking, injecting and snorting before getting behind the wheel.
Meanwhile, Southern district police are increasingly detecting people driving with class A drugs in their system, such as methamphetamine and LSD (acid).
Last year, 75 blood samples from drivers in the Southern district (Otago and Southland) tested by Environmental Science and Research were found to contain drugs, up from 51 in 2017 and 52 in 2016, according to figures obtained under the Official Information Act.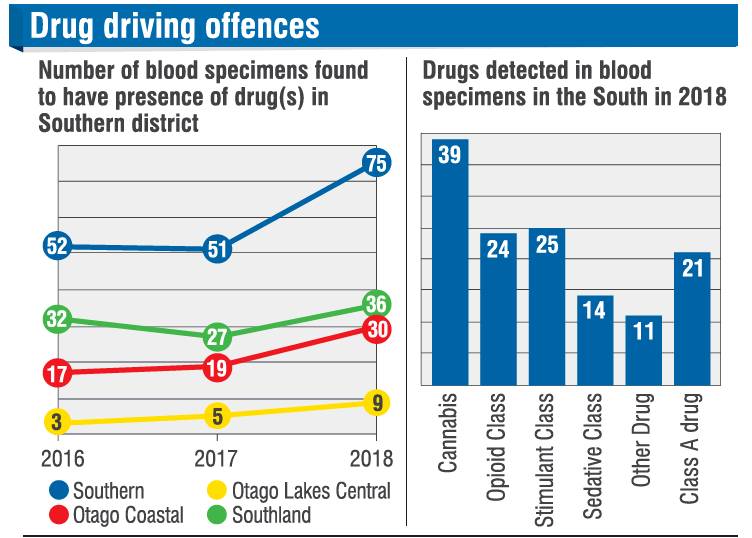 National road policing manager Superintendent Steve Greally, of Wellington, said the majority of blood specimens requested for drug analysis were taken from drivers after they were admitted to hospital.
Southern police launched legal action against 47 drivers in 2018 for drug-specific driving offences, compared with 30 in 2017 and 29 in 2016.
Of those 47 drivers, 24 were from Otago Coastal, 22 from Southland and just one from Otago Lakes Central.
Since 2016, the number of drivers whose blood sample contained cannabis has remained fairly steady at 37 in 2016 and 39 last year in the Southern district.
But the number of drivers caught with opioids or stimulants in their blood has risen steeply.
Sixteen specimens contained an opioids class drug and 14 a stimulant in 2016, compared with 24 and 25 respectively last year.
The number of blood samples containing class A drugs, classified by police as ``very high risk'' and including methamphetamine, magic mushrooms, cocaine, heroin and LSD, rose from 12 in 2016 to 21 last year.
Supt Greally said police identified drug drivers by spotting those incapable of proper control of a vehicle, a blood specimen analysis after a compulsory impairment test, or by testing a blood sample taken from a driver in hospital (the most common method).
"Police staff learn behavioural and physical indicators of driver impairment through training and experience.''
The compulsory assessment test includes an eye assessment, looking at the suspect's reaction to light, abnormal or irregular eye movement, or a "lack of convergence'', according to the NZ Transport Agency.
The test also includes "walk and turn'' and "one leg stand'' assessments.
The number of blood samples containing drugs taken from Southern drivers is the fourth-highest per capita in the country.
Per 10,000 population, 2.28 drivers tested positive for one or more drugs last year in the Southern district, compared with 2.74 in Central (Taranaki, Whanganui and Manawatu), 2.83 in Tasman and 5.49 in Northland.