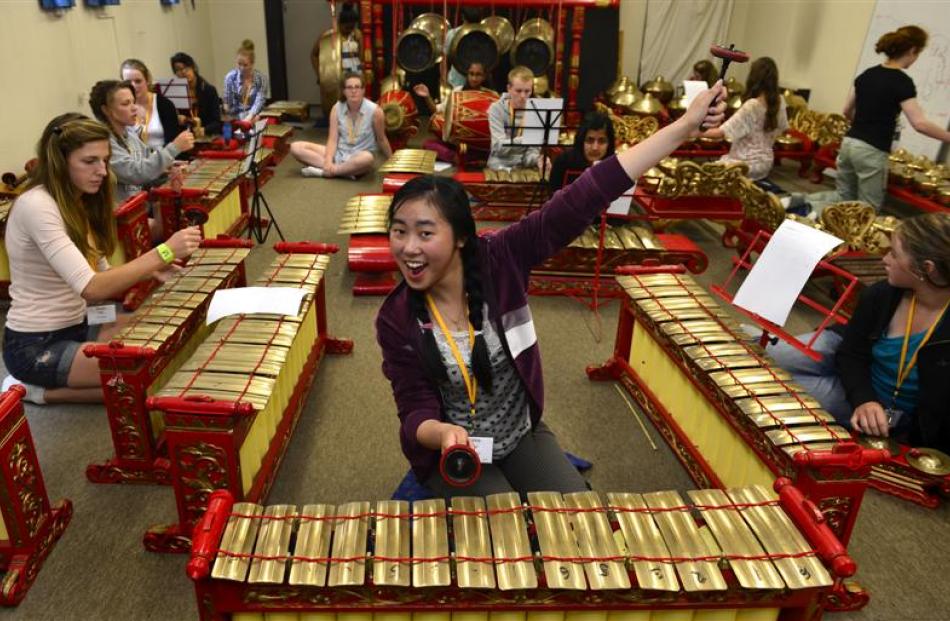 Leading secondary school science pupils from throughout the country responded enthusiastically to gamelan music during a class at the University of Otago's latest ''Hands-on-Science'' school yesterday.
Jennifer Cattermole, a lecturer in the Otago music department, was teaching the class, offered as one of a series of short ''snack'' options, taken by about 130 senior secondary pupils attending the annual school.
The pupils, from throughout the country, also pursue individual research projects during the week-long school.
Gamelan was the name for a type of traditional Southeast Asian musical ensemble consisting mainly of ''struck metal bars and gongs'', Dr Cattermole said. The word itself came from the Javanese word ''gamel'', referring to a type of hammer like a blacksmith's hammer.
Darina Khun (17), who was born in Cambodia and lives in Wellington, was among 18 pupils attending the class.
''It's simple to play. It sounds great,'' she said.
Dr Cattermole said she had long enjoyed gamelan music.
''The instruments and their music are really accessible; the main prerequisites are an ability to count from one to seven - the notation's numerical - an openness to new sounds, and lots of enthusiasm.''
The gamelan ensemble remained an ''integral element of Indonesian culture'', and its popularity had extended worldwide, also influencing some New Zealand composers, she said.
School co-ordinator Rose Newburn said the school had added snack classes in law, music and theatre studies, to more science-related snacks during the past three years.
This reflected the many talents of participating pupils and the wide range of study options open to University of Otago students even when majoring in science subjects.