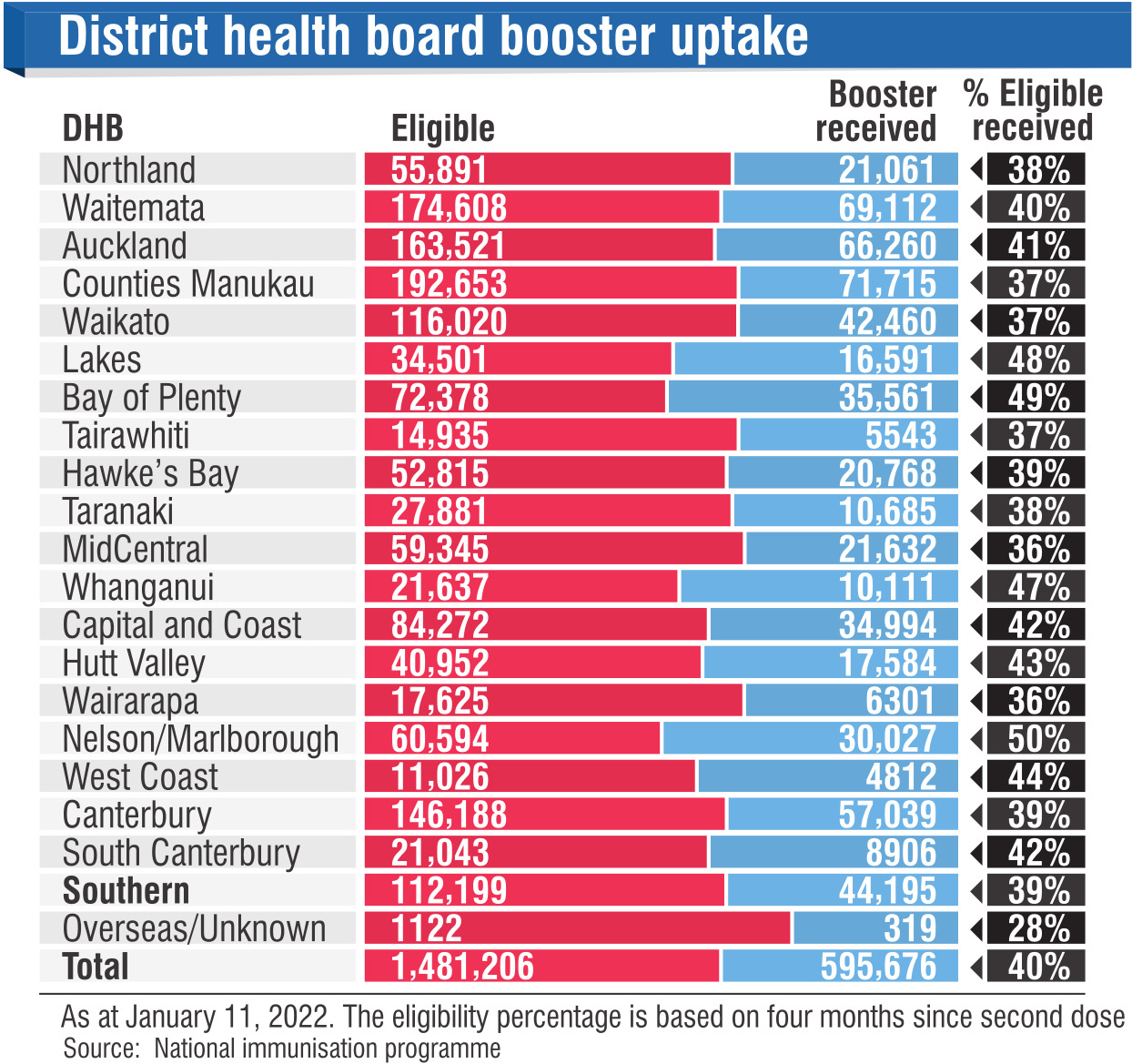 The Southern District Health Board is once more in the leading division of the Covid-19 vaccination drive.
Just over 44,000 people in Otago and Southland had received boosters, as at January 11.
That was the fifth-highest number of injections given out of the 20 DHBs, a performance comparable with the initial Covid-19 vaccine roll-out when the SDHB region was one of the early leaders in vaccination numbers.
People are eligible for a booster four months after their second dose of the Pfizer Covid-19 vaccine.
At the time the data was compiled by the Ministry of Health (January 11), 112,199 southerners were eligible for a booster.
The number of shots administered so far represented a 39% pick-up rate for boosters, keeping pace with the national figure of 40%.
SDHB Covid-19 vaccine roll-out programme lead Karl Metzler was pleased that the region was rolling its sleeves up in good numbers for booster shots.
"The booster dose provides the best defence against the Omicron variant, and it is encouraging to see the community taking up the opportunity to receive their booster dose."
Just over 1.4 million booster doses have been administered in New Zealand so far.
Vaccination centres, medical centres and pharmacies remain open across the region to meet demand, which is only expected to increase when vaccination for 5 to 11-year-olds begins on Monday.
Overall, 97% of eligible southerners have received one dose of the Pfizer vaccine and 95% have had two shots.
Immunisation Advisory Centre medical director Prof Nikki Turner said she was encouraged by the initial response to the booster rollout, particularly as it started during the holiday period.
"The booking system is not yet up and running so it had a bumpy start, so I think people are jumping the gun in trying to figure out how it's going, but I think the early uptake is great."