There's something special about a Clydesdale horse. Clydesdale Horse Society of New Zealand president Bill Affleck believes the allure stems from what the gentle giants have achieved in the farming world.
Coupled with a very placid nature, "there's something there that's very appealing".
Next week, Clydesdale enthusiasts from throughout New Zealand will gather in Dunedin to mark the centennial of the society.
The society's first council meeting was held in Dunedin and it was decided to hold the centennial celebrations in the city exactly 100 years later.
Clydesdale enthusiasts will start arriving on Thursday with bus trips planned around the Otago Peninsula and also to the Moeraki Boulders and Macraes gold mine.
On Friday morning, the society's council meeting will be held, with a bus trip for those not involved around some of Dunedin's highlights.
The annual meeting in the afternoon will be followed by a formal centennial dinner at Larnach Castle at night.
On Saturday, the centennial will be celebrated in grand fashion with a parade through the streets of Dunedin.
In the morning, about 40 horses with about 12 wheeled vehicles will gather at the car park on the harbour side of the railway line on St Andrew St for a parade to the Octagon.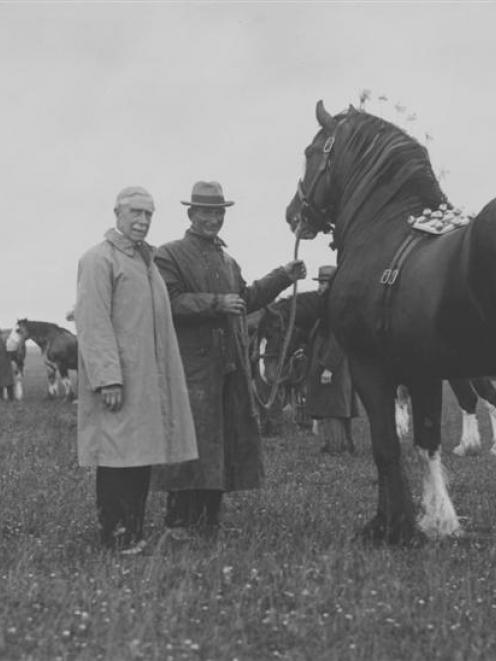 The John McGlashan College pipe band will lead the parade and participants will be welcomed to the city by Dunedin Mayor Dave Cull about 11am.
The parade will then head down Princes St and the led horses will peel off at Moray Pl with the rest continuing to Forbury Park where the horses will be on display for the public to view and wagon rides will be given.
Mr Affleck, who lives in West Otago, was delighted the celebration was being held in Dunedin and he was also thrilled to be president during the centennial year.
Coincidentally, when the society was formed 100 years ago, his grandfather, Tom Logan, was on the first council, along with Alfred Harding, who is the grandfather of the society's current vice-president, Jim Morris.
Tom Logan, who farmed at Otama, was a contractor as well as a farmer and had several teams of horses he contracted out. After his death, his two sons, Jim and Tom Logan, were both also on the council.
Mr Affleck has been with horses almost all his life - "I was brought up with them" - and now the next generation is continuing the interest. The Affleck family has about 14 horses.
Mr Affleck was thrilled to see the interest carrying on.
"The [Mossdale] stud will carry on long after I'm gone."
High-country farmer Jim Morris, from Ben Avon Station in the Ahuriri Valley, has also always had a love of Clydesdales.
His maternal grandfather, Alfred Harding, had a stud in Dargaville and Clydesdales were used on the property until 1960.
In 1914, Mr Harding sailed to Scotland to buy six stallions - two for himself and four for other farmers in the area.
But war broke out while he was there and he did not get back until a year or two later. On his return, the other farmers had reneged and he ended up with all six stallions himself.
Alfred Harding's nephew, Walden Harding, was president of the society on five separate occasions.
Mr Morris got his first purebred Clydesdale about 30 years ago.
He has three purebred Clydesdales - Glen Lie Claire and her two offspring, 4-year-old Ben Avon Dougal, and 2-year-old Ben Avon Molly.
Mr Morris has judged Clydesdales throughout the country, including at the two major Clydesdale shows, in Christchurch and Morrinsville.
The standard of the breed in New Zealand was good.
"People who have travelled a bit say our best horses would stand up in any country."
Mr Morris attended the Royal Highland Show in Scotland, the home of the Clydesdale, in 1995, and believed there were horses here as good as any there.
In New Zealand, there were still some properties where Clydesdales were used regularly, including Erewhon Station.
Horses play a major role in daily farming life on the 14,164ha property, at the headwaters of the Rangitata River, farmed by Colin Drummond. He will be among those making the trip south for the centennial.
Also coming south will be the Stroobant family from Helensville - Paul, who is secretary of the society, his wife Bobbie and their daughters Emily (10) and Billie (6).
In his late teens, Mr Stroobant got involved with hunting and preferred riding a Clydesdale-cross because of its temperament, strength and ability to "go all day". They were sensible for the duration, he said.
He whipped-in for the Waitemata Hunt - one of only two drag hunts in the country - for 15 years.
He started breeding his own horses. A hunting friend lent him a "lovely old mare" called Guildfords Viola and his first purebred was called Kia Kaha Marmalade.
While he continued breeding sport horses, he slowly became more enthusiastic about purebreds and has now bred about 12. The Stroobants have eight at their property.
In recent years, the Stroobant family has enjoyed showing successes, particularly this year when they won supreme Clydesdale of the Year at the Horse of the Year show in Hastings, with Donnybrook Lochnorrie.
They bought the young stallion as a weanling from well-known Clydesdale breeder Fergus O'Connor and it was their greatest showing success. Between Emily and Bobbie, Erewhon Bert won the ridden class at Horse of the Year.
Emily was just 8 when she rode Erewhon Bert, a towering horse of nearly 18hh, at the Canterbury A and P Show. She got a third placing, competing against adults in the ridden class - "a tiny little kid riding the biggest horse there" - and the crowd roared.
Mr Stroobant later bought the horse from Mr Drummond as a Christmas present for his daughter. When she saw the horse tied up on the driveway and it dawned on her that it was Bert, tears rolled down her face and it was a "pretty special moment", he said.
She has since gone from strength to strength with the big horse and even drives him in a sledge, while her younger sister rides Bert unassisted.
Mr Stroobant got a "big kick" out of watching his family with the horses.
"It certainly helps when you get a real beauty like Bert to boost their confidence."
In January last year, Mr Stroobant and Emily rode on Mr Drummond's wagon during a trek in the Omarama area. The experience, particularly staying at Ben Avon Station - Mr Stroobant felt he was "born to see that place" - had a big effect on him. He decided to buy a wagon.
Mr Stroobant wanted to keep his Clydesdale numbers at about 10 but he also wanted to keep improving the quality.
"My aim has always been to become one of the better breeders of Clydesdales in New Zealand," he said.
One of the good things about being involved with the breed was the people the family had met. The society had about 180 members.
A gold medal will be presented to the champion mare and champion entire at the major A and P shows that hold Clydesdale breed classes around New Zealand during centennial year.