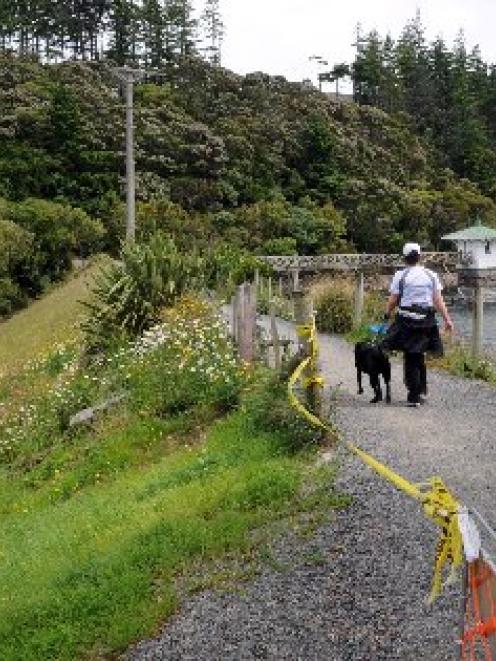 A high-tech irrigation system will be installed within weeks at Dunedin's 143-year-old Ross Creek reservoir dam, to prevent further cracking as summer temperatures soar.
Council water and waste services manager John Mackie yesterday said work to install the system - costing about $40,000 - was at the design and tendering stage and was expected to be completed early next year.
The system would be buried in the reservoir dam's embankment, with moisture sensors and automatic controls to maintain the wall's "optimum" moisture content, he said.
Cracks wider than a fist were found in the dam's embankment on June 3, following torrential rain in May.
The council responded by lowering the reservoir's water level by 1.5m, as well as ordering further tests on the dam's stability and constant monitoring of the structure.
The dam - also a popular Dunedin walking spot - was completed in 1867 and was designed to hold 122,000cu m of water.
It was now used as a raw-water backup to the city's main supplies.
Mr Mackie said lowering the water level meant the embankment was at risk of drying out, which could cause "shrinkage cracks" that would then allow water in - causing more damage to the structure - with any further rain.
"We don't want that to happen to any great extent."
The irrigation system would "keep the moisture content in the wall at optimum, so we have maximum strength", he said.
It would remain in place for the foreseeable future, as work continued on options for the future of the structure, he said.
Those options could include strengthening the dam, largely filling it in - leaving only a small decorative pond - or demolishing it and returning the area to its original condition, councillors were told in September.
Mr Mackie said a report detailing the options, their costs and funding requirements would be presented to the council's infrastructure services committee early next year.
"There will be a lot of public debate. There will be a lot of people who won't want to see it decommissioned back to a stream, so there's likely to be very high public interest."
Any work that resulted would be "easily" a year or more away, he said.
"That's why we want to put in the irrigation system, because this is not going to be a quick decision."
The dam remained "pretty stable" in the meantime.