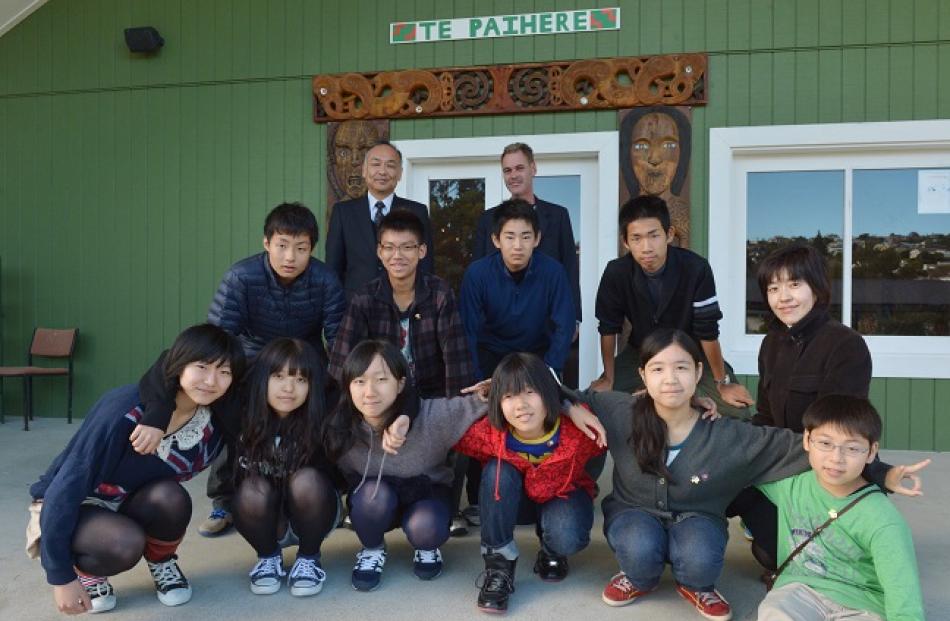 Members of a youth delegation from Dunedin sister city Otaru, in Japan, visit the Areiteuru Marae in Kaikorai Valley yesterday.
Front, from left, Yurika Nakata (14), Natsumi Okabayashi (14), Kodama Sakamoto (14), Kana Taniguchi (13), Nanaka Okamura (15) and Yamato Sato (12); middle, from left, Nobuki Onuma (14), Yuta Miyake (13), Kazuto Yoshida (13), Shota Hikichi (15) and group chaperone Miho Sakata; back, group chaperone Jun Fujisaki (left) and Justin Hanning, from Areiteuru Marae.
Dunedin Otaru Sister City Society treasurer and youth delegation co-ordinator Jennifer Chou said the group was part of a regular student exchange between the two cities, where a group of Japanese school pupils came to Dunedin every second year and vice-versa.
The group was in the city for five days and, among other things, would visit King's High School, Otago Museum and a farm. The pupils will also greet Dunedin mayor Dave Cull and Cr Andrew Noone, when they visit Otaru next week.