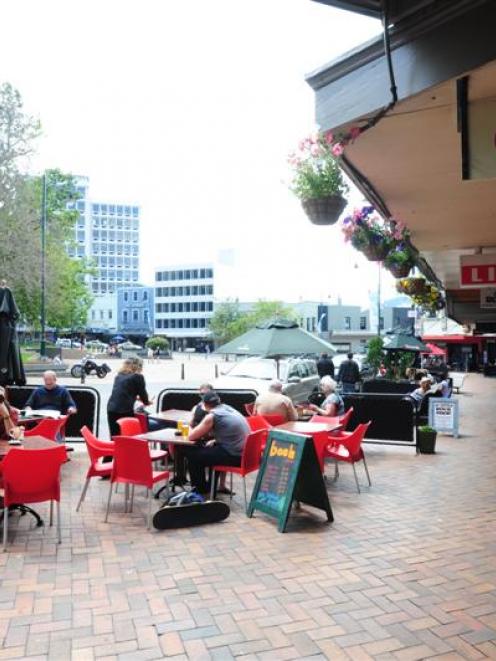 Promoters of an idea to close the lower Octagon for a trial period to improve the area's ambience during summer weekends are disappointed Dunedin City Council staff are recommending it not go ahead.
"All we ever asked for was a trial," said Octagon bar owner and Lower Octagon Forum spokesman John McDonald.
The forum asked the council to consider closing the lower Octagon to traffic from 6pm on Fridays to 6pm on Sundays during the summer.
A report to be considered by the council planning and environment committee on Monday states consultation with businesses in the area showed no clear majority for a trial closure.
Of the 42 businesses council staff consulted, 17 supported the idea, seven conditionally supported it, 15 were opposed and three were indifferent.
Many of those who conditionally supported the proposal would support a night-time closure, or would be supportive if the proposal included scheduled activities for families, additional security and the ability to give feedback, the report from council urban design special projects manager Emma Burford said.
Octagon bar owner and fellow forum spokesman Grant Ellis said it was disappointing council staff had been "negative [about the idea] from day one".
People's reaction to the idea could depend on how they were approached, he said.
When business owners were initially spoken to by the forum, they found 82% were in favour.
About five businesses in the lower Octagon and lower Stuart St as far as the Bath St area were not contacted.
"If the council are negative and didn't really want to do it, they could present it in such a way that people would say `I'm not paying for it'," Mr Ellis said.
The idea was not intended to be a business initiative, but to improve the ambience of the Octagon during weekends.
The council report said bars in the lower Octagon had proposed to jointly fund two security officers between 11pm and 3am on Friday and Saturday nights, but the council and police would continue to be responsible for management and general policing and the council would prepare and pay for the traffic management plan.
Feedback from police was that most assaults occurred in the lower Octagon and the closure could "potentially attract more revellers", creating more security concerns at night.
Police patrolled the area by car and could not guarantee a foot patrol.
Taxi companies were against the closure and preferred the taxi stand remained in the lower Octagon all day, the report said.
At its November meeting, the council tentatively scheduled a short-term trial for February, subject to more information from the forum, investigations by staff and a favourable report.