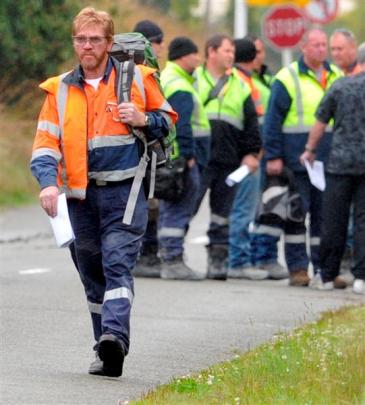 The loss of more than 100 jobs at Macraes open pit as part of a cost-cutting measure by Oceana Gold has been described by community leaders as a devastating body blow. It is understood 106 people will lose their jobs, leaving just 47 to work the open-cast mine.
Oceana Gold managing director and chief executive officer Mick Wilkes said in a press release that at the present gold price, the Macraes open pit had a mine-life until the end of 2017, and that of the Frasers underground mine was to mid-2015.
Macraes is New Zealand's largest gold-mining operation, employing between 600 and 700 staff in the Macraes open pit, the Frasers underground and the adjacent processing plant.
An estimated 60-70 people attended a private meeting in the East Otago High School hall in Palmerston yesterday afternoon, when Oceana Gold announced its intention to ''reoptimise'' its operations at Macraes open pit.
Workers declined to speak to the Otago Daily Times after the meeting, following company instructions.
Although the mood seemed sombre, workers did not appear surprised by the announcement.
Dunedin Mayor Dave Cull said it was ''a body blow to some of our smaller rural communities, although I completely understand why Oceana Gold needed to make the decision''.
''Gold extraction is subject to forces beyond our control.
''But, this will have a major impact on employment in some communities and we're very conscious of the need to ameliorate the effects and help keep those communities sustainable,'' he said.
The number of job losses was not given by the company, but Amalgamated Workers Union New Zealand secretary Calvin Fisher said more than 100 jobs were likely to be lost from the open-pit crews and mine technicians.
Mr Wilkes said the prolonged and sustained drop in the gold price had forced the company to reduce costs in order to sustain its operations.
He said Macraes' new mine plan included a reduction in material movement and gold production at the open pit, which meant ''lower equipment usage and a reduction in operating costs and support staff requirements over the next two years''.
A smaller cutback is planned at the Frasers 6 open pit, which will begin in the second half of this year.
''The continuing lower gold price has necessitated the need to make changes to our business to ensure a sustainable operation at Macraes.
''Unfortunately, these changes will also have an impact on some of our workforce and contractors, who I wish to thank and acknowledge for their contribution to Oceana Gold.''
Macraes had been a major employer and contributor to the Otago region and local economy, and Oceana Gold had developed a strong long-term relationship with the surrounding communities, Mr Wilkes said.
It had operated to the highest environmental and social engagement standards.
''As part of our normal course of business, we will continue to ensure that our business operates as efficiently as possible without compromising health, safety and the environment, and we will continue to seek and evaluate suitable opportunities.''
Yesterday's announcement follows cutbacks last year.
Last July, the company announced it would reduce operating expenditure by about $100 million over the next 18 months while continuing to look for additional opportunities to optimise its business.
At the time, Mr Wilkes said the company-wide review was ongoing to identify additional opportunities to improve cash flow from Oceana's operations.
And in November last year, Oceana Gold said it would lay off about 10% of its New Zealand staff as part of a company-wide review.
Mr Cull said he was given a ''heads up'' from the Oceana Gold board two days ago that ''management would have to retrench and that would probably mean job losses''.
''I understand the price of gold has come [down] through a perceived resurgence in the American economy, where people are moving out of gold and getting into equities,'' he said.
''It certainly vindicates the council's economic development strategy, which showed we need to focus on getting into knowledge-based businesses that are riding the future wave, not the past wave.''
Mr Fisher told the ODT ''there is no fault or blame here''.
''It's a global phenomenon that is beyond anyone's control.
''Management has done everything they can to keep this mine open and that has to be acknowledged,'' he said.
''But this is no small loss. This is a loss from a company with a nine-figure turnover and nine-figure wage bill.''
The price of gold over the past 12 months had had its greatest drop since 1981, he said.
''No business can sustain that.
''It's a real tragedy, because it has come at a time when the company had a lot of momentum and had the biggest workforce in its 20-year history.''
''But, when you're in the gold mining business, you're a price-taker, not a price-maker.
''This is a result of the global economy forcing gold prices down,'' Mr Fisher saidUnion delegates would meet Oceana Gold management later this week, before a final decision on January 20, he said.
Otago Chamber of Commerce chief executive John Christie said the cuts were ''devastating'' news.
''They are a big and important employer and they've been part of our region for over 20 years now, so this won't be welcome news by the people involved, or the wider community.
''A lot of businesses are dependent on Oceana Gold for downstream work,'' he said.
''These sorts of decisions aren't made lightly and I'm sure it's pretty demoralising for the company, as well.''
However, there was also anger in communities affected by the decision.
''They should have announced this before Christmas, before everybody had spent up on their credit cards. Now, they don't have jobs,'' an Oceana Gold contractor who wanted to remain anonymous said.
''Oceana Gold have been lying to everybody for years, saying: `Everything's going to be fine; we're going to work it all out. Your jobs are secure.' Well, everything is not fine,'' she said.
''This is a nightmare scenario for Dunedin and the whole South Island. It's going to be a big blow for a lot of communities.
''This will destroy towns like Palmerston. It's going to rob towns of their population, as people are forced to move to find work.
''I only hope they don't let them escape from New Zealand without paying everybody.''