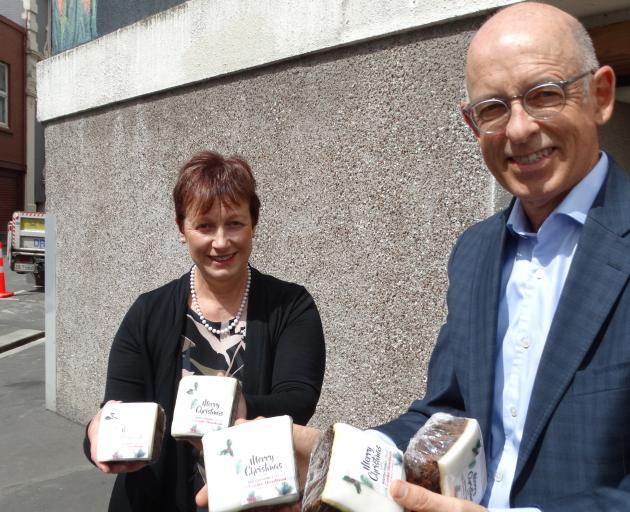 A little bit of extra Christmas cheer will be delivered to Meals on Wheels recipients across greater Dunedin, Balclutha and Cromwell this festive season.
The Marsh Family Trust and Cooke Howlison automotive group have donated 550 mini Christmas cakes for Age Concern to distribute with meals in the coming days.
This is the 10th year the trust and the company have donated the cakes.
Cooke Howlison group managing director and Marsh Family Trust trustee John Marsh said the donation was ''our way of giving back to the community''.
''It is important to spread Christmas cheer at this time of the year,'' he said.
Cooke Howlison has several staff who are volunteer Meals on Wheels drivers, including Cooke Howlison Toyota chief executive Adrienne Ensor, who has delivered meals for the past 25 years.
''Delivering Meals on Wheels is important to me,'' she said. ''It is about giving back and looking after the elderly.''
Age Concern Otago executive officer Debbie George offered a heartfelt thanks to Cooke Howlison and the Marsh Family Trust for their support.
''It means a lot to us. We really appreciate it.''
About 32,000 meals have been wheeled our this year in Dunedin, and about 60 meals will go out for Christmas Day.
Age Concern Otago is always looking for volunteers for the pick-up areas in the central city, South Dunedin, and Green Island, with drivers asked to cover a run once or twice each month.
For information, or to volunteer, phone Meals on Wheels co-ordinator Julie Bates on 477-1040, or email mealsonwheels@ageconcernotago.co.nz