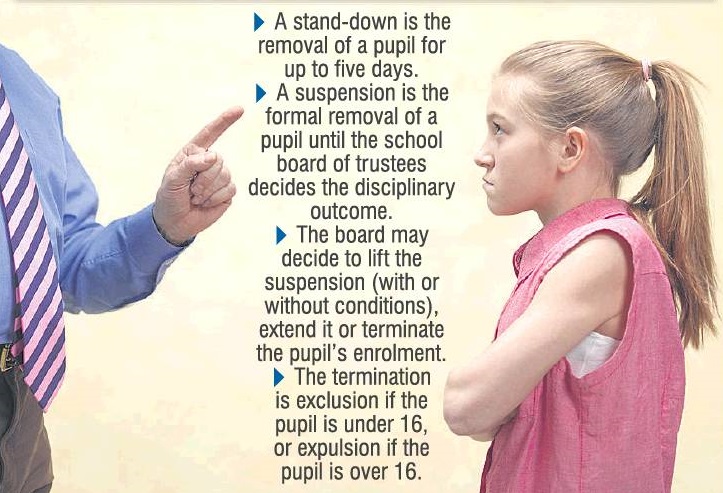 Physical assaults recorded in Otago schools averaged more than two each school day last year, and some principals say it may be just the tip of the iceberg.
There may be even more happening which are not recorded, the Otago Primary Principals' Association says.
Last year's Ministry of Education statistics show there were 369 cases of pupils physically assaulting other pupils and 93 cases of physical assault on staff, in which pupils were stood down from Otago schools for up to five days.
There were a further 36 cases of physical assault on pupils and 16 cases of physical assault on staff where pupils were suspended and faced a board of trustees meeting to determine whether they would be allowed to stay at their school.
Of the 36 physical assaults on pupils, 16 were serious enough to warrant exclusion from the school; fewer than five led to expulsion.
In the 16 suspension cases of physical assault on staff, six pupils were excluded and none were expelled.
The situation in Southland schools was similar. There were 200 cases where pupils were stood down for physical assault on other pupils, and 42 for cases of physical assault on staff.
There was also a high number of stand-downs for verbal assaults on staff (122 in Otago and 87 in Southland) and continual disobedience (162 in Otago and 159 in Southland).
Otago Primary Principals' Association chairwoman Shelley Wilde said principals had noticed and reported a rise in both physical and verbal assaults.
"Along with boards of trustees, they are very rightly concerned about this trend.
"It is also highly likely that the number of stand-downs, suspensions and exclusions related to assaults is lower than the actual number of instances occurring."
She said the association engaged the services of a University of Otago researcher last year, to ascertain the extent of the issue so a more accurate picture could emerge.
"The data received during the survey period showed a concerning number of assaults on staff members. This year, the study is going to be repeated over a longer period of time."
She said the vast majority of pupils arrived at school each day ready to learn and interact positively with staff members and their peers.
"All of our schools actively model and encourage them to make strong decisions based on an agreed set of values and expectations.
"Unfortunately, and for a variety of reasons, a small but increasing proportion of children come to school on any given day not emotionally, physically or socially ready for the day ahead."
Despite the increase in stand-downs across southern schools in recent years, the numbers of suspensions, exclusions and expulsions are decreasing.
In 2019, 67% of Otago pupils and 64% of Southland pupils were allowed to return to school after their suspension concluded.
Otago Secondary Principals' Association president Linda Miller said that was because schools had a raft of support systems aimed at improving pupil behaviour.
"I think schools are getting much better at working with students and families to get to the root of the problem.
"Violence is generally a symptom of something else, and I think with the programmes and the work that schools are doing through Positive Behaviour for Learning, restorative practices and things like that, we're much more tenacious about ensuring we achieve behaviour modification.
"So when something does come up, it is dealt with in a restorative and educative way, rather than chucking them out of school."