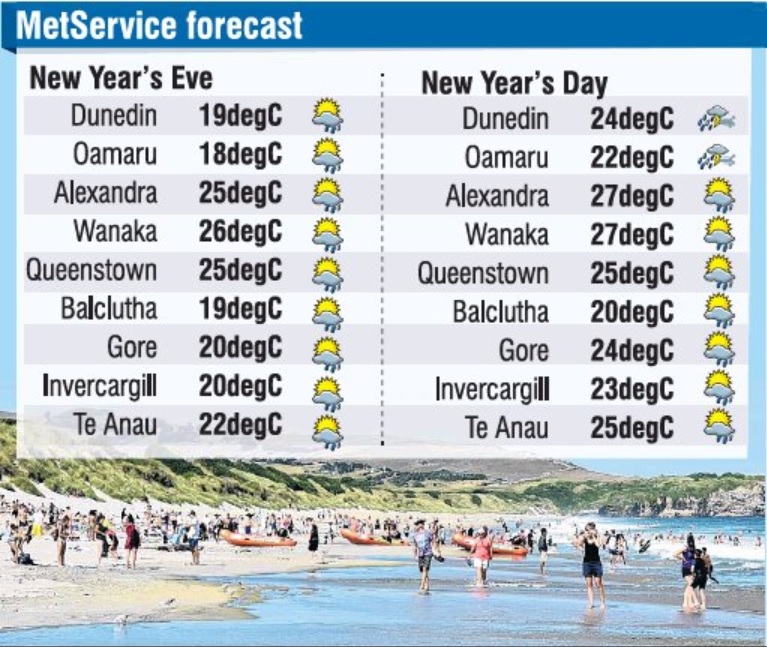 It will be a New Year's Eve celebration of two halves in the South this year.
While rain seems set to spoil the occasion for most of Otago, MetService is forecasting good weather for Southland.
Invercargill and Gore are only expected to have "a chance of a shower" on New Year's Eve, whereas Otago's main centres can expect rain.
New Year's Day is a different story, though.
Rain is expected throughout Otago and Southland.
Despite the rain, the temperatures will be warm, ranging from 19degC in the Clutha area to 27degC in Wanaka and Alexandra.
Rain, hail or shine, it is not expected to affect New Year's Eve celebrations and St John staff will be on hand to take care of those who overdo the merrymaking.
St John operations assistant director Tony Devanney said New Year's Eve was traditionally the busiest night of the year, and he encouraged people to "celebrate sensibly".
"Having to deal with intoxicated people can be difficult for front-line staff.
"Intoxication and substance misuse contributes hugely to falls, injuries and assaults.
"St John ambulance officers are caring and non-judgemental professionals who are there to help, but trying to treat someone vomiting over you, attacking you or being so incoherent or unconscious that the patient can't explain what is wrong, complicates treatment and is not ideal."
St John clinical operations director Norma Lane said 111 calls to the ambulance service tripled on New Year's Eve, so the service was set to keep New Zealanders safe by planning extra resources for the big night.