More than 500 primary and intermediate teachers and their supporters marched in support of higher pay and better conditions as part of a nationwide strike in Dunedin this morning.
Hundreds more are marching elsewhere in Otago.
The line of protesters stretched 500m down Portsmouth Dr, as they marched towards the centre city from the Edgar Centre.
There were many toots of support for passing motorists.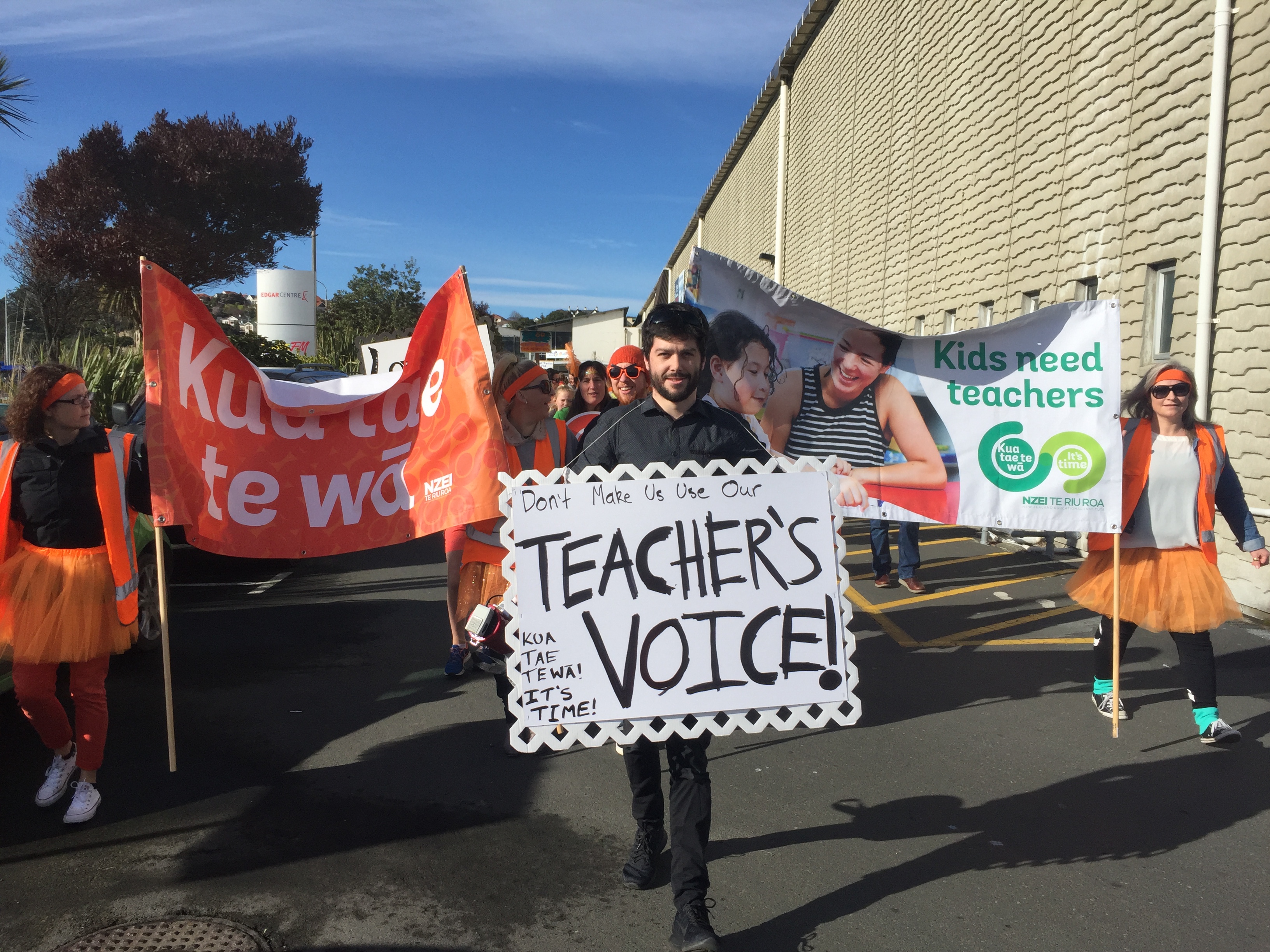 Earlier the marchers gathered to create protest signs and practise their chants.
They were also asked to show their support for further industrial action if the Government did not listen to their demands for more pay.
Fairfield School teacher Jan Lee said she was marching because young teachers were leaving the profession because they were overworked and underpaid.
A teacher of 44 years, Mrs Lee said the amount of work expected of teachers now was too much.
"The work load is horrendous, when I started the work load was no where near as horrendous."
If the situation was not addressed by the Government now, there would be less teachers and larger classrooms, she said.
About 150 adults and children, led by Wanaka Primary School principal Wendy Bamford, marched through the main street of Wanaka at 11.30am today in support of the primary teachers' strike.
They stopped outside the town's Four Square to deliver a specially written protest song. 
Dozens of teachers marched through Queenstown CBD calling for better pay and urgent action to improve work conditions.
Principals and staff from St Joseph's School, Glenorchy School and Queenstown Primary School chanted as they made their way through the town centre, prompting drivers to beep their horns in support, before rallying at the Village Green.
St Joseph's principal Trisch Inder said she was "really proud" of the group and highlighted workload issues and the need for change to support committed teachers in Queenstown and across the country.
Meanwhile, about 80 teaching staff and their supporters gathered alongside State Highway 1 in Balclutha for a strike picket.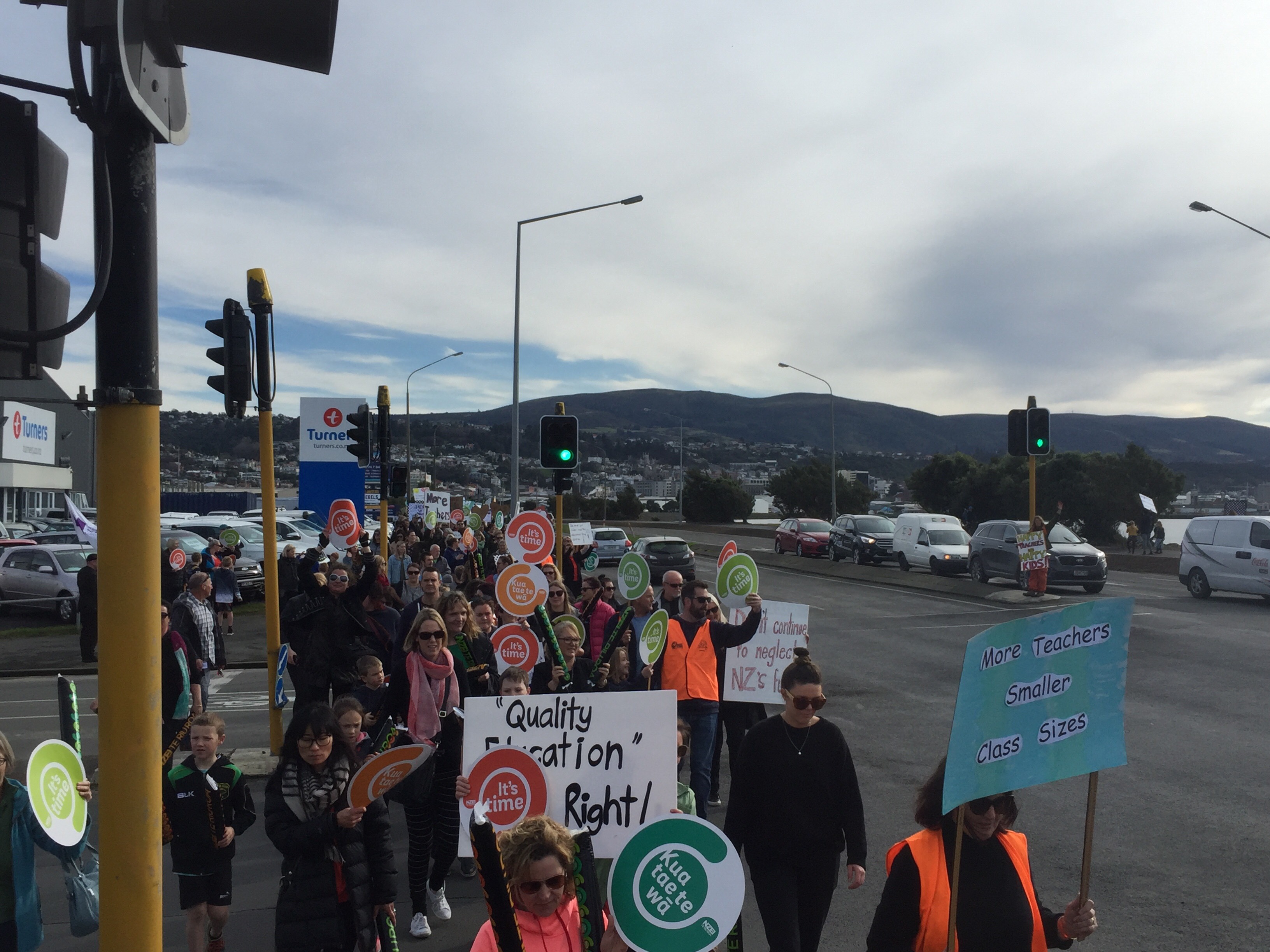 St Mary's Primary School Balclutha classroom release teacher Lyn Clark said the growing high social needs of many children meant teachers needed greater resources to cope, and to deliver the "high quality education families deserve".
In Oamaru, 133 teachers from 16 North Otago schools marched from Fenwick School down Severn St (State Highway 1) to Thames St shortly before noon.
Many passing motorists sounded their horns in support for the teachers carrying placards and chanting slogans; NZEI work site representative for Weston Jenny Kitchin addressed the crowd.
About 200 people gathered at the Gore trout to show their support for teachers and principals.
More than 400 Southland teachers gathered at Stadium Southland to protest for better pay and working conditions.
"It's an amazing turn out. This tells me that everybody's on board. Everybody thinks this is an issue and everybody wants it sorted," Donovan Park primary school principal Peter Hopwood said.
The New Zealand Educational Institute (NZEI) Te Riu Roa strike is the first in 24 years, and the ''day of action'' aims to elicit support from local communities for better pay and better working conditions for teachers.
More than 1200 schools will close today.
The NZEI has asked for a 16% pay rise over two years and better working conditions but negotiations with the Government have stalled.
Minister of Education Chris Hipkins yesterday said they had been advised the majority of schools would close today but said the asking point was just too high.
''Look, there is always room for movement in an offer but the important point here is their starting position is significantly higher than anybody else is getting.
''There is going to have to be significant movement on their side.''
Otago Primary Principals' Association (OPPA) chairman and Elm Grove School principal Chris McKinlay said the southern region events were among many being held around the nation, aimed at sending a strong message to the Government that it was time to fix the crisis in teaching.
''There's going to be different stations throughout the region where teachers will congregate with their signage.
''Our goal is that the majority of the country will see and hear that it is happening.
''We're hoping it will create more awareness of the concerns teachers have about their conditions and the conditions for children and schools, and the support that 
we feel needs to be put in place.
''We're also trying to let the Government know that teachers have been very accommodating for a large number of years, and actually, it's reaching crisis point and we need some action - we're actually prepared to give up a day's pay and voice that.''
The union is fighting to give teachers more time to teach, so every child receives the personal attention they need to learn and thrive.
It is also fighting to free principals to focus on leading, and it wants to make sure New Zealand has enough teachers by attracting more people to the profession with appropriate pay.
The majority of primary and intermediate schools across Otago and Southland will be closed today.
Mr McKinlay said individual boards of trustees made decisions about whether to close, and had advised parents accordingly.
''Those that don't shut will be doing some sort of supervision. I doubt there will be any teaching going on.
''I've heard that most parents across the region have managed to sort some care for their children. A lot of parents are taking time off work to care for their children.''
Mr McKinlay said OPPA would be offering a professional development day for administration and support staff, because they were not on strike and were still entitled to be paid.
-Additional reporting by NZME