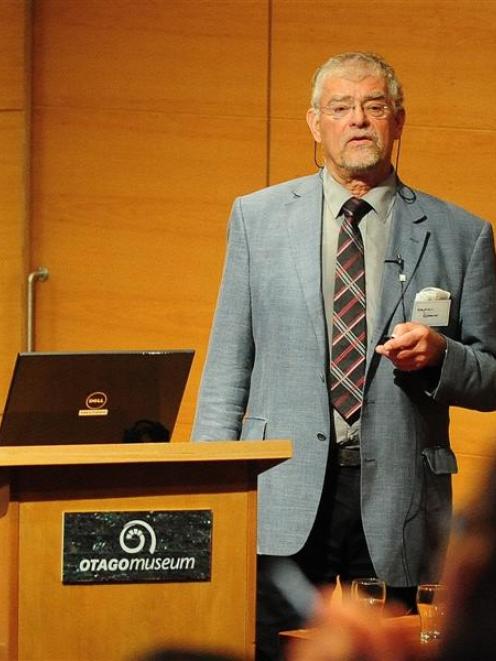 Our "Stone Age genes" make people fat because food is available all day, every day, no matter the season, and we are programmed to eat it, Swedish obesity and health behaviour authority Emeritus Prof Stephan Rossner says.
Prof Rossner was a speaker at yesterday's obesity seminar entitled Who is Responsible for New Zealand's Waistline? in Dunedin.
Prof Rossner, of Stockholm's Karolinska Institute, said obese people had a tough time.
They were often the least popular patients in the health care system, disliked by health practitioners for their bodily needs and their lack of compliance with diets.
It was unfair to put all the blame on people when food was everywhere and genes had programmed people to eat as much as possible as it could be "gone tomorrow".
Prof Rossner said no single cure existed for obesity, and many approaches were needed, including education, drug therapy, and regulation.
Why obesity had become an epidemic was still something of a mystery.
Evidence animals were also getting fatter suggested air and water pollutants could be involved.
It was also possible bacteria and viruses were to blame, and this posed exciting research possibilities.
Vaccinations and antibiotics might be developed one day for use against obesity.
Of drug research, nothing new or promising was on the horizon.
Those being developed were not wholly new; they used old and tested compounds because of issues with drug approval, which was difficult for obesity drugs because of side-effects.
The lack of successful drugs had led to a rise in surgery for obesity.
Prof Rossner was disappointed Sweden's celebrated ban on junk food advertising to under 12-year-olds was presently in doubt because of European Union concerns it was unlawful.
Prof Rossner said while some statistics appeared to show obesity waning, the data was easily misinterpreted.
It was likely the overweight died earlier because of health complications and this could skew statistics.
Many health problems, including infertility, could be tackled by losing weight rather than more expensive treatments, a fact not fully recognised, he said.