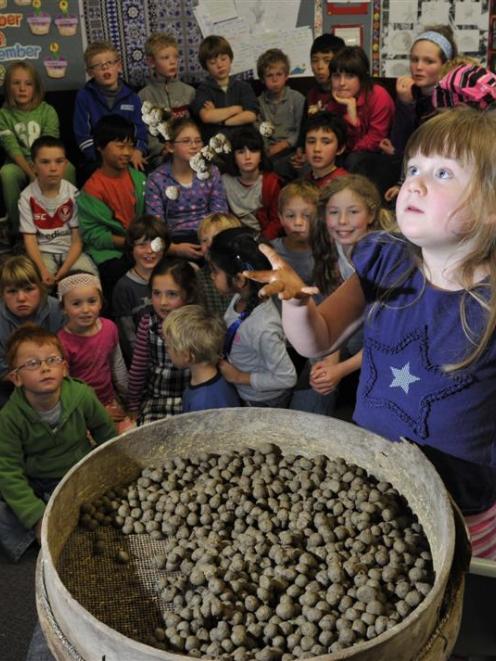 School principals might not usually smile at pupils making 1874 mud balls and preparing to throw them, but Broad Bay head John Goulstone was a happy man this week.
The pupils were rolling the marble-sized seed-filled balls to get them ready for throwing under gorse on part of the Dunedin City Council's Harbour Cone property.
The balls, made from seeds, compost, clay and water, are a cost-effective way of getting native plants to grow.
They are scattered in areas free of thick grasses, where they absorb moisture from the ground, dew and rain and sprout when conditions suit.
Broad Bay resident Valerie Dyer collected poroporo and flax seeds and compost from around the areas where she harvested the seeds, which the children combined with clay and water this week.
All 37 pupils at the school took part in the ball-making, although the logistics of getting all to the site means only 18 will get to throw the balls next week, after they have dried.
Mr Goulstone said the school was keen to have a long-term involvement with Harbour Cone and this would be in keeping with the school's involvement in the Enviroschools programme.
After the balls have been distributed the school will keep a check on their progress.
The hope is there will be evidence of sprouting in spring.