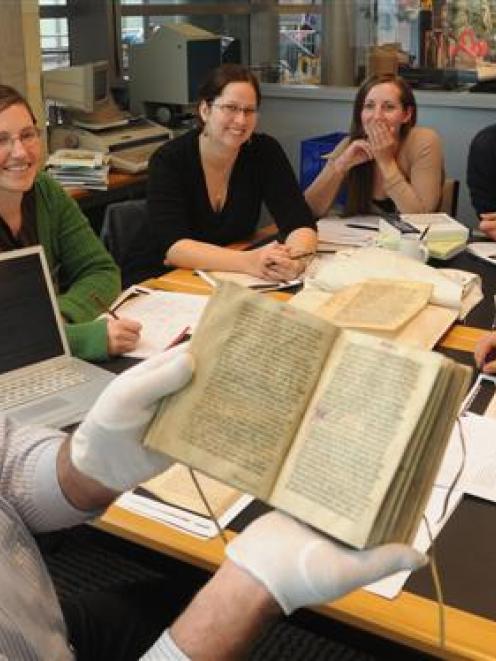 A University of Otago professor has discovered an unfulfilled academic need, after 36 people signed up for a workshop he expected to interest only a handful.
Last week, the university hosted the Australian and New Zealand Association for Medieval and Early Modern Studies conference, held every two years in a different university centre.
Philosophy professor Peter Anstey decided to organise a workshop afterwards to teach participants practical skills about editing and transcribing manuscripts between 300 and 1000-plus years old.
"I thought we would be doing well if 10 or 12 people registered, and we got 36. We seem to have uncovered a real need," he said yesterday.
Almost all the participants were postgraduate students from overseas seeking text editing skills for their research and for future roles as academics, librarians or in publishing, he said.
They worked in three groups on Monday and yesterday under Dr Greg Waite from Otago's English department, Prof Michael Hunter from Birkbeck College, London, and Prof Eva Schlothueber from the Heinrich-Heine University in Germany.
Participants were able to handle, read and transcribe manuscripts from the university and Dunedin Public Library's medieval and renaissance manuscripts collections, examining details such as letter formation, corrections and spelling mistakes.
It was a thrill to see old manuscripts close up, Anya Adair, from the University of Melbourne, said.
"You don't usually get to see them this close and for so long. Usually, you can only have five minutes."
"Or you have to look at them behind glass," added James Belfield, from Melbourne's Monash University.
One group transcribed for the first time a 1660 letter from a group of important British people relating to the political period of Oliver Cromwell and Charles II. It would be posted online for others to read, Prof Anstey said.
"They feel they have made a contribution to academic knowledge ... It is wonderful to have a sense that what you are doing is important."
Because of the success of the workshop, Prof Anstey said it would likely be held after each medieval and early modern studies conference.