Crowds turned out at parades and services around Otago and Southland yesterday to honour those who served in New Zealand's armed forces. Our reporters were there.
Dunedin
Veterans were acknowledged in dozens of Anzac services and events across Dunedin yesterday.
While the city's biggest gathering was the Dawn Parade in the central city, Mosgiel put in a strong showing with a large crowd packing around the Taieri township's war memorial.
Armed police were present but kept well back from the ceremony.
The Anzac address was given by retired Colonel Dr Richard Muir, who spoke about sacrifices made in each world war and the work of the army medical corp.
"We of course need to think about post World War 2, as there are approximately 10,000 veterans left from World War 2 and the Vietnam era, and since the mid-1970s approximately 30,000 New Zealanders have become veterans."
Later in the morning, one of Dunedin's first initiatives to help returned servicemen and women, Montecillo Veterans Home and Hospital, marked its 100th Anzac Day ceremony.
About 400 people attended the Anzac Day posy laying ceremony at Andersons Bay Cemetery.
Royal New Zealand Naval Volunteer Reserve coxswain Pete Gee said it was a smaller turnout than previous years.
He believed it may be because the day of remembrance fell during the school holidays this year and many families had decided to remain on holiday rather than attend.
About 40 girl guides, brownies and scouts laid posies on the graves of fallen soldiers in the services section of the cemetery, as the Last Post and Reveille were played by Kaikorai Metropolitan Brass cornettist Mat Patchett.
The ceremony was a family affair, with no police presence.
About 80 people took part in the 16th Anzac Memorial Run and Walk from Bayfield High School to the Otago Trooper's Memorial and back.
Event organiser David Crewe said the event raised about $200 for Montecillo.
About 250 people attended the posy laying ceremony at Green Park Cemetery yesterday - up on previous years.
The University of Otago and the university students' association also held an Anzac Day service for staff and students outside the University Staff Club.
Central Otago
Anzac Day services were well attended throughout Central Otago.
Alexandra-Clyde RSA ceremonies took place throughout the day at various locations, starting with a dawn service at the Clyde lookout, which was attended by about 300 people.
Fog added to the sombre occasion.
An 8am service at the Clyde cenotaph was attended by 500 people and an 11am service at Alexandra's cenotaph attracted about 700 people.
A fly-over took place during the Clyde and Alexandra cenotaph commemorations and two shots were fired at each service by a 25-pounder artillery piece.
There was also pleasing attendance at ceremonies in the Cromwell area.
Cromwell RSA president Denis Ryan could not confirm numbers at all events, but said there were at least 300 at the town's 10am service, held at the Cromwell Memorial Hall.
Cromwell's ceremonies started with an 8am service at the town's cemetery, followed by services at the Bannockburn cenotaph and at Lowburn.
Maniototo RSA president Colin Smith was among the estimated 200 people who attended a dawn service at the Ranfurly cenotaph.
A range of other events also took place, including a family service at Oturehua and services in Omakau, Tarras and Chatto Creek.
Clutha
Crisp, clear conditions greeted people commemorating Anzac Day at a total of 17 traditional services and parades throughout South and West Otago yesterday.
At isolated rural cenotaphs and prominent urban memorial gardens, more than 2000 turned out to remember the Anzac fallen.
In main centres Balclutha and Milton, more than 500 attended.
At the Balclutha Cenotaph, Rev Alex McLaughlin led a traditional 45-minute dawn service.
There, South Otago High School deputy head girl Amy Selwood (16) said she could not imagine what it would be like if she were forced to go to war.
"War is a disease that plagues our world, from the conflicts of the past to the war against terror today. This year more than ever, we must band together, and fight as one for peace in New Zealand."
The district's RSAs had opted not to alter or cancel any Anzac Day plans in light of the recent Christchurch terror attack, despite anxieties leading to cancellations elsewhere in the country.
Police were a low-key presence, in keeping with previous years.
Elsewhere in the district, about 200 attended ceremonies in Clinton, Tapanui and Heriot; about 100 in Lawrence, Kaka Pt and Lovells Flat; and 50 attended a new, outside service in Kaitangata.
Evidence of young blood coming through could be seen at Owaka, where a parade of about 150 was led by 13-year-old piper George Hancox, and bugler Alana Anderson (12), played Last Post.
At 2pm, about 250 people made their way to West Otago to see Waikoikoi's new memorial officially dedicated, in the last service of the day.
Invercargill
More than 1000 people turned up for the Anzac Dawn Parade at the Cenotaph in Invercargill yesterday to pay their respects to those New Zealanders.
At roads leading to the cenotaph there were at least two armed police officers.
Before proceedings commenced, an announcement was made that no apology would be made for the lack of programmes because at last year's event organisers were left having to pick up 500 discarded programmes after the event.
Among those who attended, apart from the veterans, were Invercargill's mayor, Sir Tim Shadbolt, and several other dignitaries.
As the parade progressed the clouds slowly started clearing. A fly-past by a Royal New Zealand Air Force plane had onlookers craning their necks.
Corporal Kris Maclellan, who served in East Timor in 2001 with the New Zealand Army Physical Training Corps said he was "blown away" by the number of young people who attended.
"We seem to be passing it down through the generations."
Later in the day there was a service at the Awarua RSA where some 60 veterans took to the parade ground to remember their fallen compatriots.
Private Pat Blair, a Malaya and Vietnam veteran, attended both services and laid a wreath at the Awarua RSA service.
"I was really pleased about the turnout. There were lots of people considering the recent events."
Services were held across Southland at places like Bluff, Gore, Winton and Te Anau, among others.
National Party MP Hamish Walker, who spoke at the services in Gore and Te Anau, praised the turnout. He estimated about 600 people attended the event in Gore, while more than 400 attended the service held later in Te Anau.
"One aspect that is remarkable is the number of young people that are attending the services," he said.
Oamaru
Security was tight as people from around the Waitaki district gathered to commemorate Anzac Day yesterday.
Armed police stood guard at both the dawn service and morning service in Oamaru and at the former, heavy trucks blocked access to the World War 1 memorial in lower Thames St at the Itchen St and Steward St intersections.
About 1000 people attended the dawn service, and about 500 gathered to pay their respects at the North Otago Returned and Services Association Garden of Memories a few hours later.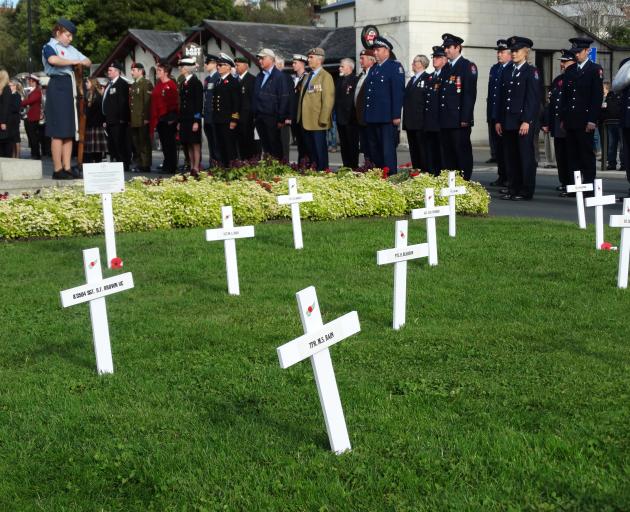 In other areas, about 100 people gathered at the Presbyterian church at Enfield for the 9am service, and further afield, in Waimate, an estimated 300 people attended the dawn service at the Victoria Park Memorial Gates.
Addressing those gathered at Oamaru's dawn service, Waitaki Mayor Gary Kircher and former Royal New Zealand Air Force helicopter pilot Kelli Milmine both spoke of the importance of Anzac Day, its legacy and freedom once again being threatened as a result of the mosque terror attacks in Christchurch and, more recently, the bombings in Sri Lanka.
It was reported other services in Alma, Kurow, Pukeuri, Otekaieke, Palmerston, Papakaio, Maheno, Duntroon, Georgetown, Hampden, Livingstone, Omarama and Dunback also drew large crowds.
Wakatipu
Kaitaia resident Raymond Dunn was the centre of attention in Queenstown yesterday.
The 98-year-old provided the most poignant moment at the dawn service - attended by hundreds of people - when he slowly, but surely, walked to gently lay his poppy in respect of his fallen comrades.
Later he was given special mention at the civic service by Queenstown Returned and Services Association (RSA) president Lyall McGregor.
Mr Dunn, who previously lived in Queenstown, served in the Royal Australian Air Force as a wing commander between 1940 and 1945.
He was the only one of his class in the air force to return.
About 300 people attended the Queenstown civic service, the lower number attributed to a decision not to march from the Memorial Gates to the Queenstown Memorial Centre before the service.
Crowd numbers in Arrowtown were thought to be the largest yet. There was standing room only in the Athenaeum Hall and a huge crowd gathered outside.
The traditional march from the hall to the cenotaph was cancelled, and replaced with a short march from the hall to the Lakes District Museum for the laying of wreaths.
Glenorchy Community Association chairman John Glover estimated about 100 people attended the town's service, which included a special poppy laying in which 37 were individually placed on the war memorial to represent each of the town's residents who had lost their lives during the wars.
Wanaka
Anzac Day followed a traditional pattern in Wanaka yesterday, except for one thing.
Instead of marching up the middle of the main street from the Anzac service to the war memorial, the crowd "sauntered in a military fashion" - as Upper Clutha RSA chairman Ian Piercy put it - along the footpaths.
It has been a Wanaka tradition not to worry about a traffic management plan for the march.
But, with heightened security following the Christchurch mosque attack, a closer look at safety issues led to the march along the roadway being cancelled.
Between 600 and 700 people attended the dawn service on the lakeshore where commanding officer of 2/4 Royal New Zealand Infantry Regiment Lieutenant Colonel Kendall Langston spoke of April 101 years ago, during World War 1, when 210 members of the Otago Mounted Rifles were taken prisoner.
Armed police were present but kept a low profile.
More than 800 attended the Anzac service overlooking Lake Hawea, with community association chairwoman April McKenzie suggesting a bigger peninsula might be needed in future.
The address was given by Upper Clutha firefighter Rod Anderson QSM.