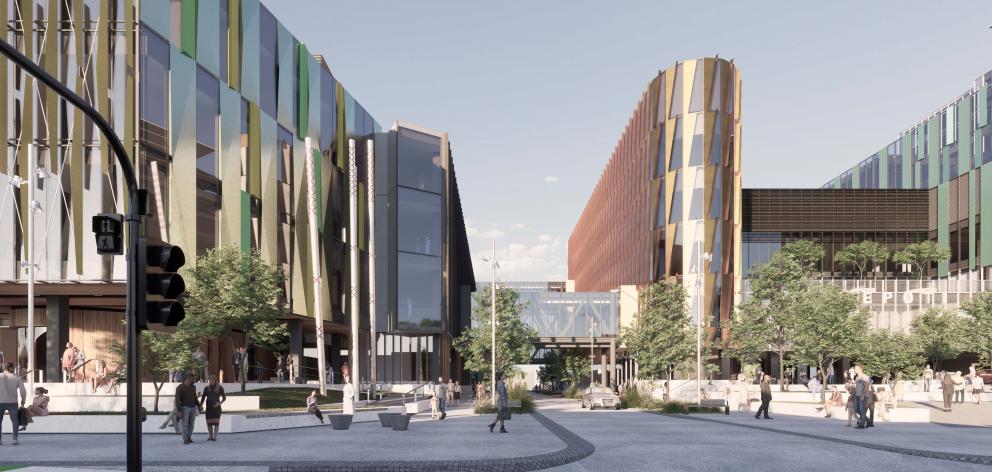 The next planning document for Dunedin's new hospital may be submitted to the Cabinet next month — although it could be some time before ministers consider it.
The Southern District Health Board appeared before Parliament's health select committee yesterday for its annual review.
Dunedin National list MP Michael Woodhouse quizzed SDHB chairman Pete Hodgson about the progress of the hospital's detailed business case, a document which was originally intended to be presented to the Cabinet in March 2020.
Mr Hodgson said it was hoped it would be presented on April 15, but acknowledged the Cabinet was unlikely to consider it immediately.
"I think there will probably be a delay in any announcement because by that stage we will be in the pre-Budget period."
The detailed business case, which sets out which services will be located where in the hospital complex, is a crucial and long overdue document.
The Cabinet gave "in principle" approval of it last September in the expectation the final document would be complete by February, which had not been the case.
Mr Woodhouse asked if the imminent submission date for the plan meant that the scope and cost of the hospital were now finalised.
Mr Hodgson said they were, apart from a separate business case for information and communications technology.
"It will be the most digitally enabled hospital in New Zealand when it opens ... but it is also the case that the rest of the district will have to be somewhat digitally enabled to be connected to it."
There were also South Island-wide ramifications to be worked through as systems at the new Dunedin Hospital would need to be compatible with those in other southern hospitals, Mr Hodgson said.
Asked about the biggest challenges to the SDHB, Mr Hodgson highlighted its deficit, which after one-off costs were included last year topped $80million.
Although it is forecast to be much lower this year, it was still an albatross around the organisation's neck, he said.
"If we can get rid of it [the deficit] it will change the conversation," Mr Hodgson said.
He also identified the South's mental health services as an issue.
While there had been great improvements in some areas, "I don't think our mental health services are up to scratch," Mr Hodgson said.
An independent review of southern mental health services is under way.