Nearly 10,000 doses of the Covid-19 vaccine were administered in the South on Super Saturday, the Southern District Health Board says.
Across the South, music played, barbecues sizzled, and 2885 people rolled up their sleeves for their first Pfizer injection while 6821 people got their second dose of the vaccine during New Zealand's mass vaccination day, provisional numbers from the SDHB yesterday showed.
SDHB Covid-19 vaccine rollout incident controller Hamish Brown said 9706 people in the health region got the jab.
The health board would be in a better position to say what the uptake meant for its vaccination programme after the data was further analysed, he said.
But the numbers he provided showed Dunedin (3731), Invercargill (1312), and Wanaka (1249) delivered the most doses of the nine Southern centres taking part in the event.
Nationally, the day was described as a smashing success.
The Ministry of Health said across the country 130,002 doses were administered.
Of those, 39,025 were first doses and 90,977 were second doses.
Now, 85% of New Zealanders had received one dose and 65% of the population were fully vaccinated, the ministry said.
In the Southern region, the numbers were better than the national figures.
Here, 86% of the eligible population had received their first dose and 69% were fully vaccinated, the ministry said.
By ethnicity, Maori had the highest proportion of first doses on Super Saturday, with 50% of all Maori vaccinations being a first dose.
Southern Maori (346 first doses, and 465 second doses) were outpaced by some regions on Saturday in the North Island.
But overall Southern Maori vaccination rates remained higher than the national numbers.
In the South, 70% of Maori had received their first dose, and 51% had received two doses, the ministry said.
Prime Minister Jacinda Ardern said Super Saturday had exceeded her expectations.
"Keeping up this momentum over the coming weeks means we could become among the most vaccinated countries in the world, ensuring we are protected from the virus and can get back to the things we love," Ms Ardern said.
Dunedin Mayor Aaron Hawkins said he was really proud of the turnout in Dunedin on Saturday.
"The most encouraging thing is the number of people who came and got their first jab over the weekend," Mr Hawkins said.
"We need the number of unvaccinated people to be as low as possible, as soon as possible."
The Dunedin City Council would continue to support the local vaccine drive in any it could, he said.
"It's the best tool we have to keep people safe and support local businesses."

Dunedin
With the sun shining and ice creams in hand, Dunedin residents turned out to the Octagon where one of four Super Saturday mass vaccination events was held in the city.
In the city centre, a steady stream of people moved through the Te Kaika vaccination bus, and bands jammed on stage for those sitting out their 15-minute post-jab observation period.
The Octagon vaccination site was one of 70 sites across the SDHB region for Super Saturday.
Jack Hollis-Wilson was there; he rolled his sleeve up for his second jab.
He said he was getting vaccinated to protect family members.
"I live with my nana and she's kind of important to me so I want to make sure she doesn't get it [Covid-19] from me."
He was enjoying the party atmosphere and was listening to the live music while he waited after his shot.
Taieri MP Ingrid Leary said it had been good to see people turning out to get vaccinated, but also to see those already fully vaccinated coming out and supporting the effort.
The vaccinated had a part to play in listening to the concerns of their unvaccinated peers and helping allay their concerns, she said.
Her 19-year-old son had got his first dose after talking with a trusted family friend.
And she called on the vaccinated to treat the vaccine hesitant with kindness.
Otakou runanga chairwoman Donna Matahaere-Atariki said getting vaccinated was acknowledgement of the collective responsibilities people had to each other.
She said it had been particularly pleasing to see lots of Maori and Pasifika people coming through the event, given the lower vaccination rates in those groups to date.
Queenstown
Free drinks, prize draws, a sausage sizzle and a tour of an historic steamship were among the inducements offered at a series of Covid-19 vaccination clinics in the Wakatipu on Saturday.
Free travel on buses was another carrot dangled to residents and visitors as part of the vaccination drive.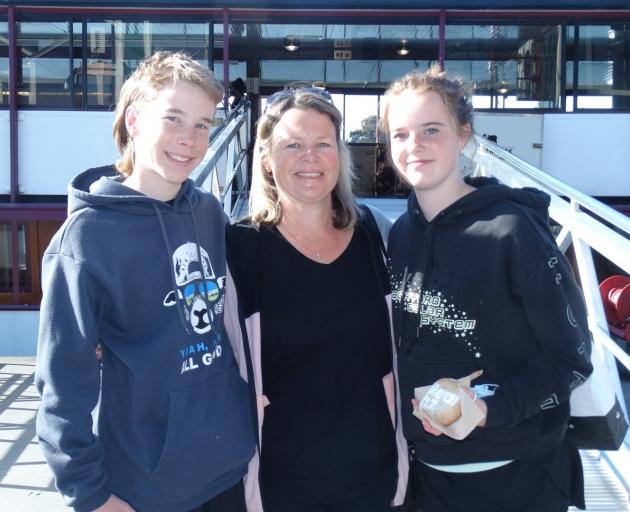 Ten clinics operated at various times of day, including on board the TSS Earnslaw at its waterfront berth.
Among those vaccinated on the vessel by a team from nearby Life Pharmacy Wilkinsons were two members of the Hodge family, Hayden and Jessica, who were given hot chocolate and cookies during their observation period.
The family also won a ticket for a cruise on Doubtful Sound in a spin-the-wheel competition.
Another vaccination event at the Lake Hayes Pavilion ran a sausage sizzle, while Five Mile Pharmacy had a voucher prize draw for those getting the vaccine.
Invercargill
Southland residents used their community spirit, creativity, even sense of humour to motivate people across the region to be vaccinated against Covid-19.
And the work seemed to pay off. Hundreds of Southland people took part in Super Saturday.
Kind Women Charitable Trust members promoted an "anti-anti-protest" to support the push.
With humorous sign with messages like "Hit me with your best shot" and "Stick it in me,
Ashley" the group made some noise in front of the Civic Theatre where a vaccination clinic was held.
Member Sheree Carey said she wanted to support the event and to encourage people across the region to take the opportunity to be vaccinated.
"We've been so lucky so far and we want to keep it this way — safe and protected."
Invercargill resident Richard O'Kane took his son Ryan (14) to have his first jab.
"I'm already fully vaccinated but came to bring my son as it is important to protect New Zealand."
Mr O'Kane and his son were among hundreds of people who were vaccinated at the Civic Theatre and treated with barbecue and ice cream.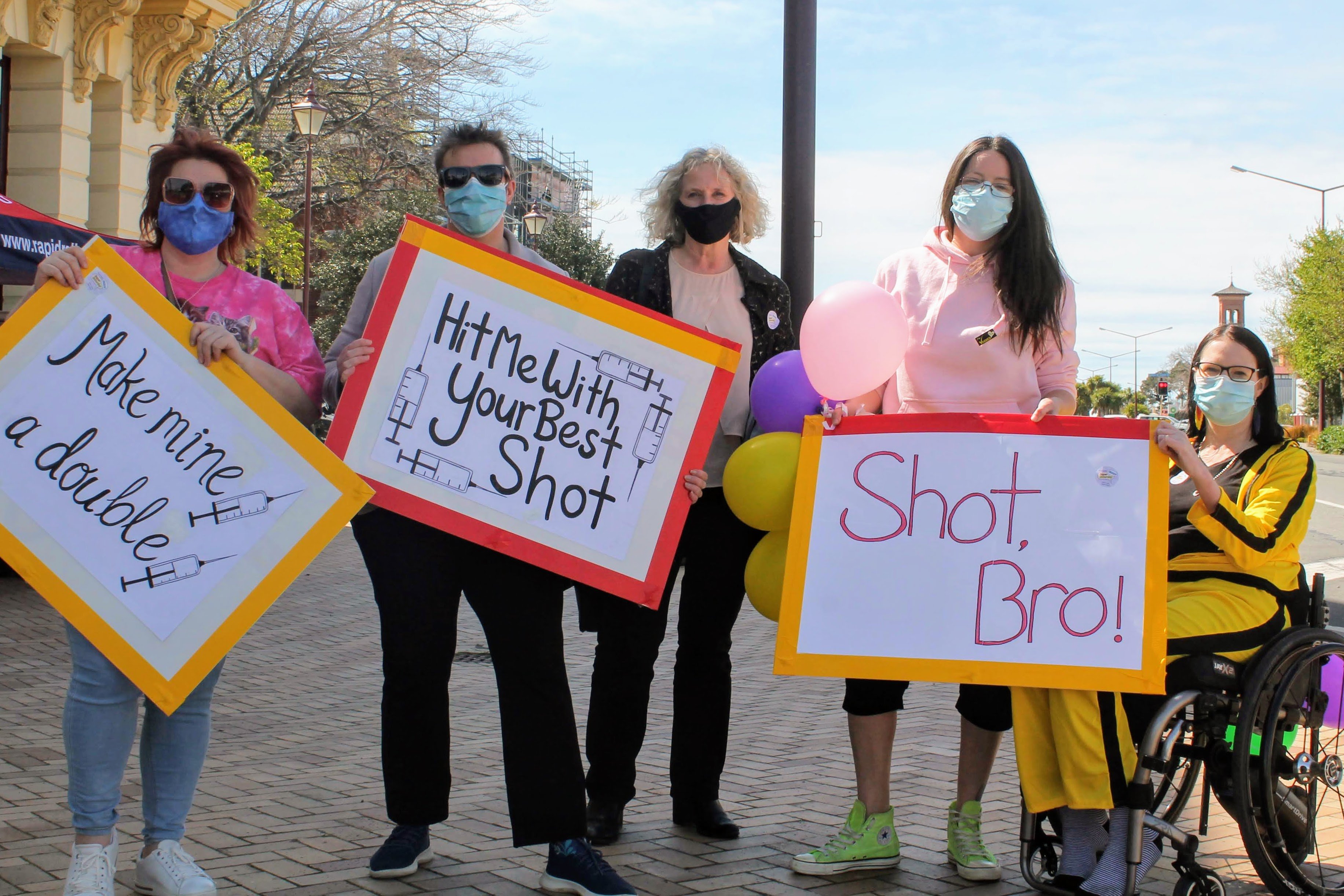 The Invercargill City Council offered free bus services for those going to a vaccination clinic, while the Invercargill Licensing Trust and McCallums Group joined forces to provide a lift for many in the community who did not have a car.
"We're proud to be playing our part in keeping the community safe," McCallums Group sales and marketing manager Paul Harrington said.
Data from last week showed Southland ranked 55th out of 66 cities or districts for the percentage of the population fully vaccinated at 46.6%.
Invercargill was doing better and was in 23rd spot with 55.9%.
Wanaka
Wanaka GP Dr Andrew McLeod predicted the Delta variant would come to the South Island and Southerners could expect "a really difficult time for a few months" once it did.
Dr McLeod was one of the Wanaka Medical Centre Super Saturday team supervising people in the car park after they received their vaccination at the old Mitre 10 in Plantation Rd.
He said he was very anxious about when Covid-19 became more widespread.
"I think we are going to have a really difficult time for a few months when it gets into the community as we are going to have to manage it with people at home, and primary care staff are already a bit stretched.
"It is one of the reasons why I am really keen to see people get vaccinated, to allow us (doctors and nurses) to do what we need to do quite apart from looking after those patients with Covid," Dr McLeod said.
More than a thousand people booked in for their second Covid-19 vaccination on Saturday at the drive-through clinic but many more turned up without appointments, some for their first jab.
Dr McLeod described the response from the Wanaka community as outstanding with queues of cars lined up more than 30 minutes before the drive-through clinic opened.
"It is very unusual for Wanaka people to arrive on time, let alone early."
He said there had been a lot of enthusiasm for the jabs, including from young tradies.
"I have spoken to some of the older tradies and they have been quietly working away on their junior team members to get vaccinated. It has been a bit of an issue but I am hoping this has turned it around a bit."
Dr McLeod said he was supportive and respectful of those who were hesitant about getting the vaccination but encouraged them to come along and just see what it was all about.
"I think the message is getting out that if you want to continue to do the things that you want to do such as travel and perhaps even go to concerts then a vaccine passport is going to be necessary.
"A few people have told me that is the reason why they are here today."
Dr McLeod said the best way to prepare for the Delta variant in the community was to get vaccinated.