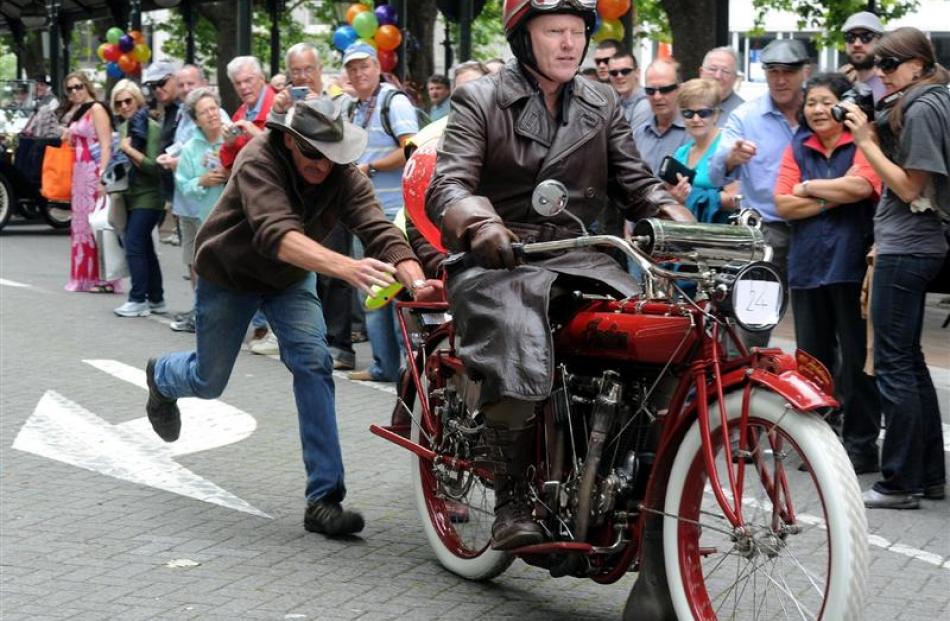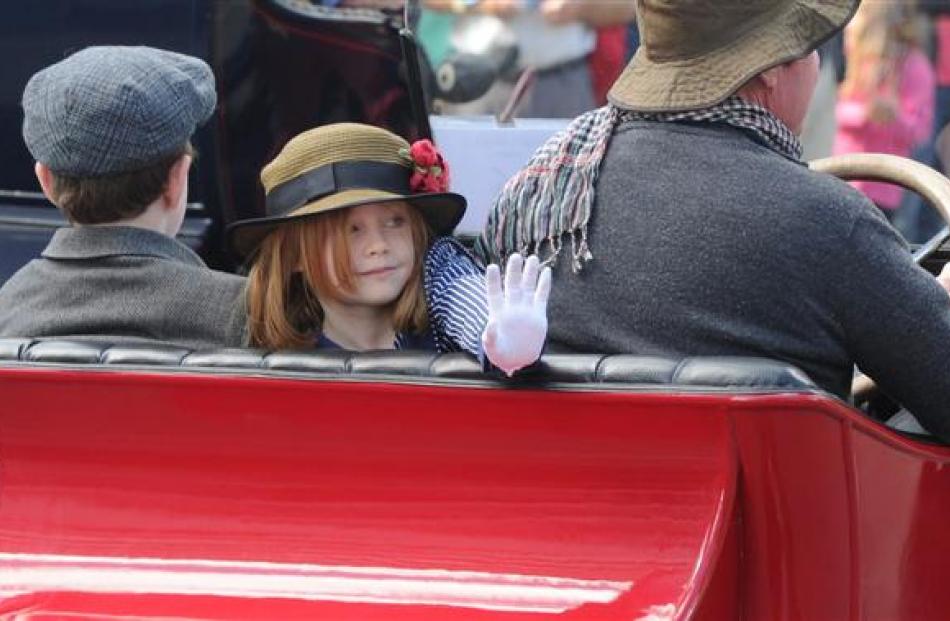 Some runners stretched while others practised explosive starts as they waited for the starting bell to sound at the Time Buster race in the Octagon.
The jazz quartet held the beat, building the anticipation of the start with a set of songs littered with pregnant pauses and big finishes.
A bald spectator felt his head, looked skyward and told a friend it had started to spit.
A confused cruise ship passenger inquired what everyone was here to watch and grasped the concept of the race quickly.
''Oh, just like in Chariots of Fire,'' the Adelaide resident said.
Then the deep chime sprang the runners loose.
The quick starters gained the advantage and as some runners jostled near the cinema, the front runners were powering downhill to the clapping and cheering of the crowd.
Then final chimes rang, the race was over, the athletes, hands on their knees, inhaled deeply before arising to slap backs, shake hands and debrief.
The jazz resumed, at a slower tempo, to welcome the Brighton Veteran Car Rally vehicles rolling in.
The bustling crowd of hundreds, bolstered by cruise ship passengers, admired the 37 rally vehicles, a mix of topless cars, throbbing motorbikes and polished trucks.
Veteran car enthusiasts Nigel (75) and Judith (68) Browning, of Hamilton, said they had brought their 1911 Calthorpe car 1320km to be in the rally. Mr Browning bought the car in 1971 for $70.
''I paid $69 too much. It was a piece of scrap iron.''
He had spent 2000 hours rebuilding the car, a project driven by his passion for engineering.
When the 1.8-litre car was made it came with a guaranteed top speed of 105kmh but he had been only up to 70kmh, he said.
American cruise ship passengers Dick (71) and Nancy Hansen (70), of Phoenix, were on a cruise to celebrate their 50th wedding anniversary and were surprised to see the classic vehicles on show.
''They are all cherries. They are in such good condition,'' Mrs Hansen said.
Then with a twist of a hand crank, the cars prepared to leave but momentarily stopped in front of the crowd, to honk their horns for children while Master of Ceremonies Dougal Stevenson divulged details of each vehicle on the loudspeaker, until Mayor Dave Cull flagged them away.
One car bunny-hopped to a stop and after a couple of fruitless cranks, got a push-start to putter into Princes St.
The final car, a two-seater 1911 AC Sociable, sent smoke into the crowd, signalling an end to the inner-city classic car convoy.
Organiser Tony Devereux said the 59th annual rally was a success but the milestone rally next year would be bigger.