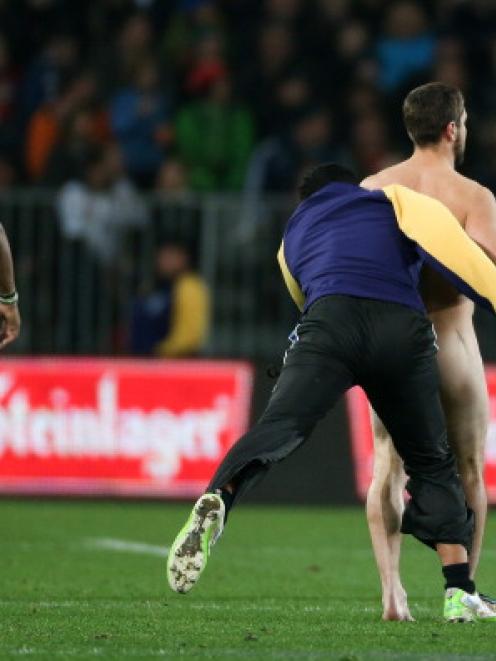 The man who streaked during Saturday night's All Blacks test match says he bears no ill will against the security guard who crunch tackled him from behind.
Adam Holtslag, 28, admitted he "probably started [drinking] a bit too early" on Saturday, and was egged on by his mates to streak across the pitch at Dunedin's Forsyth Barr Stadium.
The now infamous incident has divided opinion over whether Holtslag deserved the hard-hitting tackle, or whether security guard, Brad Hemopo, himself a Canterbury rugby player, went too far.
But while Holtslag said he was left nursing sore ribs from "a bit of a cheap shot", he doesn't want to take the matter any further.
"It was a good hit, eh," he said.
"It was definitely a bit over the top, but if you're going to streak, you have to expect that you're going to get hit. Not usually from behind though," the self-employed builder said from his Christchurch home.
He recalls the incident clearly, but he "didn't see that coming at all".
"I wasn't going to resist or anything. As soon as they got me, I went along with it," he told APNZ.
Holtslag had travelled down to the game with five mates, and earlier in the day watched the Nude Blacks vs England naked game.
During the All Blacks test, he was encouraged to take his clothes off and jump from the stands onto the pitch. "Yeah, I got egged on a bit," he said of his mates.
He's now hoping they will cough up to pay his $500 fine imposed by the stadium. "They're gonna pay up. They better help out with the fine eh."
Holtslag is also facing a maximum $1000 court fine, after he was arrested and charged with offensive behaviour. He was also banned from the stadium for two years.
He will appear in Dunedin District Court on Wednesday.
Holtslag was surprised by the attention the incident gained across New Zealand and the world, he said.
"It's gone crazy. I'll just wait till it blows over.
"The phone's been going mental -- I've had to switch it off basically. Thousands of Facebook messages."
Meanwhile, management at Forsyth Barr Stadium resolutely stood behind Mr Hemopo, 19, saying he was "absolutely, 100 per cent" in the right.
"We are going to come down hard on anyone who breaks rules at the venue," Terry Davies, chief executive of Dunedin Venues Management Ltd (DVML), said.
"We have been speaking with the security guard, the security company, we looked at our pre-planning and pre-briefing, and it all fell into line and was consistent, and on that basis we will support him 100 per cent."
Mr Hemopo's mother, Sandy, also defended her son -- a Canterbury Rugby ITM Cup wider training group member -- saying he's "not a violent person", and was simply doing his job.
"He's [Mr Hemopo's] been told to tackle if anybody goes on the field, so what do you do? That's why the security guards wear their rugby boots out there," she said in an interview with Newstalk ZB.
Despite admitting her first reaction when she saw the tackle was to think 'ouch', she described it as "a bloody good tackle".
"If it had been any lower, the guy would have been injured. He [Mr Hemopo] knew exactly where to tackle him," she said.
- Kurt Bayer and Patrice Dougan of APNZ