If, when venturing past the former Sammy's nightclub in Dunedin, you begin to feel like somebody may be watching you, look up.
The eyes belong to a looming deep sea diver, conjured up in the imagination of a Taranaki artist who goes by the name Milarky.
Milarky has been in Dunedin this week creating the piece, which he completed yesterday.
It replaces a two-storey-high mural of Jeffrey the giraffe, a stuck-on mural which had peeled off, on the A.H. Reed building at the corner of Jetty and Crawford Sts.
Milarky (33) said he was brought to Dunedin by the Dunedin Street Art Trust, which he said had been trying to get him to create something in Dunedin for several years.
As for the reasoning behind the design, there were several, Milarky said, but it was the eye of the beholder that mattered.
"Whatever truth someone finds in it, that's more important than what I'm trying to say."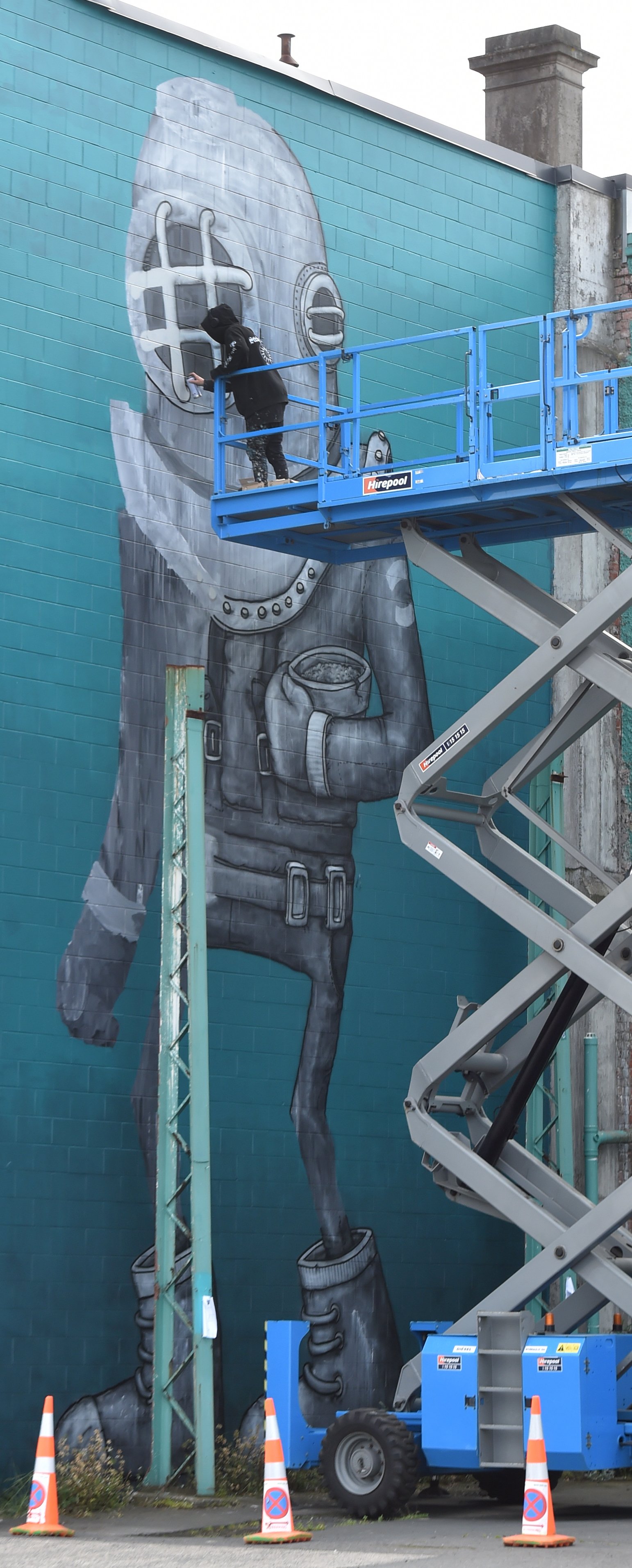 Trust chairman Scott Muir said it was pleased to have been able to bring Milarky to Dunedin because of the kind of work he did, particularly its large scale and design, and playful, engaging characters.
"That's front of mind for us. It's not, hey let's put some stuff on a wall, it's, let's get some great art out there," Mr Muir said.
Milarky was also commissioned by the trust to paint a second piece in Dunedin, the details of which were still secret.
"We're really excited to have him here, but we also want to make the acknowledgement to Dunedin that we're back in business [after a hiatus because of Covid]. It's really exciting to be able to get under way again."
When international borders opened, the trust was looking forward to welcoming international artists to undertake work in the city, but had also enjoyed working with predominantly New Zealand artists throughout Covid-19 border closures.
"Dunedin is quite the destination for the international street art community. They know we're into it, that we're passionate about it, and we're doing it for the right reasons."
The trust was on the lookout for more walls in the CBD.