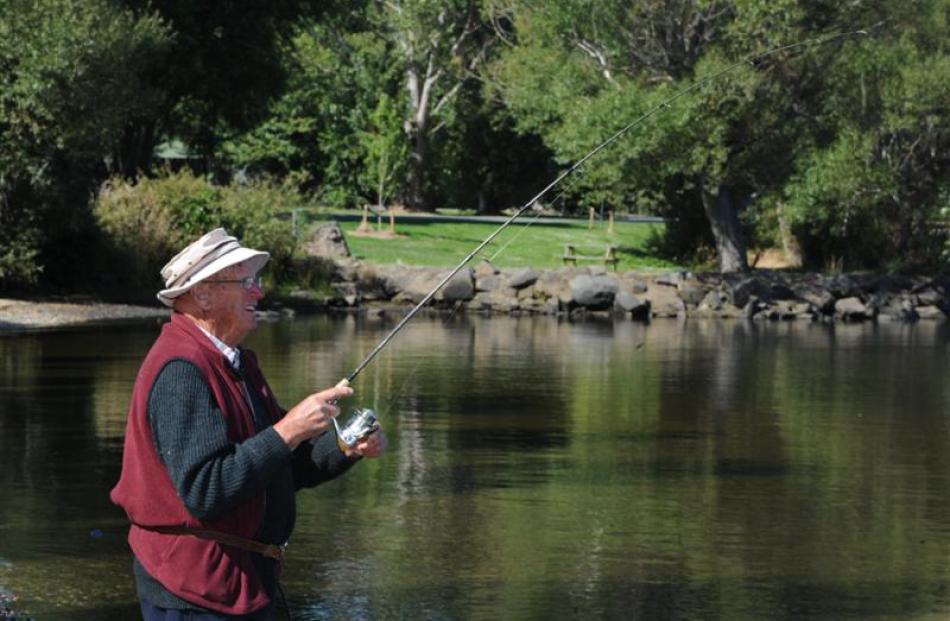 Residents keep fishing and taking their dogs and grandchildren swimming in Lake Waihola, despite toxic algae warning signs that are scaring away potential holiday-makers and business from the lakeside town.
Lake Waihola Cafe & Bar owner Kevin Reid (62) said he took his black Labrador Tess for a swim in Lake Waihola, even though the signs warned ''dogs may die if they eat toxic algae''.
He also took his four grandchildren water-skiing and swimming in the lake at Christmas, despite the warning ''people should avoid contact with it''.
His dog and grandchildren were in good health, he said.
He had seen the algae in the lake before Christmas. The Otago Regional Council had kept the warning signs up, even though the `luminous green layer'' had disappeared and holiday-makers had been scared away, he said.
The council was ''covering their butts'' while staff were on holiday, and Waihola businesses had suffered financially, he said.
Mr Reid had offered to collect daily water samples for the council and transport them to Dunedin for testing, so results could determine whether the lake should remain open or be closed.
''If it's contaminated, then let's close the gate. If it's not, then let's say that.''
The council declined the offer because testing was too expensive, he said.
Waihola Yacht Club treasurer Christopher Hogg said a school cancelled a sailing course booking because of the algae warning, which cost the club $400.
Lake Waihola Holiday Park manager Mary-Jo Nardone (50) said when the council released news of a possibly toxic algae bloom, about 10% of customers cancelled their Christmas bookings. Several of the 60 permanent caravans at the park, which she expected to fill, had remained empty and the park's customer forecast was down about 25%, Miss Nardone said.
''A lot of people are scared.''
The council could have worded the warnings better, rather than spreading the message ''stay away from Waihola'', she said.
Camping ground resident Bert Russell (85) said he fished at Lake Waihola most days and often steamed whole perch or trout for breakfast, lunch and dinner. He had fished the lake for 40 years and the fish were bigger and tastier than ever, he said.
On Sunday, he caught a 2.5kg trout about 10m from his caravan site and he urged anglers to fish the lake.
''The more the merrier.''
Otago Regional Council director of environmental information and science John Threlfall said daily toxicity testing was not possible because the results could take up to a week and toxicity levels could have changed.
The latest tests had shown the algae was non-toxic and the council was testing weekly, he said.
''The advice we are passing out now is, if you see a lot of the algae don't swim in it, and don't go near it. Work around it and assume that you'll be OK ... It's not the all-clear. It's just be sensible.''
The warning signs remained in place at Christmas because there was a health risk before and after Christmas and the council was not being overcautious, he said.
''I'd do it again.''
New warning signs were being made with ''toned-down'' language about the risk, he said.