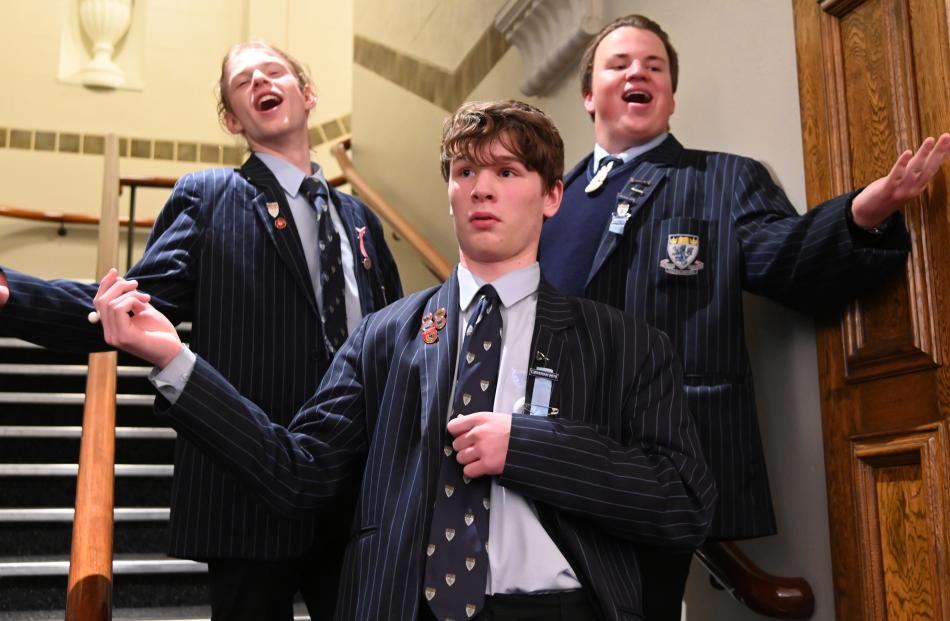 Without shame, Jamie Honey says his motive for joining his school choir was quite simple.
"I did it just to get out of doing school work.
"But then I got snagged. I couldn't stop going to rehearsals.
"Getting on stage was so much fun, and missing math was a bonus - it was the pinnacle of skipping school.''
The King's High School academic high achiever first joined the choir last year, in the hope a bit of music would break up the monotony of school work for him.
A minor problem was, he could barely hold a tune, and he had "zero confidence'' in performing and singing publicly.
Since then, he said his vocal skill and fortitude had grown exponentially and it was spreading to other parts of his life.
He said he was much more confident around others, he had become well known for singing show tunes during mathematics classes, and he was particularly proud to have been selected as a cast member for this year's King's and Queen's High School musical production.
"This is the first time I've done something significant in the show.''
Jamie was one of more than 500 secondary school pupils in 25 choirs, from around Otago and South Canterbury, who were performing in the Big Sing choral competition in the Dunedin Town Hall yesterday.
Event co-ordinator Rosemary Tarbotton was delighted at the record turnout for the regional competition.
She said the record had been created, in part, by the addition of a choir from Mt Aspiring College which performed in the competition for the first time this year.
The choirs were competing for a place in the Big Sing National Finale, which is to be held in Dunedin on August 29-31.
The next regional competition, the Southland Big Sing, would be held at First Church, in Invercargill, next Tuesday, she said.
Results.-
Best performance of New Zealand composition or arrangement: Cantus, Columba College.
Best performance of a classical composition: Otago Girls' and Boys' High Schools Combined Choir.
Best performance in category three, other style: Craighead Choral.
Isabel Chetwin Trophy: Kavanagh Choir.
Conductors award: Amanda Goodwin, Taieri College.
Student conductor award: Ollie Blyth, Mount Aspiring College.
Spirit of the festival: ACafellas, King's High School.