Shellshocked National MPs are making their way to Wellington for an emergency caucus meeting tonight to begin the process of replacing Todd Muller as leader.
Muller, the Bay of Plenty MP, had been in the job for just 53 days before calling it quits at 7.30am today.
"The role has taken a heavy toll on me personally, and on my family, and this has become untenable from a health perspective," Muller said in a statement.
National's senior whip Barbara Kuriger said she did not know if Muller would be in Wellington for tonight's caucus meeting.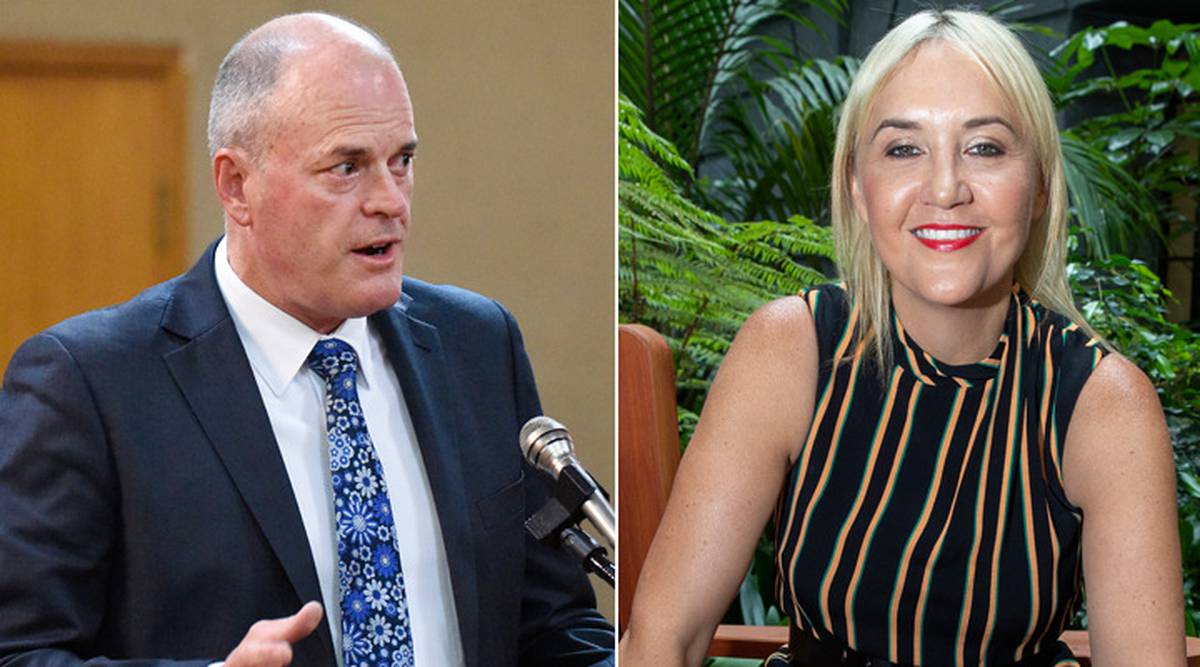 She told media outside Parliament that she was giving Muller his space.
Kuriger confirmed that National MPs were advised of Muller's decision to step down at 7.30am this morning.
A media statement was issued just moments after the call had commenced, Kuriger said.
At this stage there is only speculation as to who will take over and when the new leader will be announced.
Among the contenders, former leader Simon Bridges, Muller's deputy and acting leader Nikki Kaye, Judith Collins and Mark Mitchell have all refused to confirm or deny whether they will be going for the job.
Kaye said "there was a process to work through" tonight.
"The important thing is we have compassion for Todd at this time while we work through what has been a very difficult time."
Kaye wouldn't be drawn on whether she would put herself forward for leader or who she'd support.
"What's important is the best interest of the country and in my view we need a National government and we're focused on how we achieve that."
Bridges coy on leadership
Bridges has consoled Muller and described the job as a "very tough role".
"My thoughts are with Todd Muller & his family. Opposition Leader is a very tough role & I wish Todd and his family the best for the future," Bridges wrote on Twitter.
The tweet was silent on whether he would contest the now vacant leadership.
Speaking to media at Wellington airport, Bridges said Muller's announcement was "really sad".
"It's a tough job being leader of the opposition."
Bridges said his thoughts were with Muller and his family.
He said he was also thinking about: "What a tough time it is for the National Party".
He said there were some difficult discussions to be had today.
Asked if he would put his name forward for the leadership, he ignored the question.
When pressed on this question, Bridges said: "These are discussions we need to have... at a difficult time".
Collins won't rule out standing
Collins said she was feeling very sorry for Muller, describing him as a "delight to work with".
She would not rule out contesting the National Party leadership.
"I am just going to have the discussion in caucus," she told reporters.
Asked if this was her moment, she said: "It is my moment to focus on my caucus and the team that I am part of, which is the National Party team".
Mitchell - who has been mooted as a potential leadership hopeful - told media outside Parliament his thoughtswere with Muller and his family who are going through an extremely difficult time.
He would not be drawn as to whether he would run for the top job - "caucus is going to follow a process".
He said he couldn't say whether caucus will make a decision tonight.
"There may be an outcome tonight, there may be one tomorrow - we will have to wait and see."
He would also not be drawn on what was said on the caucus call this morning.
Fellow National MP Michael Woodhouse wouldn't be drawn on whether New Zealand could see a return of Bridges as leader of the National Party.
He said he hadn't spoken to Muller - but when asked if he'd spoken to Bridges he said "I've spoken to a number of colleagues but I just want to let the process go".
Woodhouse said he was "very concerned" for Muller and his family.
He said he "wasn't going to speculate" on whether the fact he also received private Covid patient data from former party president Michelle Boag had played a part in Muller's resignation.
"Let's just get through these couple of days first," Woodhouse told reporters.
Invercargill MP Sarah Dowie said she believed it was the wrong call ousting Bridges.
"I voted for Simon," she said. But she wouldn't be drawn on whether she'd spoken to Bridges today.
When asked why New Zealanders should still have confidence in National, Dowie said: "We'll get ourselves together really quickly and we're the best economic managers for the country."
Dowie said "we'll wait to see what the will of the caucus is" when asked if she'd like to see a decision this evening.
National MP Tim van de Molen told media outside Parliament that Muller's resignation was "a real shame".
"I feel for the guy and in that respect, I wish him all the best."
It was a difficult time for National but MPs were arriving at Parliament to "sort that out today".
The focus now, according to de Molen, was "getting a new leadership team".
Asked if that meant Nikki Kaye's position as deputy leader was in question, he said that would be discussed at tonight's caucus meeting.
He would not say who he would like to be leader.
He said this process had been "untidy".
"With the change in leadership this close to the election, that's where we need to refocus now and our priority now is on getting that clear message with a new leadership."
Jacinda Ardern replaced Andrew Little as leader of the Labour Party a mere 53 days before the 2017 election and led the party to victory. 
National Party president: 'Challenging time'
National Party president Peter Goodfellow said:
"There is no doubt that this is a challenging time for the National Party, with the resignation of Todd Muller earlier this morning.
"Being leader of the opposition is one of the hardest jobs in politics and Todd undertook the role with dignity, humility, and respect.
"On behalf of the National Party board of directors I want to thank Todd for his service as leader of our party. The health and well-being of our people is paramount in everything we do, and we wish Todd, his wife Michelle, and their children well.
"We will be working to elect a new leader as quickly as possible, to steer our Party through the upcoming election."
MP suggests new leader could be selected tonight
Speaking to media at Wellington airport, National MP Matt Doocey said that Muller was a "good mate" of his and he "backed him 100 per cent".
"I'm hugely disappointed for Todd - he's a good bugger."
Doocey would not answer questions as to who he was backing as the new leader.
Asked who was the best person for the job, Doocey said: "You will find that out tonight".
There has so far been no confirmation that a vote will occur tonight, only that National
MPs will be meeting.
But he said National would be "staying focused".
Arriving earlier in Wellington veteran MP Nick Smith said that today was a "difficult day for the National Party, but we will get through these difficult times".
New Plymouth MP Jonathan Young said today would be a "very important time for us to consider things" and that National was a "good team" but it had been a "pretty tough week".
It now falls to National's MPs to again select a leader who will lead the bruised party though to election day.
There has already been an emergency call this morning as National MPs attempt to piece together the unfolding events.
But the caucus will meet in person tonight between 7pm and 7.30pm – that meeting will be chaired by deputy leader and now acting leader Nikki Kaye.
A spokesperson for National said they don't know whether or not there will be a leadership vote tonight.
After the meeting, National will release a statement and there will be a media stand up in Parliament where more details of the meeting will be shared.
Senior whip Barbara Kuriger confirmed the caucus would meet tonight to "discuss the way forward".
There will be no more official comment from the party until after the meeting, Kuriger said, but MPs will be door stopped for comment on their way into Parliament and at airports all day.
But MPs are now beginning to land in Wellington airport.
Young said he had "no idea" when the new leader will be announced.
He would not be drawn on who he would be supporting as the next leader but said Muller had worked "very hard, and was a great New Zealander".
"Sometimes these things happen," he said, before adding that leader of the Opposition was a "tough job".
Labour: Muller a man of 'great integrity'
Government minister Chris Hipkins described Muller as a man of "great integrity" and an "honest and decent guy".
Today's resignation showed that politics "can take a demanding toll on you", Hipkins said.
Earlier, Prime Minister Jacinda Ardern expressed her sympathy to Muller through a statement.
"No matter what side of Parliament you're sitting, politics is a difficult place."
Deputy Prime Minister Winston Peters also released a statement in which he "acknowledged the heavy price of trying to lead the National Party today".
He said Muller was a "good man" but then took aim at National.
"Leading a divided and incompetent caucus would have tested even the best leader," he said.
"The National caucus now has the unenviable job of selecting its fourth leader since the Coalition Government took office."
As for Muller himself, it is understood that he was not able to make the emergency teleconference caucus call this morning to tender his resignation.
It remains unknown if he will be flying into the capital for tonight's vote.
This comes after Muller, and the National party, has come under intense scrutiny after disgraced National MP Hamish Walker leaked confidential Covid-19 patient information to media.
HANDLING OF COVID LEAK SCANDAL
July 2
• National's Clutha-Southland MP Hamish Walker sends The New Zealand Herald and other media a list containing names, dates of birth and isolation facilities of then 18 active current Covid-19 cases, to use as evidence he was right is saying cases were coming from India, Pakistan and Korea but does not reveal the source.
July 4
• Weekend Herald reveals there has been a privacy breach in that it has been sent details of current Covid cases without revealing who or why it was sent. Two other media outlets reveal they have been sent the same information. None publishes the info.
• Health Minister says there will be an inquiry.
• National's health spokesman and Dunedin MP Michael Woodhouse recognises the description of the information similar to info sent to him by party stalwart Michelle Boag in four emails between June 21 and 25.
• Woodhouse texts Boag to say he had not sent his info to the media. Boag says she knows because the info is different . The number of active cases Woodhouse was sent in June were lower than the 18 active cases Walker was sent but Boag does not tell him it was Walker.
• National leader Todd Muller and Woodhouse strongly criticise the Government for the privacy breach.
July 6
• Lunchtime: Walker contacts Muller privately to confess to having forwarded Covid-19 patient information to the media.
• 3pm: Govt announces independent inquiry to be led by ex-Solicitor General Michael Heron QC.
July 7
• Muller spends day in Dunedin with Woodhouse.
• Walker issues statement about 5.30pm admitting he sent the patient details to media but says it was to expose the Govt's shortcomings at keeping data.
• Boag issues statement moments later admitting she sent the patient details to Walker. Resigns from Auckland Rescue Helicopter Trust CEO, in which capacity she got the data from the Ministry of Health.
• Muller issues statement saying it was an error of judgement by Walker, that he has lost his spokesmanships, that he must co-operate with the inquiry and that he, Muller, will not be commenting further until the inquiry is over. Resignation is not mentioned.
• Woodhouse tells Muller he, too, has received similar information from Boag in June but dint do anything with them.
• Woodhouse deletes the Boag emails.
July 8
• Muller says he is angry with Walker and has referred the matter National's board of directors.
• Walker announces retirement from politics before board deselects him.
• Woodhouse contacts Heron to say he was sent similar information to Walker from Boag.
July 9
• Muller has standup after speech and rejects a suggestion multiple times Woodhouse might have received similar information from Boag.
July 10
• Woodhouse publicly says he received patient information from Boag on four occasions between June 21 and 25 but did not do anything with it or tell anyone about it.
• Boag resigns from the National Party.
• Muller denies having made misleading statement the day before regarding Michael Woodhouse. "From my perspective, we have been well-managed and transparent about it."
July 14
• Muller resigns as leader of the National Party.