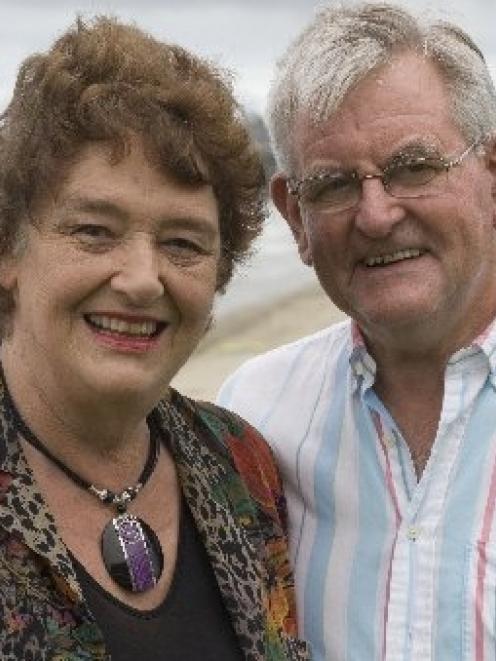 Celebrated cook Alison Holst, who spent the first 30 years of her life in Dunedin and has retained close links with the city, was ''overwhelmed'' to be named a Dame Companion of the New Zealand Order of Merit.
''I feel that it [the honour] really is something very special,'' she says.

Asked if she planned to use her new ''Dame'' title, she emphasised that she would retain ''Alison'' in everyday life.
Her honour citation describes her as ''one of New Zealand's best-known food experts''.
She is also being honoured for her charity work, having raised more than $4 million for schools, churches, Plunket groups, kindergartens and playcentres, mostly through cooking demonstrations which have drawn crowds of up to 700 people.
Since she published her first cookery book in 1966, more than four million copies of her books have been sold.
She has continued to encourage young parents to cook ''healthy and reasonably-priced family meals'' and still advocates for ''strong family values through a shared appreciation of food'', the citation says.
''She has been a positive role model to New Zealand families for more than 40 years,'' it says.
This year she will publish her 100th cookery book, working to create them now with her son, Simon.
Over the years, she has appeared regularly on television and radio, giving advice to several generations of home cooks on inexpensive, tasty and nutritious meals.
It is nearly 50 years since she first beamed into New Zealanders' homes as presenter for the television show Here's How.
These days she lives on the Hibiscus Coast, in Orewa, Auckland, with her husband, Peter, a University of Otago medical graduate.
Born in Dunedin, Dame Alison (72) attended Opoho School, Dunedin North Intermediate and Otago Girls' High School before gaining a bachelor of home science degree at the University of Otago, later undertaking teacher's college study.
She has retained close links with the city, where her sister, international opera singer and visual artist Patricia Payne, and other friends still live.
Dame Alison recalled she was teaching in the food department at the university's former home science school in the mid-1960s when approached by New Zealand television authorities.
A high-profile chef, Graham Kerr, had been appearing on his own cooking show.
However, some television viewers were ''up in arms'' that he did not cook the food with which they were familiar.
''He was a chef - they really wanted a home cook. I'm certainly not a chef. I'm a home cook. There's a big difference between the two.''
From those early beginnings, she has not only been involved in many television shows but has undertaken a great deal of promotional work, both in New Zealand and abroad, on behalf of the country's fish and meat marketing agencies.
She enjoys the generation-crossing aspect of writing cookbooks these days with Simon.
''It's nice to think that there's four and a-quarter million of my cookbooks in people's kitchens.''
She joked they were ''dirty books'' often heavily marked with grease or flour, because they were used and reused during the preparation of meals.
She encouraged people to cook meals that families would eat and that would not cost an arm and a leg, she said.
In 1983, Dame Alison was awarded the Queen's Service Medal for services to the community and in 1987 was made a Commander of the British Empire for services to home science.
She was awarded an honorary doctor of science degree from the University of Otago in 1997.