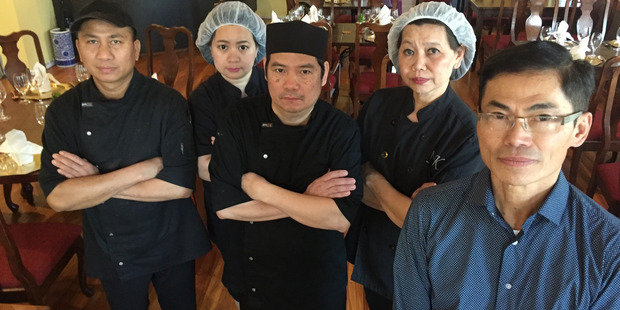 The owner of possibly Auckland's oldest Thai restaurant says his 28-year-old business is under threat by the immigration change.
Under new changes, migrants will now need to earn at least $49,000 to be eligible for a skilled worker visa.
Restaurateur Songvut Manoonpong said his business, Mai Thai Restaurant in the Auckland CBD was "totally dependent" on migrant workers.
All his key staff, including the head chef and two sous chefs which he recruited from Thailand, are on work visas.
"My head chef has been with me for 12 years, and sous chef for 10, but both of them are not earning more than $49,000," Mr Manoonpong said.
"If they have to go, then I don't know what will happen to my business."
Mr Manoonpong said if he raised their wages, then any added cost would have to be passed on to the customers.
"But this is also not a solution, because with so much competition these days, they may stop coming," he said.
"Any which way, it looks like we are fighting a losing battle."
Mr Manoonpong, who is also president of the NZ Thai Society, said Thai restaurant owners were in the processing of drafting a submission to the Immigration Minister.
"I don't think the Government has given much thought about the impact at all, we believe it is done just as an election move," he said.
"In the nearly thirty years that I have been in business, I have never been this worried."
Kiwis could be paying double for their plate of pad thai noodles when the immigration change take effect, restaurateurs say.
A Restaurant Association survey of 110 businesses found 86 per cent saying they will be negatively impacted by the proposed rule changes, with three in five extremely negative.
An immigration expert says the new rules would also "invite" people to rort the system.
Four per cent said the changes would impact them either moderately or extremely positive.
The policy changes announced by Immigration Minister Michael Woodhouse introduced pay thresholds for skilled migrants, with a minimum remuneration rate of $49,000.
Just one in ten skilled migrants working in restaurants here are paid $49,000 or more, the survey found, with a majority, or 55%, paid $40,000 or $19.23 per hour.
"The restaurant industry will be hard hit because it is an extremely people-focused industry, and we rely on labour and cannot rely on technology," said Marisa Bidois, association chief executive.
Ms Bidois said many restaurants were reliant on migrant workers, and there were "simply not enough Kiwis to fill the gaps".
She said the immigration changes would have a significant impact on the industry.
The survey found 43% of restaurant staff in New Zealand were migrant workers.
The association will be raising its concerns with the Government, she said, and was also working with Immigration to find a solution.
"The salary range is significantly higher than the average hourly rate and that is something the operators will struggle to meet," Ms Bidois said.
Watchara Torthienchai, owner of three Thai restaurants, a motel and a Thai massage business, said she will have to pass on the cost to the customers.
Ms Torthienchai said none of her staff are paid more than $49,000.
"We may have to charge double for our pad thai, otherwise how else can our business stay afloat," she said.
"The Government say there are so many unemployed Kiwis, then they should send me one who can do Thai massage or cook authentic Thai food."
Ms Torthienchai said the three-year limit for work visas would also make it a lot harder to entice foreign workers to come.
The average annual wage of those working in the hospitality industry was $39,624 and $43,284, according to Statistics New Zealand data.
Figures show Immigration New Zealand was already clamping down on approval numbers.
The number of expressions of interest selected between January 18 and March 1, 2017, was 1644, after the introduction of a higher point requirement.
This was less than half compared to the 3620 selected between August 17 and September 28 last year.
In the four selection draws before October 12 last year, more than one in five of the 1316 picked were chefs.
But chefs made up just 7% of the 697 selected in the four draws made after December 21.
In the 2016/17 year, the agency approved 8989 skilled migrant visa applicants compared with 9381 during the same period last year.
"The Government's plan to set income thresholds seems a crude move that invites those seeking a workforce, employers, and those seeking permanent residence to rort the system, to require more bureaucracy and send a message to some source countries that 'we are not that keen on you'," Massey University sociologist Paul Spoonley said.
Mr Spoonley said immigration was shaping up to be a key issue this election year.
"Both the Government and the Labour opposition have announced measures designed to significantly curb the numbers arriving," he said.
"This populist anti-immigration positioning echoes the shift in the United Kingdom, United States and Australia, apparently to appeal to the growing anxieties of some at immigration."
Mr Spoonley says there is a need to have a debate about population, its growth and distribution as a context for decisions about immigration.
"Let's not see immigration as a single causal factor or as a simple solution," he added.
"Yes immigration rates have been high, but it is simply one of many causal factors when it comes to major challenges such as housing affordability, labour market engagement and wages."