Prime Minister Jacinda Ardern has revealed she is pregnant - after weeks of keeping mum about her "exciting news" while juggling morning sickness and a new job leading New Zealand.
The news was first announced on social media today, before Ardern and partner Clarke Gayford spoke to media in Auckland.
A baby due in June indicates that the 37-year-old became pregnant in September, during the election campaign. The couple said they already know the baby's gender, but it was one of the few things left in their lives that was theirs alone.
Ardern said arguments over what it would be named would likely continue for the next few months, however the couple confirmed the baby would take Gayford's last name.
She said it was too early to lock in birthing plans, but said this would likely be planned for Auckland, though she would have "contingency plans" in place for a birth in Wellington.
While Ardern acknowledged motherhood and a job running the country would be a juggle, she stopped short of calling herself a game-changer. "I don't underestimate it will take a lot of work, but I have a lot of support." 
In a post on Instagram this morning, Ardern said that she was really excited about the pregnancy.
"And we thought 2017 was a big year! Clarke and I are really excited that in June our team will expand from two to three."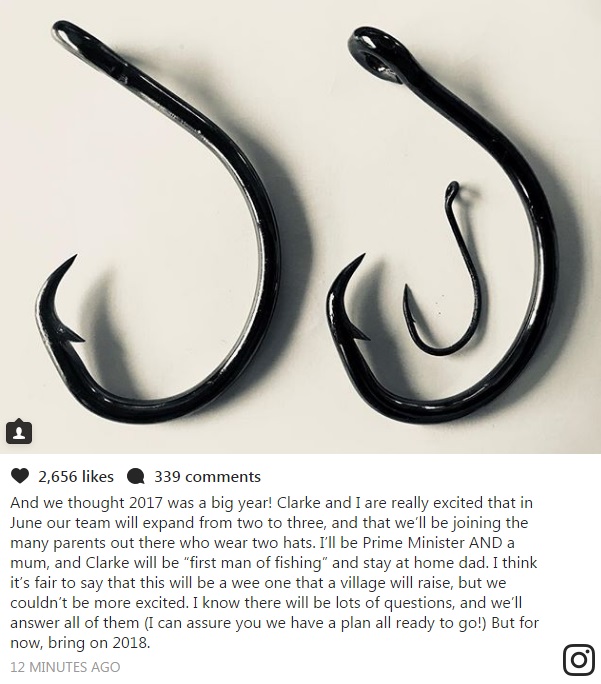 In Maori culture, the fish hook (hei matau) symbolises strength, good luck, fertility and prosperity. 
Within minutes of the announcement, Ardern's Facebook page was flooded with messages of congratulations.
Ardern said in a statement: "We're both really happy. We wanted a family but weren't sure it would happen for us, which has made this news unexpected but exciting.
"Yesterday I met with Deputy Prime Minister, Winston Peters, to share the news and to ask him to take on the role of Acting Prime Minister for a period of 6 weeks after our baby is born.
"As is the case when I am overseas, Mr Peters will act as Prime Minister, working with my office while staying in touch with me. I fully intend to be contactable and available throughout the six week period when needed."
Ardern said she planned to take a six-week break from Parliament and Gayford would be the primary caregiver.
"At the end of my leave I will resume all Prime Ministerial duties.
"Clarke and I are privileged to be in the position where Clarke can stay home to be our primary caregiver. Knowing that so many parents juggle the care of their new babies, we consider ourselves to be very lucky."
Ardern said she learned she was pregnant on October 13, "but as many couples do in the early stages, we kept it to ourselves".
"We consider ourselves lucky for another reason. Clarke and I have always been clear we wanted to be parents but had been told we would need help for that to happen. That's made this news a fantastic surprise.
"While 2018 will be the year I become a mum, it will also be a year that the Government finishes our 100-day plan, and starts pursuing all of the priorities that will build a better New Zealand. I look forward to leading that work, and having a slightly expanded family join me on that journey. "
'Not the first to multi-task'
The first woman in modern times to have given birth while in office is believed to be Benazir Bhutto, who had her second child, Bakhtawar, on January 25, 1990 in her first term as the Prime Minister of Pakistan.
Ardern paid credit to other women in politics before her, who had been mums while working, and paved the way to her being in her current position.
"I'm not the first woman to multi-task," she said. Ardern said she was not too different to any other women juggling careers and a work life, just that she has to do it in a "very public way".
"I accept it's [my having a baby] an area of interest, but this will not be the only milestone of this year, or of this government. I want us to be known for what we achieve for New Zealanders, this will just be another addition to the history of this government."
She said as a couple they were fortunate that they were in a position where Gayford was able to be a stay-at-home dad.
Despite the additional work a baby will bring, Ardern and Gayford have no plans to move to Wellington permanently at this stage. "This [Auckland] is home ... and it's my electorate as well."
Ardern hadn't yet given much thought to if the baby would make an appearance in question time, but said Speaker Trevor Mallard was one who encouraged a family-friendly environment.
The Prime Minister admitted it would be tough leaving her newborn at home at times, but said she also had obligations to her country.
"My job is different, people have put faith in me, given me a mandate, so I have to juggle that new role [of being a mum] but fulfilling duties to New Zealand at the same time."
Asked if her upcoming motherhood had weighed on her mind during the coalition negotiations, she said "of course".
But she had to just take each day as it happened, and when she became Prime Minister said "we just had to get on with it".
When morning sickness set in, Ardern said it made things a bit "tricky" but overall it wasn't "too bad".
Ardern said she had always been open about her dreams of having a baby, but just never thought it would happen as quickly as it did. "We had been told we'd need some help."
However, Ardern said beyond talking to a few people about the issue, once she became leader of the opposition the baby plans went on the "backburner".
It was "100 percent a surprise" when she found out she was pregnant the same week she became Prime Minister-elect.
Since she made the news public today, Ardern had received calls from across the world, and the political spectrum - all of which have been nothing but supportive.
To any detractors, Ardern said no one guessed she had battled morning sickness for three months, so why would things change now.
"I'm excited ... we are going to make this work and New Zealand is going to help us raise our first child."
- NZ Herald and NZME