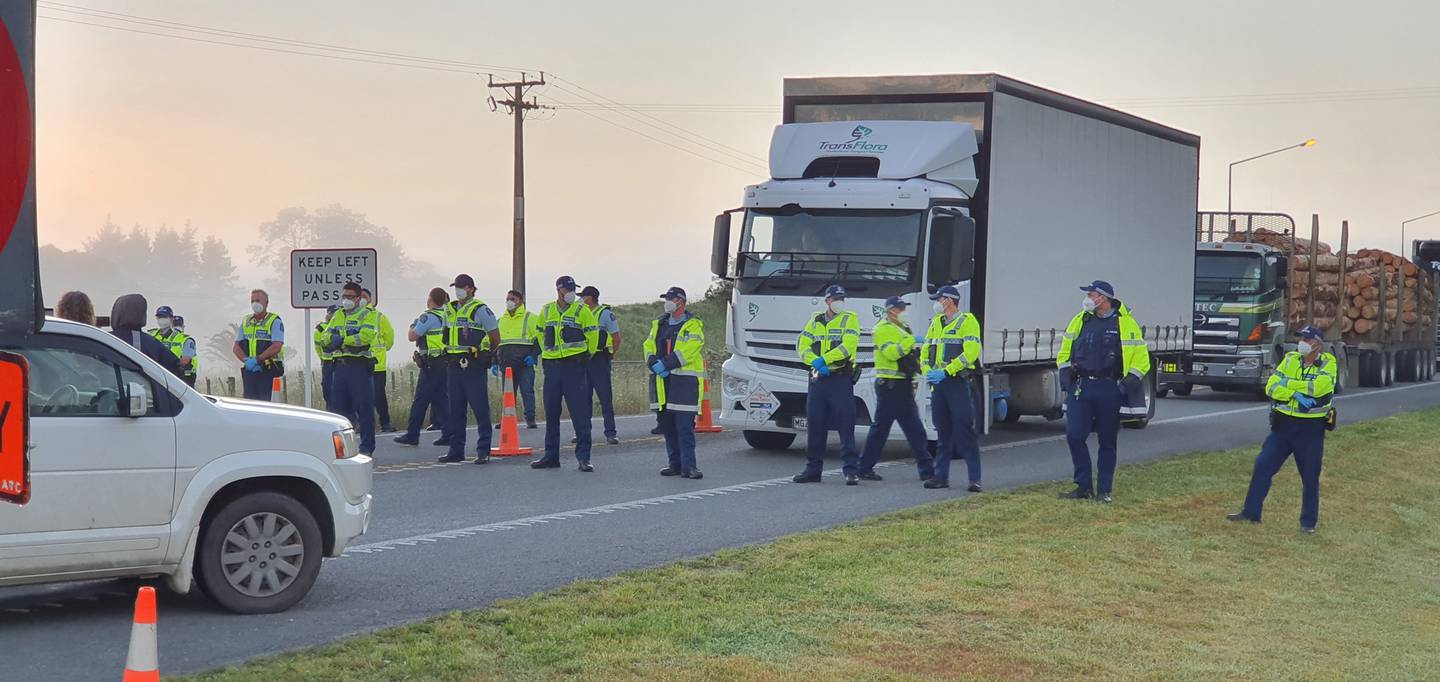 Anti-lockdown protesters are blocking State Highway 1 at Auckland's northern border this morning, causing delays for motorists.
A heavy police presence is standing guard at the Te Hana border, just north of Wellsford.
Officers can be seen standing in front of a large truck blocking protesters.
The latest standoff comes as anti-lockdown protesters connected to "The Freedom and Rights Coalition" are expected to descend on Wellington this morning.
Police yesterday warned anyone planning to join the protests that they must stick to the law or face prosecution.
Te Rūnanga o Ngāti Whātua has condemned today's Te Hana border protest, saying it threatens to disrupt vital medical and food supplies for the north.
"Whilst these individuals are using this as an opportunity to grandstand their issue, Te Tai Tokerau lost over an hour and 15 minutes of thoroughfare which may prove disastrous for our region," chief operating officer Antony Thompson said.
Vehicles had since been towed and traffic was moving again but significant delays were still expected, he said.
Minister and broadcaster Reverend Frank Ritchie has has also spoken out against the protests - offering a counter voice to fellow religious leader Brian Tamaki, who helped found protest group The Freedom and Rights Coalition.
"People of faith - stay away from today's protests," Ritchie implored on Twitter.
"There has been chatter about violence, storming Parliament, arresting the Prime Minister and worse. This is not something we should be associated with or enable by bolstering their numbers.
"This is not who we are."
Protesters plan to march to Parliament
The Freedoms & Rights Coalition is organising a march through Wellington to Parliament today to present a range of demands to lift lockdown restrictions.
Police were preparing for blockades at Auckland's borders and say there will be a "heightened presence" at other Auckland locations such as Government House and MPs' electorate offices.
Wellington City Council said traffic was expected to be disrupted in the city centre today and people should expect delays after 10.30am.
In a statement on Tuesday morning, the Freedoms and Rights Coalition said the group will present its "realistic demands" on the steps of Parliament.
The group is calling for an end to lockdowns and public health measures, saying it's "time to learn to live with Covid-19", "shut down testing stations", and treat the deadly virus like "the flu".
"This government will have until this Friday 12th November 2021 at 2pm to take affirmative steps. If 'No-One' from within our House of Representatives is prepared to make moves for us, it will be time for 'we the people' to take matters into our hands as we undertake THE GREAT GRIDLOCK across many parts of this nation, unlike anything ever seen before," the group said.
Two weeks ago a group of up to 100 protesters gathered at the southern border near Mercer after an attempt to cross it to attend an anti-lockdown event in Northland failed.
The group gathered in the area for more than two days and was verbally trespassed by police after occupying land owned by Waka Kotahi.
Police labelled their actions very disappointing and said they were putting their staff and the wider community at risk.
Additional police resourcing was deployed to control the group and manage the traffic chaos in the area.