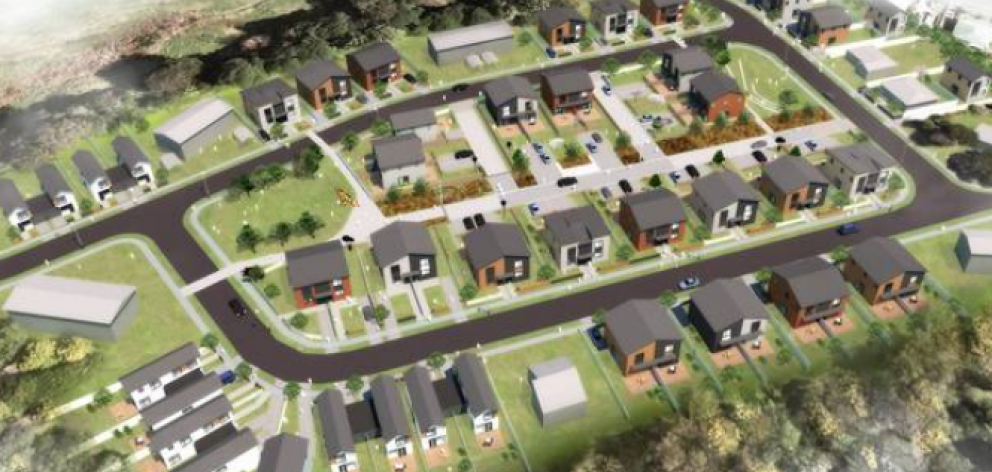 Housing Minister Phil Twyford has called the housing market "a basket case", as he defends KiwiBuild in the wake of a damning report into the government programme.
A report released this week found New Zealand is one of the most unaffordable countries in the world to buy a house, with the average price more than six times the median household income.
According to the Demographia International Housing Affordability report, anything more than three times household salary is deemed unaffordable and homes more than five times median annual household income is considered severely unaffordable.
Palmerston North-Manawatu was the least expensive at 5.0, then Christchurch at 5.4, Dunedin at 6.1, Wellington at 6.3, Napier-Hastings at 6.7, Hamilton-Waikato at 6.8, then Auckland at 9.0, followed by Tauranga and the Western Bay of Plenty as the most unaffordable at 9.1.
"This country is a housing basket case. That's why we're doing Kiwibuild, that's why we're doing more state housing," Twyford told RNZ today.
The comments come after the report from the New Zealand Initiative slammed the government programme as a "bewildered beast".
It claims KiwiBuild has little hope of delivering on its goals and is just a distraction from the real housing solutions.
This morning, the minister told RNZ he could not guarantee  that the Government will meet its target of having 1000 KiwiBuild houses built by July. 
"I can't guarantee that [1000 built by July this year]. I think it's going to be tough to meet that target, he told Morning Report.
"We're working flat out to meet that target. I'm not going to give you a prediction right now. We're not setting a new target."
Later, the minister told Newstalk ZB broadcaster Mike Hosking that, while the first few months had been tougher than expected, overall KiwiBuild had been a success.
"We are six months in, we have got 47 homes completed, several hundred under construction, 4000 under contract and another 10,000 on top of that planned for the large scale urban development projects that we are in the process of setting up."
However, Hosking wasn't convinced, listing multiple issues he saw with the programme.
"You promised houses for people who were 'locked out of the market' but that's not the case. These are not people locked out of the market, these are people with $650,000 to spend.
"You've got ballots with no demand. You've got prices in places like New Plymouth which are actually higher than the average price. Houses off the plan don't sell."
Hosking also raised the issue of KiwiBuild boss Stephen Barclay departing.
Twyford hit back at the claims, addressing the KiwiBuild prices first. He started with the issue of the house prices in New Plymouth.
"[The prices] are only higher than the average price in the suburb where they are being built, which has basically been a bombed out, derelict neighbourhood that used to be a state housing area which was mostly demolished."
"The New Plymouth KiwiBuild houses are significantly lower than the average price in New Plymouth as a whole."
However, Hosking wasn't convinced, saying that's "simply not true".
"I looked at the houses for sale, there were 26 for sale, they all looked perfectly respectable and they were cheaper than yours," Hosking said.
The Housing Minister disagreed, saying the suburb was in "dire straits".
"We are putting in modest affordable houses that are below the New Plymouth average," Twyford said.
"You say the houses aren't affordable for people, in fact, more than half the KiwiBuild houses that have been built and sold have gone to people who were on household incomes of less than $100,000.
"In our most expensive housing markets, there are young couples who might have a household income pre-tax of let's say $150,000, they cannot find anything affordable in places like Auckland and Queenstown."
Hosking again hit back, reiterating that KiwiBuild homes were unaffordable for many at a cost of $650,000.
Twyford said that isn't true for large cities like Auckland where people find it very hard to find anything of "decent quality" that is under $600,000.
In terms of houses that have been balloted but not sold, he said many hadn't been built at the time.
"What we've found is most first home buyers, they want to look and see and feel the house before they buy it."
However, the minister said they working directly with the private market to incentivise them to build affordable homes.
"We've started from a standing start, and no one said it would be easy, but we are determined to turn around the market failure that has seen less than 5 percent of new builds in this country in the bottom 25 percent of the price bracket."
Commitment to first home buyers
Twyford reiterated the Government's commitment to building "affordable homes for first home buyers".
"We are building affordable houses and I expect that almost all of them will sell and if they don't sell, we will sell them on the open market and that's still putting affordable houses into the supply.
"We are also doing a lot of other things other than KiwiBuild that are about addressing the housing crisis...KiwiBuild is part of a big comprehensive programme to fix the housing crisis."
When asked about the head of KiwiBuild Stephen Barclay's resignation, Twyford said it is an employment dispute that he won't wade into publically.
"I'm going to allow that dispute to be resolved in a proper way. I'm not going to comment on the detail, it would be inappropriate and unhelpful for me to do that."
However, he said he stands by KiwiBuild and its commitment to build affordable houses for New Zealanders.
"We are going to build affordable houses for first home buyers. We will refine and improve this programme as we go until we get it right but this is a 10-year programme."
National wants Twyford off housing
Meanwhile, the National Party has called for Twyford to be removed from the portfolio after he said the Government may fail to reach this year's KiwiBuild target.
Housing spokesperson Judith Collins said the minister had dropped the ball completely, RNZ reported today.
'This is a big fail for Phil Twyford and for the Government ... he's had $2 billion allocated in the Budget, he's been in the job 18 months.
"Frankly it shows he has no hope of getting the 10,000 that he's said he's going to ... he's sort of stuffed really", said Ms Collins.
She said developers have told her they were reluctant to get involved as the complicated purchase process for Kiwibuild put off potential purchasers.
"They can build almost exactly the same house, in a very similar area, even the same area, different street, they can sell them straight away but they can't sell the KiwiBuild ones."
Prime Minister Jacinda Ardern should remove Twyford from the portfolio, Ms Collins said.
"When she comes to her reshuffle, her only way through would be to shift Phil Twyford from the portfolio and to put in a minister who will ruthlessly deal to the issues around KiwiBuild."
- NZME and RNZ